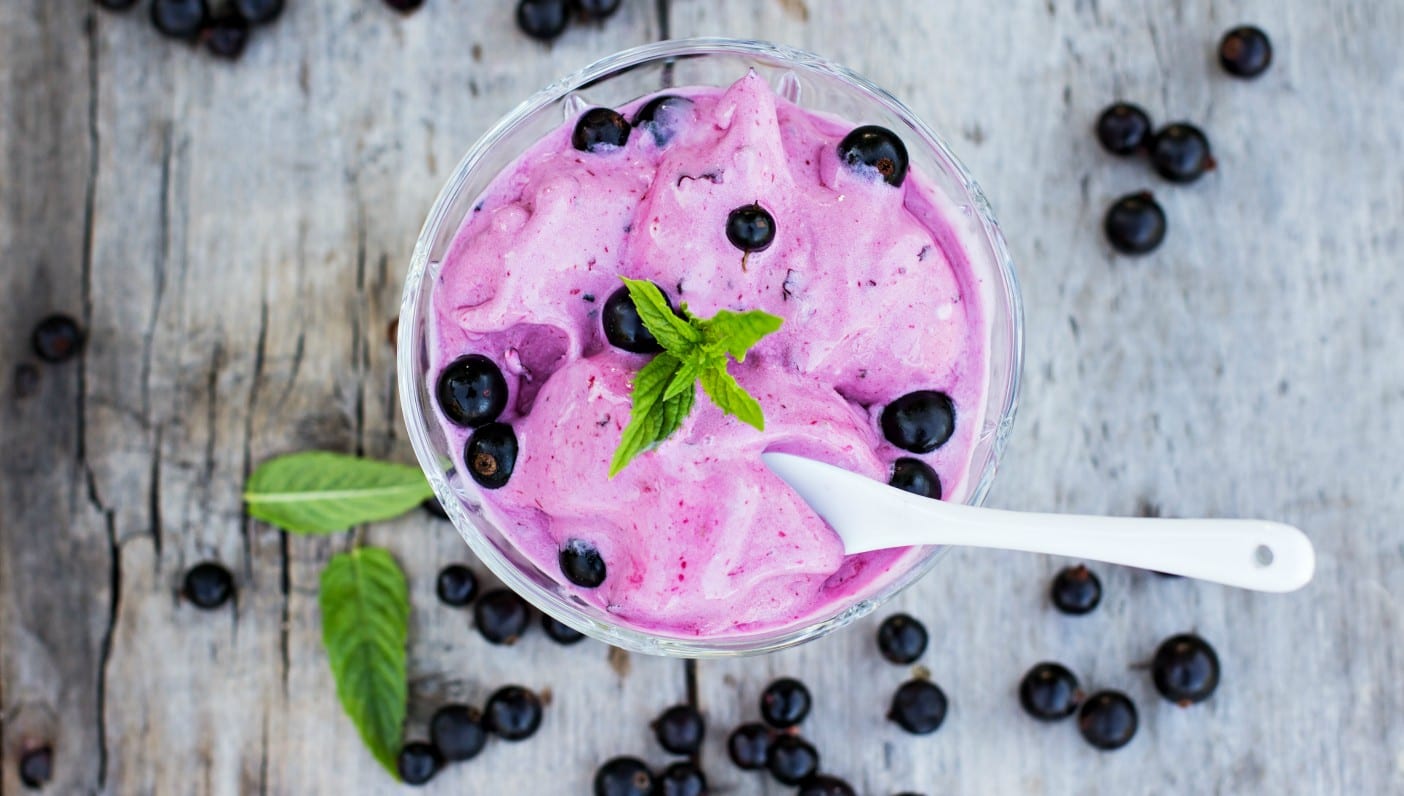 It's no surprise that self-serve frozen yogurt has taken the dessert scene by storm.
There's a wild sense of abandon that sweeps over a person when she enters a fro-yo shop: We're given creative freedom over our desserts, combining all sorts of fruit, candies, and granola to create a unique frozen treat. Yogurt flavors could include things like white peach, cherry almond, lychee, banana, mint, oatmeal raisin, and Nutella, and toppings range from nuts to seeds to fruit to cookies. It's a healthy walk down memory lane.
The best thing about fro-yo, though, isn't the DIY fruit topping bar or the satisfying pull of the soft-serve. It's the nutritionally-rich probiotics that turn dessert into a health powerhouse.
So what are probiotics? There may be more to trusting your gut than just intuition. Probiotics are the microorganisms that live in your stomach, and which work to benefit your digestive health. Don't be grossed out: Your body, when healthy, is the host to more than 100 trillion microorganisms—this is known as your flora. When your flora is messed up, or imbalanced, it can lead to illness, and just a general feeling of malaise. Probiotics help to keep your flora healthy.
Part of a Balanced Diet
Professional chefs and dessert gurus are also celebrating the power probiotics. Jenny Ammirati of American Yogurt Company CultureNY helps explain the probiotic potential, as well as how she is able to use the bacteria in her desserts.
"Probiotic yogurt is at the heart of everything we do and we think it's great that there is something that tastes as good as it is good for you too," she says. Aside from the mental benefits, Jenny says, high-quality yogurt has been shown to illustrate high levels including high levels of calcium, potassium, high-quality protein, and live probiotic cultures.
"Probiotics are great because they help to keep your body working the way it should," says Jenny. "Some of the many benefits of probiotics in your diet include boosting one's immune system and improving digestive function."
But like most food trends, it can be hard to ensure the products you're purchasing actually provide the nutritional benefits promised. To uncover some fuzzy information regarding probiotics, we spoke with nutritionist Keri Glassman of Nutritious Life. She tells us about the "Live Active Cultures" seal, a label that was established by the National Yogurt Association to help consumers understand the active culture level in their yogurts. She also mentions that not all live and active cultures are probiotics.
"There are many strains of beneficial cultures that have probiotic potential," Keri adds. "But the benefits associated with probiotics are strain-specific."
When in doubt, Keri recommends contacting the brand and asking them about the probiotic potential of their products. If these seems daunting; don't fear. With the popularity of transparency in food products increasing, companies such as Jenny's CultureNY make it easy for you to understand exactly what you're eating.
Luckily we don't have to make the trek to New York to indulge in probiotics that are both good for your tastebuds and your body. If you're interested in probiotic frozen yogurt, talk to the folks behind the counter at your local fro-yo place. You can also stock up on Greek-style yogurt or kefir.
Yogurt not your thing? We're hooked on Florastor probiotic supplements, that help keep the 100 trillion microorganisms in your body healthy and working. For more information, read here.
For more great videos about how to live a healthier life, check out Wanderlust TV! 
In partnership with Florastor
Florastor® complements your active lifestyle by strengthening your digestive balance and supporting a healthy immune system. When you have healthy digestion, you have greater freedom to engage in the activities you love. Whether you're training for a marathon or pushing your mind and body to new limits on the yoga mat, Florastor helps to keep you driven, confident, and strong. This is what it means to be Biotic.