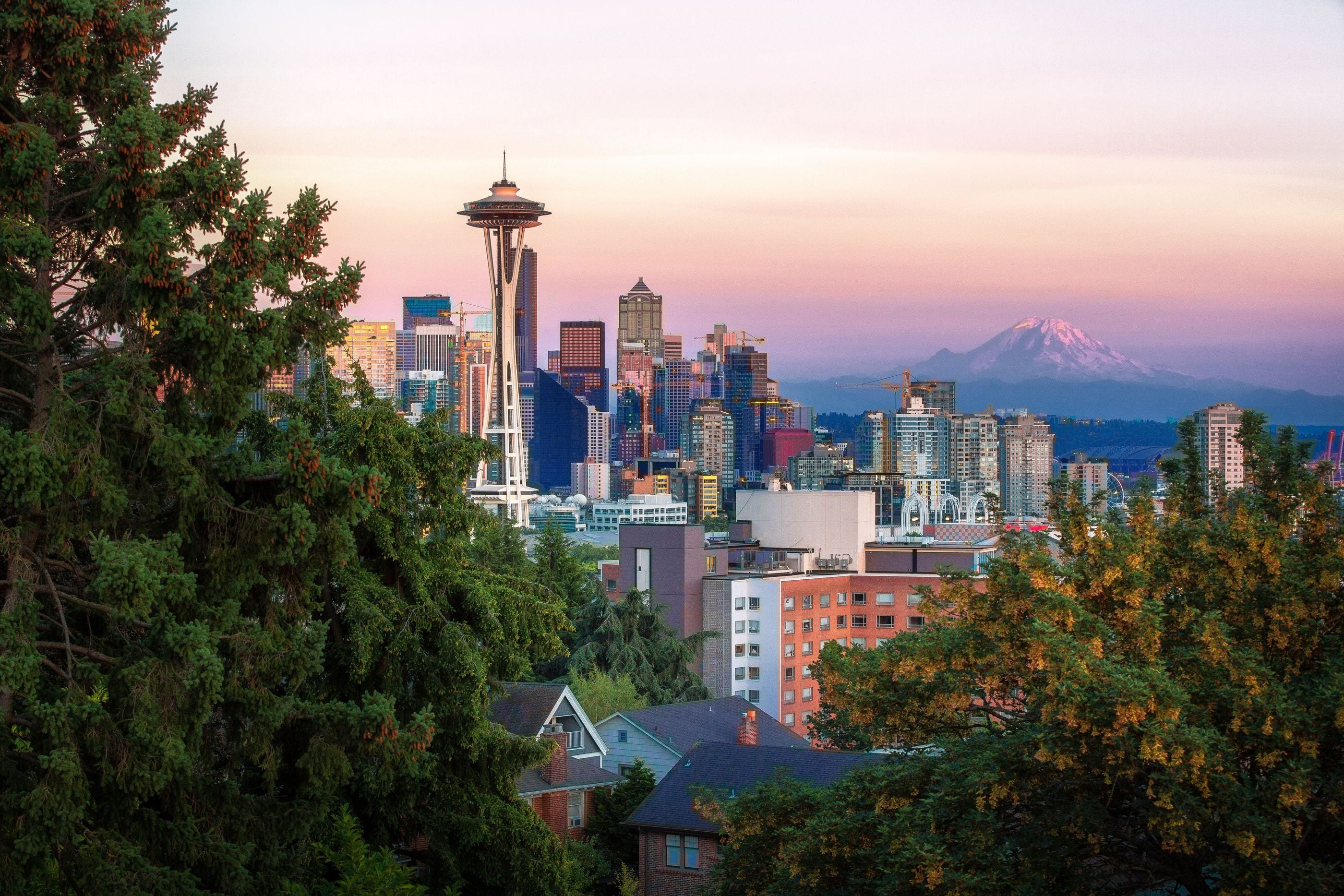 Photo Luca Micheli
Seattle isn't just rain and Nora Ephron movies; it's a cultural oasis filled with mountainous horizons, outdoor adventures, unique eats, and eclectic bookstores. While the city is known for its beer and coffee (it's the birthplace of Rainier Beer and Starbucks), it's also home to a thriving art and music scene. Wander the streets in your favorite flannel and you'll find everything from live-grunge music, to whiskey tastings, to a museum shaped to look like a smashed-up guitar.
And let's not forget Seattle's affinity for local food. The famous Pike Place Market serves as the city's pantry, offering local fish, fruit, veggies, meat, and cheeses, as well as an arsenal of homemade pastries and pickles. It's the kind of city where almost every restaurant knows the name of their farmer and can rattle off the life story of just about every animal on the menu. On top of that, Seattle's enthusiasm for the health scene has led to a series of fun outdoor activities and yoga studios. Nope, you aren't hallucinating from any of that legal marijuana—Seattle's lure is 100 percent natural.
Where to Eat
Bang Bang Café
2460 Western Ave., (206) 448-2233
You'll have your pick of delicious Seattle restaurants, but we highly recommend you stroll over to Bang Bang Café. There are both vegan and meat options, so it's great if you're dining with omnivores or trying to please a large group of people. That being said, the vegan food is out of this world. The breakfast burritos are a particular fan favorite, and the freshly roasted coffee isn't anything to complain about, either.
Chaco Canyon Organic Café
4757 12th Ave. NE, (206) 522-6966
Come get your juice fix at Chaco Canyon, a cozy raw and vegan food joint with house-made kombucha. You can't go wrong with anything on the menu, but locals love the artichoke melt, Egyptian lentil soup, and the "hippie bowl." The owners clearly work the place with love, as the entire restaurant is buzzing with friendly energy and happy conversation. Stay for hours and catch up with friends, or snag a peach smoothie on your way to one of Seattle's many awe-inspiring parks.
Local 360
2234 1st Ave., (206) 441-9360
With its extensive bar menu, cabin-like interior, and farm-to-table food offerings, Local 360 is an ideal spot for a dinner out or a Sunday morning brunch. The menu consists of upscale twists on classic eats, such as the peanut butter and jelly bonbons and sourdough "bread and butter." A majority of the ingredients come from within a 360-mile radius of Seattle, and the owners believe in maintaining a mindful attitude when crafting their cuisine. Swing by for a date night, dinner with friends, or an epic start to your Sunday funday.
Where to Sweat
The Grinning Yogi 
345 15th Ave. E, (206) 755-7611
A warm, Vinyasa-based yoga haven located in the thriving Capitol Hill, The Grinning Yogi is one those studios that feels like home. Classes occur throughout the day, seven days a week, and have unique names like "My Happy Place" (a donation-based class where all proceeds go to charity), "Grinning Fly" (a class dedicated to arm-balances and inversions), and "Rockin' Flow" (with yup, you guessed it, a rock 'n' roll yoga playlist). Expect 80-90 degree studios, a healthy sweat, and a delightful post-yoga glow.
Urban Yoga Spa
1900 4th Ave., (206) 420-0222
Urban Yoga Spa is located in the heart of downtown and just a few blocks from the Pike Place Market. In addition to their hot yoga studio, they offer an entire wellness program, including acupuncture, health care options, manicures, massages, and more. They also offer a traveler's special: $45 for a week of unlimited yoga—making it the ideal spot for yogis on the road. Even when you're in the midst of travel, Urban Yoga Spa makes it easy to find community.
shefayoga Roosevelt
6521 Roosevelt Way NE, (206) 729-2561
Yogis rave about the teachers at shefayoga Roosevelt, and how the studio's welcoming environment makes it a fantastic spot to unwind after a hard day. There are also tons of fun workshops and retreats, including oceanic yoga and culinary experiences along the Pacific Coast. Power up with a feisty Vinyasa flow class or settle down with a cozy restorative sesh in the natural-light flooded space for a mindful and inspiring practice.
Where to Shop
Pike Place Market
85 Pike St., (206) 682-7453
The Pike Place Market is one of the United State's most iconic large-scale marketplaces. Not only is it home to the original Starbucks and the famous fish-flinging mongers, it also has fresh fruit and veggie vendors. You'll also find local Seattle-made brands such as Rachel's Ginger Beer, mini doughnuts, free samples, great views, and amazing people watching. Plan on dedicating at least two hours to this flavor museum, or consider one of the market's walking tours. It's a great way to discover the hot spots if you're pressed for time.
Favorite Outdoor Hangs
Discovery Park 
3801 Discovery Park Blvd., (206) 386-4236
With breathtaking views of the Puget Sound and trails draped in lush greenery, it's hard to imagine that Discovery Park is only a few miles from downtown. With miles of mountainside trails, it's never too crowded, and serves as a quiet getaway for an urban hike or casual stroll, depending on your chosen path. Wander far enough and you'll find the park's picturesque lighthouse. Bring a jacket—that beautiful water brings on a bit of a chill.
Marymoor Park 
6046 W Lake Sammamish Pkwy NE, (206) 205-3661
Perfect for dogs and people, Marymoor Park is an enormous playground of outdoor activity. Visitors will discover all sorts of fun sights and activities, whether it's the totem pool, windmill, or climbing wall. It's also home to a ton of Seattle concerts and events, including this year's Wanderlust 108. In July and August there are outdoor movies on Wednesdays, complete with food trucks and live acts to weave into a perfect summer night.
Night Out on the Town
The Crocodile
2200 2nd Ave., (206) 441-4618
One of Seattle's most beloved music venues, the Croc is famous for launching some of America's favorite bands, including Pearl Jam and Nirvana. It's the place to go to catch some of the best up-and-coming music, and tickets are surprisingly cheap for the quality of the drinks and music. If you want to give yourself some fuel before rocking out, you're in luck; get there before seven and you can snag a three-topping pizza for just $5.75.