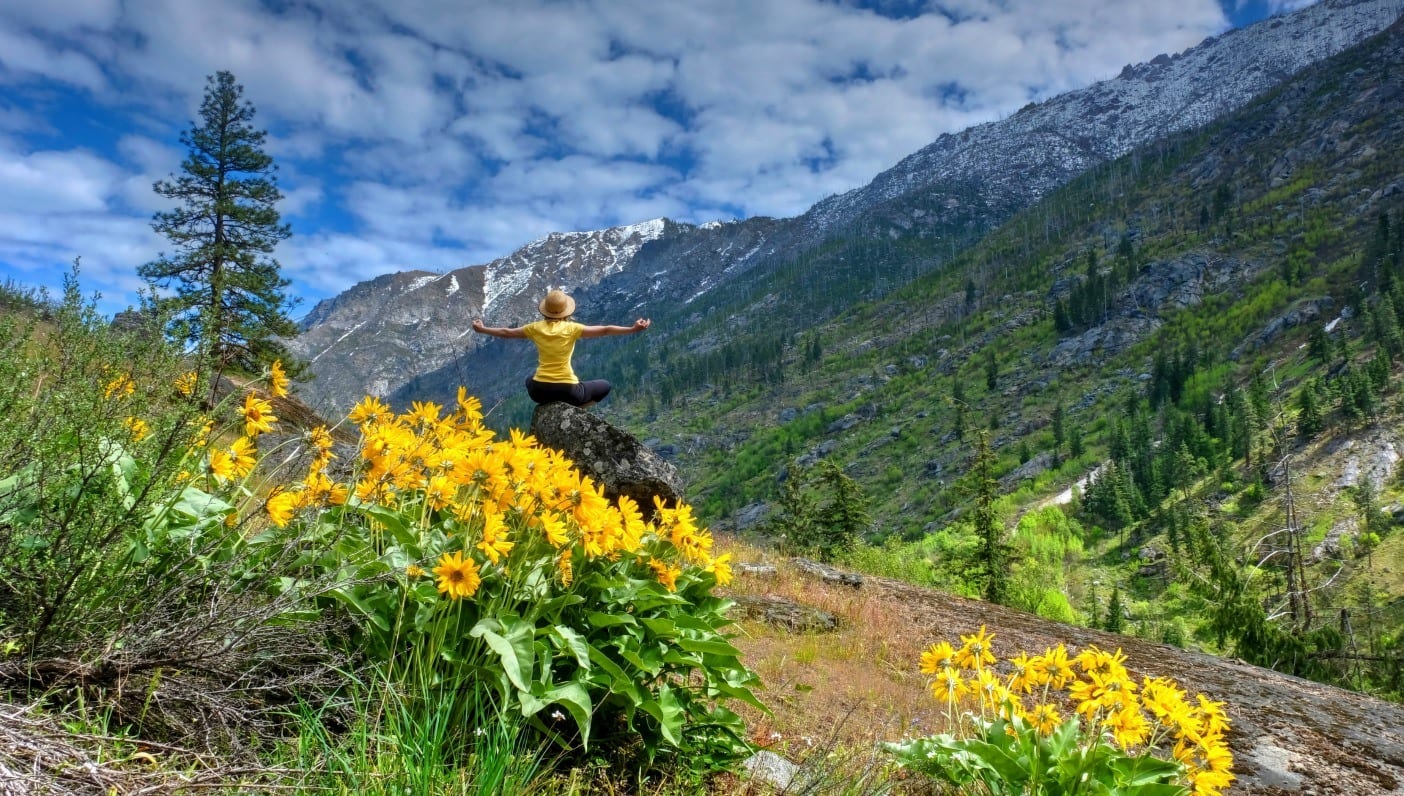 Want to attend a Wanderlust 108 in your city? Click here tickets, locations, and information. 
---
Quirky and mellow while humming with possibility, Oregon's largest metropolis has it all, providing its cheery inhabitants with everything from a vibrant downtown to killer breweries to fairy-tale forests.
The city is packed with flavor (in all the ways), and you can't beat the people watching. The diversity extends well beyond the forest; Portland is home to bookstore owners, cyclists, espresso enthusiasts, homebrewers, bluegrass musicians, cheesemongers, performance artists, and more.
Outside of the city, you'll find eclectic neighborhoods with front porches so romantic you'd think they were from a picture book. Despite the city's progressive and politically charged nature, tons of folks see Portland as place to "chill out" and have transformed it into their special place to settle down. There's also an amazing amount of wellness-loving yogis, making Portland a hot spot for you to practice, explore, and grab some healthy eats.
Where to Eat
Fern Kitchen
2311 SE 50th Ave., (971) 703-4398
It's not hard to find healthy cuisine in Portland, but Fern Kitchen takes it to the next level. They source their ingredients almost entirely from local purveyors, from the gluten-free bread to the salmon to the kombucha. Tim and Julie Vogt run the place with love, living off the mission of "Feed Everyone Real Nourishment" (FERN). We recommend one of the joint's staple toasts (homemade chocolate-hazelnut butter, anyone?) or the portobello mushroom burger. Plan some extra time during your visit to check out the other wellness offerings in The Breathe Building, where this restaurant is housed.
Blue Star Donuts
1237 SW Washington St., (503) 265-8410
We're not one to turn our noses up to hot donuts, especially when they are made from scratch and with hormone-free milk, cage-free eggs, and sustainable bread flour. There are also no artificial flavors, sugars, oils, or preservatives—which is crazy considering that Blue Star offers an arsenal of fun flavors, from pistachio piña colada to Valrhorna chocolate crunch. Come early—these bad boys don't last long! (Bonus: Come one, come all—there are options for vegans!)
Blossoming Lotus
1713 NE 15th Ave., (503) 228-0048
Organic vegan fusion, stellar service, and a warm and inviting ambiance: It's all this and more that makes Blossoming Lotus a go-to spot for a healthy lunch or dinner. Locals (omnivores included) go crazy over the BBQ bowl and the bibimbap, but also love starting the evening with the beet-infused Karlita Margarita or a small plate of Brazilian cheese bread. Cap off the meal with some raw chocolate cheesecake and call it a day.
Where to Sweat
Yoga Union 
2305 SE 50th Ave., (503) 235-9624
Part of Portland's beloved and sustainable Breathe Building, Yoga Union is one of the wonderful offerings inside what Willamette Weekly has called "The West Coast's Yoga Mecca." In one building, wellness enthusiasts are able to visit three like-minded spaces offering yoga, wellness, and healthy food (including the aforementioned Fern Kitchen!). Yoga Union doesn't mess around; in addition to a plethora of diverse classes, they also offer child care services, studio workshops, full moon flows, and a cedar sauna. You can easily find a full afternoon of wellness in this one-stop health shop.
Love Hive Yoga
1847 E Burnside St., (503) 586-1506
If the image of a "love hive" wasn't already intriguing, the classes and vibe of this killer studio are sure to draw you in. Indulge in flow, prenatal, or power yoga classes, led by caring and knowledgeable instructors. There's also a class happy hour, where you can sneak into a session at an amazing $5 drop-in rate. Mat rentals are limited, but free for those "just in case" moments.
The Peoples Yoga
4210 SE Belmont St., (503) 877-9644
It's a cinch to fit The Peoples Yoga into your schedule. This is just one of their three locations, and all together they offer more than 50 yoga classes per week. Styles range from beginner to advanced, with specialty classes in gentle Hatha, alignment focused flow, Yin yoga, and more. There are also tons of special events for yogis who like to get outdoors, including hiking and meditation trips, rafting and yoga, yoga and rock climbing, and even a lunar cycle pedalpalooza. (We could go on and on—those are just the outdoor options!)
Where to Shop
Powell's Books
1005 W Burnside St., (503) 228-4651
Grab a map and disappear as you roam the multi-levels and endless shelves of Portland's most famous bookstore. Locals and visitors will tell you it's a must-see, and for good reason. Powell's City of Books offers over one million used and new reads, spanning every topic you could imagine. Love feng shui? There's a section for that. Looking for Mary Oliver poetry, or something by Deepak Chopra? They've got 'em. Powell's also offers a cozy coffee shop and sits alongside several other shops and restaurants, making it an ideal place to spend the day. Check out the flagship location listed here, or visit their other locations across the city.
Presents of Mind 
3633 SE Hawthorne Blvd., (503) 230-7740
If you're looking for a unique gift, piece of jewelry, or super-cute greeting card, then Presents of Mind is your go-to boutique. Portland has no shortage of local artists, and this fact rings true as soon as you wander into this delightful little store. Inside you'll find locally-made earrings, mugs, T-shirts, and more. Get all your souvenirs in this adorable shop and feel good about supporting the local economy.
Favorite Outdoor Hangs
Forest Park 
4099 NW Thurman St., (503) 223-5449
In most cities you'd have to drive a half hour or more to get to the nearest hike, but not in Portland. Wandering through Forest Park is akin to exploring a fairy tale; the trees are draped in greenery, the paths are winding, and there's even an abandoned stone house known as "The Witch's Castle." Swing by for a dose of ample forestry and an array of wildflowers, all while making it back downtown in time for lunch.
Laurelhurst Park
3756 SE Oak St.
Home to Portland's Wanderlust 108, Laurelhurst Park is the place to picnic when visiting the city. Not only is it perfect for lawn lounging, but Laurelhurst Park is also extremely family-friendly, offering duck parks, playgrounds, and sports fields. Lovebirds will appreciate the "date potential" of this place, as it offers several shady spots and lots of room for a blanket and some snuggles.
Mount Tabor Park
SE 60th Ave. and SE Salmon St., (503) 823-2525
With sprawling beauty and killer views, locals and travelers alike rave over Mount Tabor Park. It sits on top of a volcano, which not only makes it one of the most badass places to visit, but also allows for stellar views on multiple levels. There are also several amenities, including basketball and tennis courts, a dog park, and an amphitheater with summer concerts. Enjoy this adventure with family, friends, the pooch, a book from Powell's, or all on your own.
Night Out on the Town
Doug Fir Lounge
830 E Burnside St., (503) 231-9663
The name is not misleading; Doug Fir is a lounge, bar, and music venue that takes on the appearance of a cozy mountain lodge. As if the great vibes weren't enough, you'll appreciate the cocktails whipped up by mixologists dedicated to their craft and ready to prepare anything from the menu of various intoxicating concoctions. On top of that, Doug Fir features all sorts of musical artists, as well as theme and fundraising nights. If after all that you're still not done—fear not. The joint starts serving breakfast at 7 a.m.
Hale Pele
2733 NE Broadway, (503) 662-8454
Who knew that Portland had a secret Polynesian paradise? At Hale Pele, you'll find one of the best tiki bars in the West, offering the kitschy quirks of a stereotypical tiki bar alongside an outstanding selection of tropical libations. Travel across the faux-bridge and then cozy up alongside lagoon lighting and tiki totems and you'll be in for a treat of flavorful concoctions far from the norm.
Traveling this fall? Check out our complete list of Wanderlust city guides.