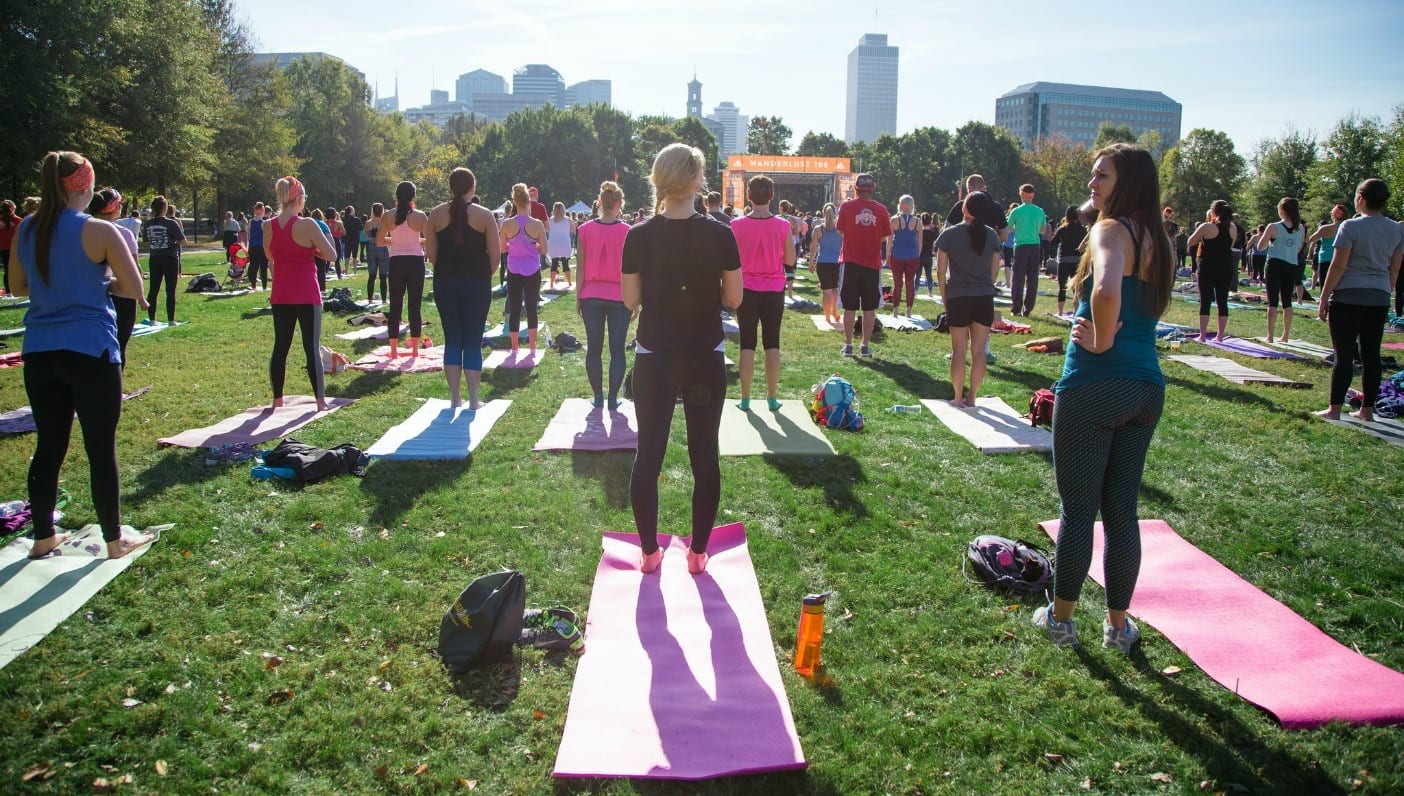 Photo by Katie Mead
Want to attend a Wanderlust 108 in your city? Click here tickets, locations, and information. 
---
Nashville might be known as America's capital of country music, but the city offers more than just bluegrass bars and BBQ. Explore the hot spots below to experience Nashville's other specialties, including unique health and yoga outputs, an Ayurvedic massage studio, and the state's best vegan bakery.
Where to Eat
The Wild Cow
1896 Eastland Ave., 615-262-2717
Famous in the Nashville vegetarian, vegan, and gluten-free community, The Wild Cow serves up an extensive menu for individuals of every dietary preference. Its menu includes everything from salads to seitan tacos to smoothies, and almost every item is purchased in its whole form. The produce is also almost completely local and organic. (Heck, the joint is so focused on providing fresh food that they don't even own a microwave.) As an added bonus, The Wild Cow features a new charity every month and donates 10 percent of their sales on month's first Thursday to the chosen organization.
Vegan Vee Bakery
306 46th Ave. N, 615-456-7390
Got a sweet tooth but avoiding gluten or animal products? Fear not, hungry traveler, for Vegan Vee Bakery brings the goodies you crave without any of the pesky ingredients you're trying to avoid. The Samoa muffin and the blueberry lemon cupcake are among customer favorites, but the joint also offers donuts, brownies, cookies, cakes, and oatmeal cream pies, all of which are completely vegan and gluten-free.
The Treehouse
1011 Clearview Ave., 615-454-4201
For a romantic night out under the Nashville sky, try The Treehouse. This place lives up to its name, and is decked out with Christmas lights and a beautiful back porch that evokes a "Peter Pan and the Lost Boys" vibe. In addition to its killer aesthetics, The Treehouse has live music and an extensive food and drink menu that includes vegetarian and gluten-free options. We recommend starting your meal with the fried broccoli.
Where to Practice
Kali Yuga Yoga
1011 Fatherland St., 615-260-5361
Unlike the average studio, Kali Yuga plans its schedule according to Ayurvedic principles, with classes that are defined by the energy levels of the Doshic system. This means that practitioners have the option to select a Vata (wind), Pitta (fire), or Kapha (earth) class. In addition, Kali Yuga offers unique workshops, such as Yoga for Musicians and Partner Thai Yoga.
Steadfast and True Yoga
1325 3rd Ave. N, 615-242-2088
Steadfast and True Yoga combines exceptional teachers with a diverse yoga program. Classes include everything from Vinyasa to Hathavidya to Iyengar. Many of these classes offer a holistic approach to yoga in order to create stability in the mind, body, and spirit.
Where to Shop
Nashville Farmers' Market
900 Rosa L. Parks Blvd., 615-880-2001
Grab your disposable grocery bag and head on over to the Nashville Farmers' Market, where farmers, restauranteurs, food artisans, small business owners, flea merchants, and crafters fill the streets and lay out an arsenal of unique and tasty products. Start with the Farm Sheds, where you can get everything from fresh produce to grass-fed meat, and maybe even have a conversation with a handsome cheese maker. You can also check out the Market House, a collection of 16 different of restaurants and shops, for a lunch of gourmet pizza, craft brews, or made-to-order crepes. If it's a Friday, Saturday, or Sunday, be sure to check out the Craft and Flea Shed, where you'll find all sorts of international and recycled goodies. Open 362 days a year!
Pangea Nashville
1721 21st Ave. S, 615-269-9665
If you've never been to a Pangea, now is the time to start. This eclectic shop offers all sorts of products, from fair trade clothing to home goods and quirky gifts. Think if World Market and your favorite flea market had a baby, and you've got Pangea.
Where to Spend Time Outdoors
Centennial Park
West End and 25th Ave. N
Nashville's premier park, Centennial, is home to a one-mile walking trail, Lake Watauga, the Centennial Art center, a sunken garden, sand volleyball courts, a dog park, and more. It's a hubbub for art exhibits and festivals, and Nashville locals love to take advantage of the extensive hiking trail. You can easily complete an entire afternoon of outdoors-y activities at Centennial, so grab your trail mix and head on over.
Yogi Hot Spot
Lakshmi Ayurveda
107 45th Ave. N, 615-939-5129
Lakshmi, named for the Hindu goddess of beauty, prosperity, and abundance, is an Ayurvedic healing center inspired to help individuals find a mind–body connection through yoga and massage. The founder, Megan Kipp, is both a licensed massage therapist and yoga instructor with a passion for bringing her clients individualized care. Massages include Indian head massage as well as guided meditation, making this yogi hot spot a deeply enriching experience.
Have a Good Time
Yazoo Brewing
910 Division St., 615-891-4649
For gold medal–winning local brews, head on over to Yazoo Brewing. One of the best things about Yazoo is its diverse menu; there's literally something for everyone (unless you're underage, in which case, sorry). Regulars rave about the Hefeweizen and the 10 Year IPA, but feel free to try them all. Bonus: The adorable location will encourage you to stay for hours.
Grand Ole Opry
2804 Opryland Dr., 615-871-6779
Celebrate 90 years of country music at the Grand Ole Opry, Nashville's iconic music hall. Unlike most concerts, shows at the Opry typically feature eight or more artists, allowing audience members to sample a variety of country music flavors. Past performers have included Johnny Cash and Loretta Lynn, and now the lineup includes artists such as Old Crow Medicine Show, Trace Adkins, and the Gatlin Brothers.
Traveling this fall? Check out our complete list of Wanderlust city guides.