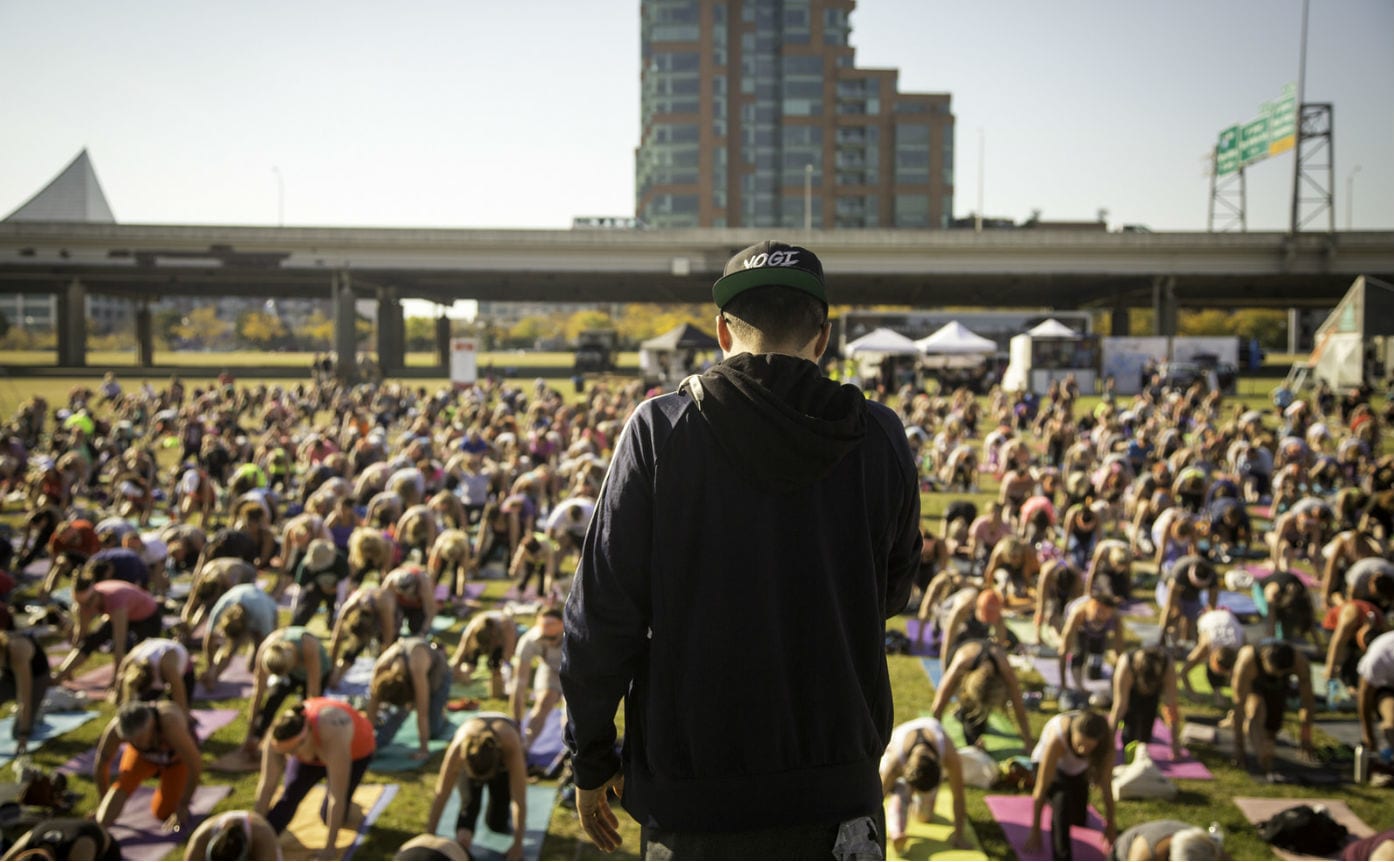 Photo by Kylene White
Want to attend a Wanderlust 108 in your city? Click here tickets, locations, and information. 
---
Louisville is Kentucky's largest city, existing at the junction of southern hospitality and midwestern friendliness. Known as "The Derby City," most connect the city with the famous annual horserace that brings in over 150,000 visitors. But beyond the derby and and the city's rich sports history, there are plenty of reasons to visit Louisville. We detail what to see, do and eat below.
Where to Eat
Myan Cafe
813 E. Market St., (502) 566-0651
This cozy cafe serves creative farm-to-table Mexican and Pan-Latin eats and cocktails. Order the guacamole and ceviche to start, then move onto salbutes, puffed deep fried tortillas with your choice of fillings. Don't leave without consuming the churros, as it's one of their most raved-about items. And if you're worried about your fruits and veggies intake, fear not— you can try one of their house-made juices like the orange, pineapple and kale concoction.

Harvest 
624 E Market St, (502) 384- 9090
Located in the city's New Louisville ("NuLu" district), Harvest is the quintessential farm to table restaurant serving southern-style comfort food. Owner Igor Chodkowski has forged strong relationships with Kentucky farmers and producers, sourcing 80 percent of their ingredients from within a 100 mile radius. While the menu obviously changes with the season, the chef's commitment to crafting delicious local dishes with a modern twist remains the same. Sample menu items include a yellow tomato gazpacho soup, potato gnocchi with mushroom ragout and buttermilk fried wild Kentucky catfish. Reservation recommended. 
Morel's Cafe
619 Baxter Ave., (502) 409-5916
Kombucha on tap? A plethora of vegan artisanal cheeses? We love Morel's for these reasons and more: The Farby™ is their signature dish, and consists of a vegan rendition of  braised roast beef, creamy signature cheese, red ranch on a soft toasted onion bun, served with curly fries and horseradish aioli. Paired alongside some Yerba Matte and a homemade PopTart, and you've got a meal fit for a plant-loving princess. The slogan "vegan good that doesn't suck" has never rang more true.
Where to Sweat
Bend and Zen Hot Yoga
1301 Herr Lane, Suite 187, (502) 938-6808
The perks at this yoga studio are many: Their schedule boasts over 30 yoga classes a week, they offer free use of towels and mats, and even provide students with a cold citrus scented hand towel at the end of every sweaty class. If you're feeling traditional, sign up for the 'hot 26' class, the original hot yoga sequence designed with beginners in mind. Craving more movement? Choose between the all levels, power or advanced vinyasa flow classes.
Supreme Peace Yoga and Wellness
343 West Kenwood Way, (502) 536-8401
A haven for wellness junkies, Supreme Peace offers exactly what it's promises: the utmost caliber of peace and tranquility. In addition to Hatha yoga and traditional Vinyasa, the studio offers Tai Chi and QiGong, counseling, Reiki, tarot readings, and massage therapy. Come for a quick class or an entire day of wellness, both physical and mental.
Where to Shop

Bardstown Road
Situated in the city's Highlands neighborhood, Bardstown Road is Louisville's original "Restaurant Row." But it's not just food you'll find on this popular street, it's also known for its eccentric collection of shops.  Walk along and you'll find bookstores, vintage clothing shops and locally owned fashion boutiques. When you need a break from shopping, stop in at the brewery Holy Grale, to taste one of the rare beers they import from around the world.
Where to Spend Time Outdoors
Cherokee Park
745 Cochran Hill Rd.
This park sees up to 500,000 visitors a year, making it one of most visited parks in the US! What makes it so popular? A 2.4 mile scenic loop, a bird sanctuary, an archery range, a fishing lake, playgrounds, hiking trails, fountains and soccer fields expanding over 409 acres.  The park is a popular space for events like 5k runs and Big Rock and Jazz Blues Festival. Review the parks event calendar to check upcoming events.
Louisville Waterfront Park 
401 River Rd, (502) 574-3768
Take a break from the business of the city and enter this family friendly, 85-acre municipal park. Enjoy beautiful views by the river on a morning run or make use of the well maintained paths for a bike ride. Playground equipment can double up as a workout station, just make sure you share space with the kids!  It's also home to the Wanderlust 108 festival—we hope to see you on the field.


Yogi Hot Spot

Quills Coffee
802 E. Main, (502)473-5379
Great locations, ample seating, and a friendly environment make this hip cafe a popular gathering place for friends. A wide selection of house made espresso drinks, seasonal coffees and cold brew means myriad of ways to get a caffeine fix before your morning vinyasa flow class. The Cafe Miele, a latte with a special blend of honey and cinnamon, is a popular customer favorite. For those looking to avoid animal products, there's vegan treats and almond milk a'plenty.
Have a Good Time
Derby Museum 
704 Central Ave., (502) 637- 1111
Take a behind-the-scenes tour of Churchill Downs and learn the full history of the famous Kentucky Derby race. This 1 hour and 30 minute guided walking tour takes you to exclusive areas of the racetrack including the Jockey's Quarters, Millionaires Row, and the horse stables. Afterwards, step into the museum and explore the two floors of interactive exhibits to have your photo taken in the famous winner's circle and watch "The Greatest Race" in one of the world's only 360 degree, high resolution theatres.
Traveling this fall? Check out our complete list of Wanderlust city guides.
.