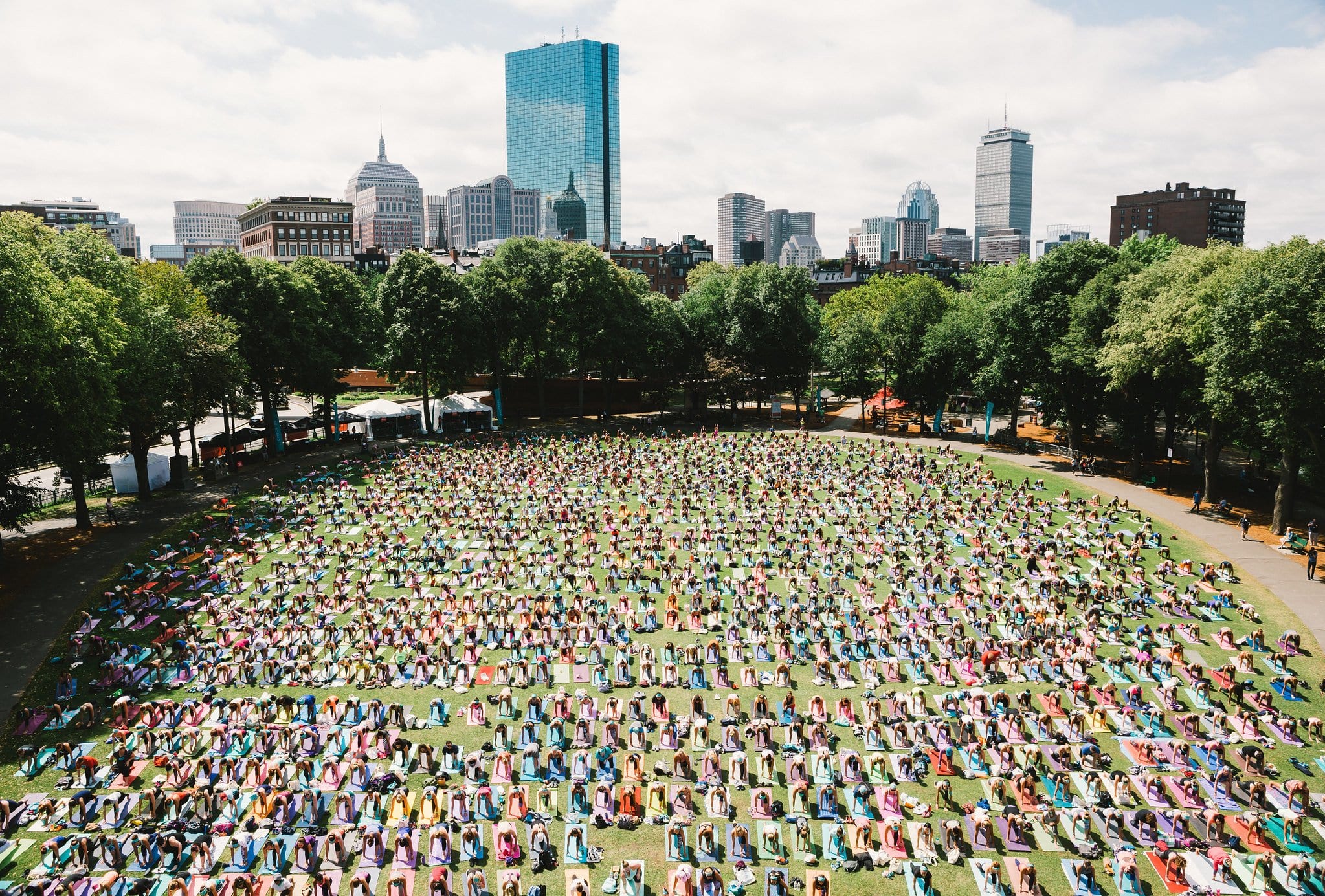 Want to attend a Wanderlust 108 in your city? Click here tickets, locations, and information. 
---
Boston is as full of big brains as it is beauty. This foliage-filled city is a mecca for bright minds and cold-weather enthusiasts, and it's little wonder why. There's something  about being in one of our country's oldest cities that brings on a certain American pride and nostalgia. From history buffs to art lovers, foodies and sweat junkies—there's truly something for everyone in this incredible place.
If you're planning a trip, here are a few stops to add to your list:
Where to Eat
VO2 Vegan Café
1001 Mass Ave., (617) 492-2233
This family-owned Cambridge gem is dream for vegans, vegetarians, and veggie-lovers alike.  The 100 percent vegan eatery is renown for their clean comfort food plates. They pride themselves on serving "compassionate comfort food with homegrown recipes." Not to mention, they compost, source locally, and use organic ingredients as much as possible. Be sure and give the Hyper Monkey smoothie and Cool Beans Burger a try.
Bova's Bakery Shop 
134 Salem St., (617) 523-5601
Open 24-hours a day, you should have no problem finding time to swing by Bova's Bakery. The famous pastry shop has been serving up sweet confections for 91 years.  The line sometimes wraps out the door, but don't let that deter you. Once inside, you'll see that the famous baked goods were well-worth the wait.  The chocolate éclair is a classic favorite, but you can't really go wrong with anything—especially if it comes hot from the oven. 
Where to Sweat

   
Yoga Beacon Hill
57 Phillips St., (617) 784-8419
This adorable studio gets its namesake from its neighborhood. Nestled in the heart of Beacon Hill—one of the coolest and oldest Boston neighborhoods—this studio is oozing with good vibes and zen folks. Destress and unwind from your travels or day-to-day life at one of their many classes. Each one is geared to help you relax, reduce stress, and follow your true North. (Bonus? Yoga Beacon Hill is our partner studio at the Boston Wanderlust 108.)
Yoga Works Back Bay
364 Boylston St., (617) 375-9642
A favorite amongst yogi locals, this studio is known for intense power flows, hip hop yoga, and juicy yin sessions. Caitlin has a cult following, so be sure to show up early and get ready to Namaste your way all the way to sweaty bliss. 
Run Boston
(617)575-9077
Boston's crisp air is a runner's dream, but finding time to get a long run in when traveling is always tough. With Run Boston, you can merge your sightseeing with your sweating for a double whammy. Take a guided running tour through the city and scope out all the top attractions while getting your heart rate up and endorphins pumping.
Favorite Outdoor Hang

Acorn Street
Near the famous Beacon Hill neighborhood, this magical little street is a little off the beaten path—literally. Strolling down the narrow cobble stone street lined in homes practically straight out of a Wes Anderson film will have you reeling in the cuteness of this quaint, quintessentially  Bostonian street. Be sure and wear comfy shoes, these antique cobblestones are harder to walk on than you'd think!
Epic Way to Spend a Saturday 
The Hatch Shell
47 David G Mugar Way, (617) 626-1250
At any given point you can find Bostonians catching a breath of fresh air in The Hatch Shell park. This beautiful city escape is the perfect spot to unfurl your mat and ring out the stress with a few deep oms and quiet sun salutations. It's also the landing pad for this year's Wanderlust 108—hopefully we'll see you there. 
Fenway Park
4 Yawkey Way, (877) 733-7699
Fenway Park is the oldest baseball park in the country and the historic landmark won't disappoint. Catch a game, see the Green Monster in action and snap a pic with the ivy—all while throwing back a couple brews and authentic baseball park pretzels. Red Sox fan or not, you'll be hard pressed to find someone who doesn't enjoy the magic of this gorgeous stadium. 
Boston Public Library
700 Boylston S., (617) 536-5400
This incredible place feels like it walked right off the pages of Harry Potter. Dating back to 1848 and cataloguing some of the oldest written books known to man, the Italian Renaissance-inspired building is truly a must-see. Complete with alcoves, reading nooks and the ever popular reading room, this is the idyllic spot to grab a book, cozy-up and stay awhile.
Where to Shop
South Plaza 
Traveling this fall? Check out our complete list of Wanderlust city guides.