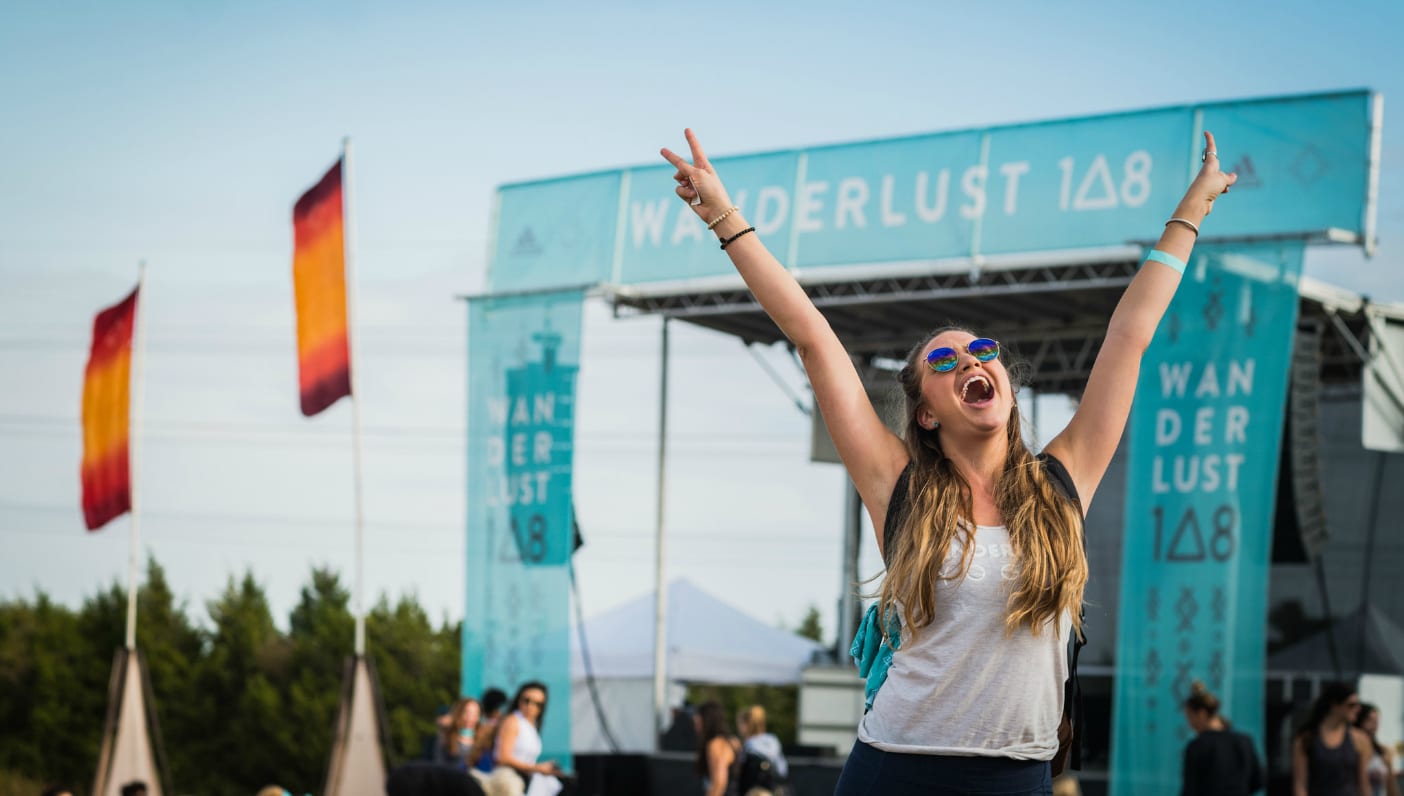 Photo by Neil Gandhi
It's not too late to join us at Wanderlust 108 Austin! For tickets and more info, click here. We have several types of tickets available this year, something for every budget. Snag a Practice Ticket for entry to the yoga and meditation portions of the event, as well as the Kula Marketplace. Entry to other bonus activities and the 5K are included with either the 108 Ticket, the 108 Ticket Package, or the premium WAN(DER)LUST Package.
Have a spot you'd like to see on this list? Reach out to us on the Austin 108 Facebook event page and let us know.
---
Weird and wonderful, Austin is a city like no other. Fueled by food, fitness and funk, this thriving city has something for everyone. Beyond the thong-wearing bicycle riders and live music venues, is a gorgeous city with a beautifully eclectic mix of people and activities. While you're in town, feed your yogi soul and check out these go-to spots for grubbing, sweating and adventuring: 
Where to Eat
Bouldin Creek Café
1900 S 1st St., (512) 416-1601
Bouldin Creek is supremely Austin and a long-standing gem. Known for terrible service (it's worth it) and amazing food, this vegan/veggie spot is an animal-loving, plant-eater's dream. With an eclectic mix of shaved heads, mohawks, piercings, tattoos and ripped up shirts, the wait staff of this quaint joint is homeless chic goals. Pull up a chair at the bar, snag a spot on the covered patio or wait it out for a table inside—wherever you are, true Austin vibes will be all around. The menu is killer. Go for the Tarzan salad or Smokin' Joe's omelet. And if you're feeling thirsty, wash it all down with a lavender mimosa, or if you're feeling fancy, go for the Beyoncé. Jay-Z would approve.
Cenote
1010 E Cesar Chavez St., (512) 524-1311
This magical little house is nestled right into the thick of the East Side and is hub for hippies, athletes and foodies, alike. The spot is inside a little teal house that looks like grandma up and left and a crew of sweaty fixie riding baristas moved in. The inside is filled with lots of tables and some cool, weird old-world furniture, plus a very chill playlist pumping throughout. In the front, you can grab a seat at one of two long rows of picnic tables that lay under a thicket of honeysuckle greenery, all very reminiscent of Ferngully.  In addition to childhood nostalgia, you'll also find a juice bar, perfect to quench your kale-spirulina loving heart. You can't go wrong with their vanilla latte (they make the syrup themselves). And it wouldn't be a trip to Austin if you didn't give the migas a try!
Sway
1417 S 1st St., (512) 326-1999
If you want to go from sweaty to spiffy, this swanky Thai joint is just the spot. Pack tissues and beware of the jungle curry, unless you're in the mood for ugly crying and a heavy post-nasal drip while trying to carry on a conversation. DO order the Son in Law, Pad Thai and Black Pepper Prawn. With an outstanding sake and wine list, your libation-loving heart will be pleased. If you can, score seats at the bar overlooking the kitchen, especially if you're into watching the "oddly satisfying" category on Instagram. There's just something about watching fresh branzino getting made that just gives you a warm feeling inside. And they don't take reservations, so go ahead and neutralize that anxiety right now. There may be a wait, so grab a glass of wine and enjoy the experience.
Where to Treat Yourself
Blenders and Bowls
206 E 4th St., (512)502-5184
Treat your green side to a tasty acai bowl from Austin's Blenders and Bowls. This locally owned place makes bomb bowls and smoothies and most all of their ingredients is organic and sourced locally, when possible. They also have a solid selection of raw food snacks, as well as a dope variety of Kombucha, Yerba Mate teas and coffee. Located inside the Wanderlust studio, it's the perfect spot to post up and hang before or after class.
Prohibition Creamery
1407 E 7th St., (512)992-1449
Park speakeasy, part ice cream shop—Austin's Prohibition Creamery is a brilliant merger of alcohol and ice cream. If you enjoy the occasional cocktail or sweet treat, you'll some of Prohibition's boozy treats. Options for frozen treats include whiskey infused cookies and cream, mezcal vanilla, and sangria sorbet… And that's just when it comes to ice cream! The cocktail menu hosts classic favorites, providing a plethora of vices for your splurge night. 
Jo's Coffee
1300 South Congress Ave., (512) 444-3800
First of all, treat yo' Instagram to a selfie with the famous "I love you so much" mural on the side of this tiny green coffee shop, and then treat yo'self to a Belgian Bomber iced coffee, an Otto from Taco Deli and a Quack's oatmeal raisin cookie good enough to make baby angels sing. If the weather is nice, park yourself at one of the tables outside and take in world class people watching. When you're done caffeinating yourself, pop over to Hotel San Jose for some poolside Frosé.
Where to Sweat
Wanderlust
206 E. 4th St., (512) 502-5184
Hit your mat and wring out that bod and any stress with a class at Austin's signature Wanderlust studios. This place oozes good vibrations and calming energy, while also igniting inspiration in the soul to live your best life. Right in the heart of Austin, the studio is just a quick walk from all the happenings, making it a coveted downtown escape. The schedule is jam packed with can't miss asanas and many of the city's favorite teachers. When you're done with class, cool down with an acai bowl from the awesome and previously mentioned Blenders and Bowls.
BFree
3110 Guadalupe St. #120, (512) 480-0067
Coming here always feels like coming home. The owner is a bright soul who will make you sweat, laugh and cry all in one class. The vibes are calm and the clean white space is the perfect sanctuary to unplug from the world. And in a city of yogis with more yoga studios than Starbucks, perhaps what sets this place apart from the rest, is the impressive roster of teachers, who will kick your ass and your soul in the best way. 
Wild Heart Yoga
5604 Bee Cave Rd., (512) 382-1560
Wild Heart Yoga is more than a yoga studio—it's a space that fosters a true yoga community. With two beautiful indoor studios as well as an outdoor yoga deck, there's plenty of space to get your OM on. Connect with fellow yogis as you kick back in our lounge, or grab a snack and head out to the patio where you can hop on wifi, listen to music and soak up the good vibes.
Wild Heart is a true gem that integrates the uniqueness of Austin into its yoga community—music, art, and all things WILD. Find yourself at one of the live music yoga classes, support local artists featured in the boho boutique and immerse your Wild Heart by sharing it with those around you.
Love Cycling Studio
507 Pressler St. #900, (512) 761-3398
If your yogi soul wants to turn up the sweat and the dance party, this local cycle studio is your spot. The 42-bike studio located right on the edge of downtown is the perfect way to kick your butt and jumpstart your weekend, especially if you're kind of party is the kind that starts before the break of dawn. Hailed as a favorite among Austinites, these classes are a choreographed dance party with push up, tap backs and LOTS of sweat. Expect to leave exhausted and on a cycle high. Instructor David Garza has a loud and proud fan following, but the studio is home to many kickass instructors with killer playlists.   
Where to Shop
Parts and Labour
1704 S. Congress Ave., (512) 326-1648
Basically a living, breathing Etsy store for Austin artisans—Parts & Labor, docked at the North end of South Congress, is the perfect spot to snag some local charm to bring back home. Filled with products that include vintage t-shirts, local screen printers, card makers, jewelry makers and more.
Book People
603 N. Lamar Blvd., (512) 472-5050
A book lover's dream, this two-story, locally-owned book store and café is a place filled with enough shelves and genres to warm the hearts of even the most fanatic bibliophile. And their offerings go far beyond books. Check out their expansive selection of journals, greeting cards—many made by local shops, quirky knick-knacks and adorable trinkets and gifts. Pull up a chair at one of the many scattered throughout the store and get cozy, you'll want to stay for a while.
Where to Spend Time Outdoors 
HOPE Outdoor Gallery
1101 Baylor St.
This spot is as dope as they come. When you're done with Book People, pop across the street to the HOPE Outdoor art gallery. What was once a hidden gem, has become a pretty popular spot to snap Instagrams and spray some paint. The vibrant walls are the largest public art gallery in Austin and at any given point on any given day, you will find a crowd gathering to watch everyone from Austin's greatest street artists working on large scale murals to amateur artists doodling.
Where to Have a Good Time
Whisler's
1816 6th St., (512) 480-0781
When one craves good company and a great cocktail, one should always go to Whisler's. This East Austin bar is a gem. The place is a labyrinth of cool places to sip on one of their many amazing libations. If the weather is nice, grab a table outside and hang for a while. If you're hungry, grab some pad thai from the cult favorite, East Side Kings, whose food truck has a residency outside. Meander inside and, depending on the day, you may catch a burlesque show in the shabby chic, old-fashioned-feeling interior. And when you're done with that, take a stroll upstairs to the one-room mezcal bar, that will make you feel like you've left Austin and walked right into Tulum.