The author leading a hike at Wanderlust Stratton, 2018
I first attended Wanderlust Stratton in 2010, and I haven't missed a year since then. It's been an honor to get more involved with the festival each year as a Wayfarer (Wanderlust's community ambassador program), writer, and presenter. Each year gets better and better! Last year—my ninth—was no exception, with some of my favorite memories to date.
Here are key takeaways of what you can expect at Wanderlust Stratton.
The stress melting away from your body before you even check in to your lodging.
Running into old friends who give the best hugs on my first walk through the village.
Seeing my favorite vendors setting up and getting ready to showcase some really special wares.
Waking up to mountain air.
Practicing with my heart, Elena Brower, and meeting some special new teachers, too.
Feeling my body release the tension of sitting at my desk and driving in my car.
Walking through the woods. Walking through the woods again and again and again.
The smell of the forest and the feel of mist in the air.
Beauty.
New friends who give the best hugs on my walk back through the village.
Treating myself to foot soaks and noodles and the most gorgeous new dress.
Discovering a teacher who speaks to my heart, and confirms what I already know.
Discovering myself, my strength, again and again and again.
Remembering how good it feels to be thoroughly tired.
Coming into relationship with my very own thighs. A relationship of infinite admiration.
Laying in the grass, never wanting to leave, but so excited to get back to this beautiful, strange life that I live with all of the beauty of the mountain in me.
Elizabeth is teaching at Wanderlust Stratton 2019. For tickets and more information, click here.
—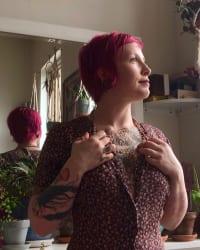 Elizabeth is a yoga teacher, mala maker, and ritual practitioner living in Bushwick, Brooklyn. Her art and practice are inspired by her grandmothers who taught her craft and divination respectively at a young age. She grew up in a matriarichal family, a descendent of two yoga teachers (her maternal grandmother and great grandmother)— this life has been in her blood. Elizabeth has studied with many brilliant teachers and she's so grateful to Alan Finger, Elena Brower, Jillian Pransky and the Katonah Yoga lineage for their influence and wisdom. Elizabeth teaches public classes in Manhattan and Brooklyn and offers private yoga as well as Tarot readings in person and online. Find out more about her and her work at love-by-e.com.