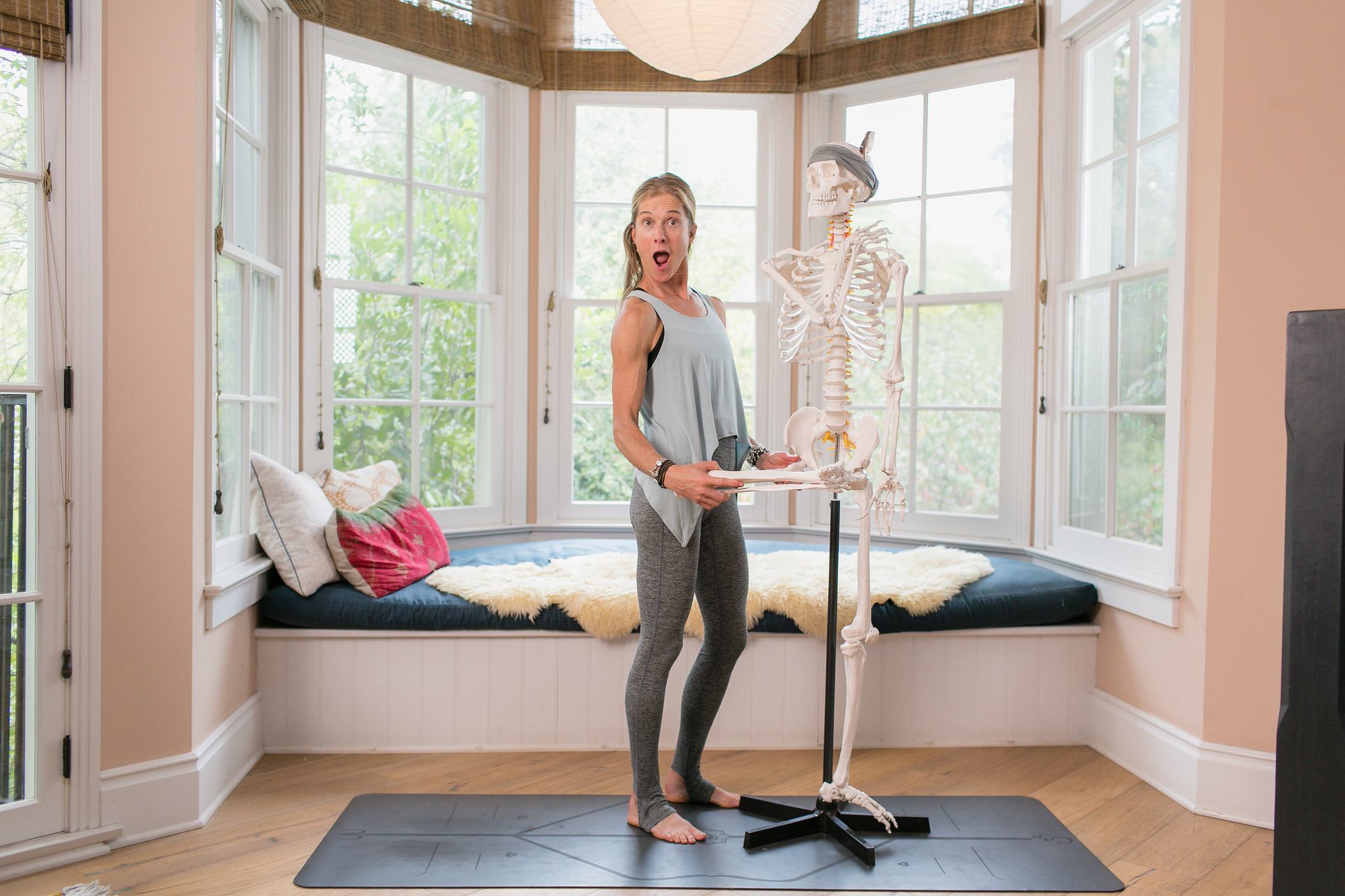 Schuyler Grant with Mr. Bones, leading a 21-Day Challenge for Wanderlust TV.
Tradition dictates that a 10-year anniversary is celebrated with aluminum; modern norms have ditched the tin for diamonds. As we begin celebrating 10 years of Wanderlust in 2019, we think the diamond is apropos: Over the years, we've certainly refined the proverbial lump of mindful coal into what we consider a shining beacon of the promise of wellness for all.
It's been a journey—and there have certainly been plenty of bumps along the road. But one of the things that hasn't changed (and of which, full disclosure, we're pretty darn proud!) is our great relationship with world-class teachers. Every year we bring you a roster of renowned talent to help you find your true north. In this series, we'll highlight some of those teachers who have been with us over the years—and how they look back at their relationship with Wanderlust over the past decade. This week: Schuyler Grant. 
Don't miss your chance to be a part of this very special 10-Year Anniversary! Join the global mindful movement at a Wanderlust event this year.
---
Where do we even begin chronicling Schuyler's journey with Wanderlust? A co-founder of the company alongside Jeff Krasno and Sean Hoess, Schuyler is currently Wanderlust's National Director of Yoga, and the heart and asana of our family. From Speakeasies to countless yoga classes, from the opening of Wanderlust Hollywood to leading 21-Day Challenges on Wanderlust TV, Schuyler is synonymous with Wanderlust yoga.
Read Sean's detailed account of their journey here!
Schuyler giving a Speakeasy at Wanderlust Squaw Valley, 2010.
Tell us about your first Wanderlust experience.
My first Wanderlust experience was a recon trip we took to Squaw Valley in April of 2008. Putting on a wellness festival on a mountaintop was still a pipe dream at this point (in fact the words 'yoga' and 'festival' had not yet been put together as a part of our cultural lexicon), but somehow we convinced the folks at Squaw Valley to let us scout the site. They took us up on the mountain in jet skis and it was a gloriously sunny spring California day. All around us people were skiing in jeans and tank tops, and we were sitting on the site high up on the epic Tahoe slopes where the Jerry Garcia Band had played their iconic mountaintop show more than 15 years before. Everything seemed both like a crazy fantasy… and yet somehow sooooo right. And it was.
Our three co-founders share their story at Wanderlust Stratton in 2011. 
Describe Wanderlust in three words.
Work, Play, Repeat.
Schuyler is also the founder and director of the Kula Yoga Project in New York City. In this video from 2013, Schuyler demonstrates her signature Kula Flow.
What does Wanderlust mean to you?
The word 'wanderlust' of course has for me been so far abstracted from the original meaning of 'a passion for adventure' because the word and what it connotes has been so inextricably woven into the fabric of my life.
In this Storytelling project from 2016, Schuyler shares her belief that it's a parent's responsibility to build character. She and her husband, Jeff Krasno, have three daughters. 
How has Wanderlust been a part of your journey?
Because the creation Wanderlust was a merging of vision and the intersection of interests between Jeff, Sean and myself, the trajectory of my last decade has been interwoven with the evolution of the festival and all that it has become. I have never been one to think about 'work / life balance'. My life has always been my work and visa versa. My first baby, Kula Yoga Project and the three human babies that followed, my marriage, and many of my most important friendships have all intersected with Wanderlust. It has not always been easy, but it has always been an adventure. It has always been full of a passion to explore.
This 2018 promo video is for Schuyler's signature Wanderlust class, The FIXX. Stream classes anytime on Wanderlust TV!
Practice with Schuyler IRL at Wanderlust Squaw Valley or Wellspring this year—or join the 2019 21-Day Challenge, coming this March.