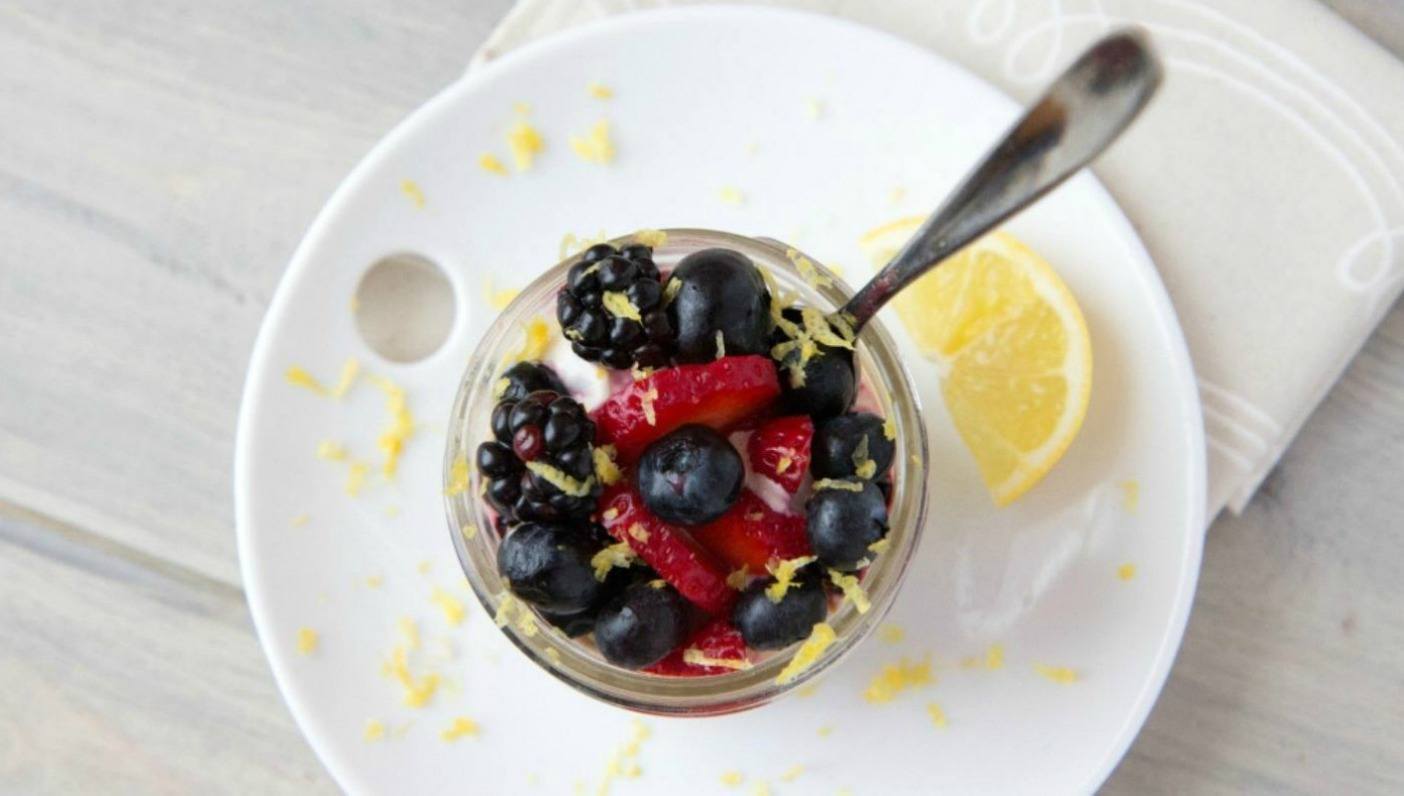 Photo courtesy of Jenny Morgenthaler
This post originally appeared on Spoon With Me.
---
I'm quickly becoming a dessert activist. The little people in my head are marching around with picket signs and chanting: "Vegans are sweet too! Dairy-free treats are fun to eat! Mo dairy, mo problems! Gluten-free sweets are great for me! Desserts ain't just for the iron-clad belly! Sensitive belly? Oh welly! Sweets and peace for everyone! Make vegan bellies happy!"
This month, I celebrate seven years as a cancer warrior. Cancer has taught me to be creative and adaptable, to live well in the face of challenges.
I created this recipe for a fellow cancer survivor who eats a diet completely free of added sugars. At first, my brain drew a blank. I love Stevia as a sugar-free sweetener, but normally use it in combination with another sugar source such as honey, agave, or coconut sugar to round out its slight bitterness. What's sweet but not processed? I tossed in a few soaked dates, which added the deep sugary roundness I was looking for. Even the mister, a self-proclaimed Stevia hater, approved.
Within the strict parameters of the sensitive belly's diet, the sugar-cravers get creative! Just because you can't indulge in the typical milk, sugar, and gluten-laden treats doesn't mean you have to sit in a corner eating a piece of fruit, or worse—nothing—while everyone else indulges in a creatively and deliciously concocted dessert. Nobody puts Baby in the corner!
These little desserts come with a salty-sweet crust made with toasted coconut, nuts, dates, and sea salt. This is a versatile crust that can be used with any dessert or pie that doesn't have to be baked after filling. The creamy, custard-like filling will make you question everything you thought you knew about vegan desserts. When layered together, it's salty-sweet, nutty, and creamy, with a lemony zing to wake up the taste buds from a their long winter's nap. Then on top there's a colorful burst of flavor from the berries.
These little guys would be equally suited to a small, informal event such as a dinner party or baby shower, or a fancier event like a wedding. I always get the most gratification when people who think that the dessert couldn't possibly fit their dietary needs have their eyes light up upon discovering they can partake along with everyone else. Eating dessert is such a sensory experience and a special way to share something enjoyable with those around us. When I have the opportunity to eat dessert, it's because I'm with friends. We're having fun! We're spoiling ourselves, and even the belly-challenged among us need spoiling every now and then.
Phew! Now that we've found dessert peace and harmony, we can commence rock-starring our way through life's other challenges!
Lemon Berry Custard Pies
Vegan + Gluten-Free, No added sugar
Makes 6 quarter-pint mason jar pies
FILLING:
1 cup raw cashews, soaked in boiling water for an hour, or in cold water overnight
⅓ cup freshly squeezed lemon juice (reserve the zest to garnish)
1 cup chilled coconut cream*
¾ tsp powdered Stevia
3-5 pitted dates, soaked in hot water for an hour
¼ tsp vanilla
CRUST:
½ cup pitted dates, roughly chopped
¾ cup mixed raw nuts, toasted and cooled slightly
¼ cup shredded unsweetened coconut (toast in dry pan for about 2 minutes, or until slightly golden and fragrant)
1–2 pinches of sea salt, to taste
GARNISH:
2 cups berries, sliced or chopped into bite-sized pieces
Zest from 1–2 lemons
EQUIPMENT NEEDED:
Quarter pint jars, ramekins, or muffin liners for serving
Blender
Food processor
DIRECTIONS FOR FILLING:
Blend the cashews, lemon juice, and chilled coconut cream very thoroughly in a blender, pushing down the sides with a spatula as you go. If needed, add a very small amount of the coconut liquid to loosen it up if it won't blend. Blend in the Stevia. Add the dates, one at a time, tasting after each addition (I used 3). Blend in the vanilla.
DIRECTIONS FOR CRUST:
Blend nuts with coconut in a food processor. Add the non-soaked dates gradually and pulse until they are incorporated. Blend in the salt to taste.
Press 2 tablespoons of crust mixture into the bottom of each mason jar or muffin liner in a muffin tin. Spoon some of the cashew custard mixture over top. Chill in the fridge for at least 3–4 hours, or quick chill in freezer for 20–30 minutes (the texture will end up firmer than pudding but not as firm as cheesecake).
Top with the chopped berries and garnish with lemon zest.
*When using coconut cream to make into pie fillings, whipped cream, etc., it is important to use the white cream and avoid the clear liquid. If you can't find coconut cream, you can use 2–3 cans full-fat coconut milk. The cream should be at the top after chilling. Just scoop it out and discard or reserve the clear liquid for another use. I like Trader Joe's and Thai Kitchen brands. I have also found good quality coconut cream at Asian grocery stores.
—
Jenny Morgenthaler is a writer, photographer and recipe developer who enjoys cooking, growing, creating and adventuring in the kitchen and beyond. She is a cancer survivor and is passionate about using good, healthy food to support wellness in the midst of big life challenges. Jenny believes that everyone should be able to enjoy a flavorful, colorful, healthy meal around the same table, so her recipes are flexible and adaptable to a variety of dietary needs. Life is improvised and beautifully messy, and cooking should be too! You can visit Jenny, her quirky musings, and healthy recipes at Spoon With Me.