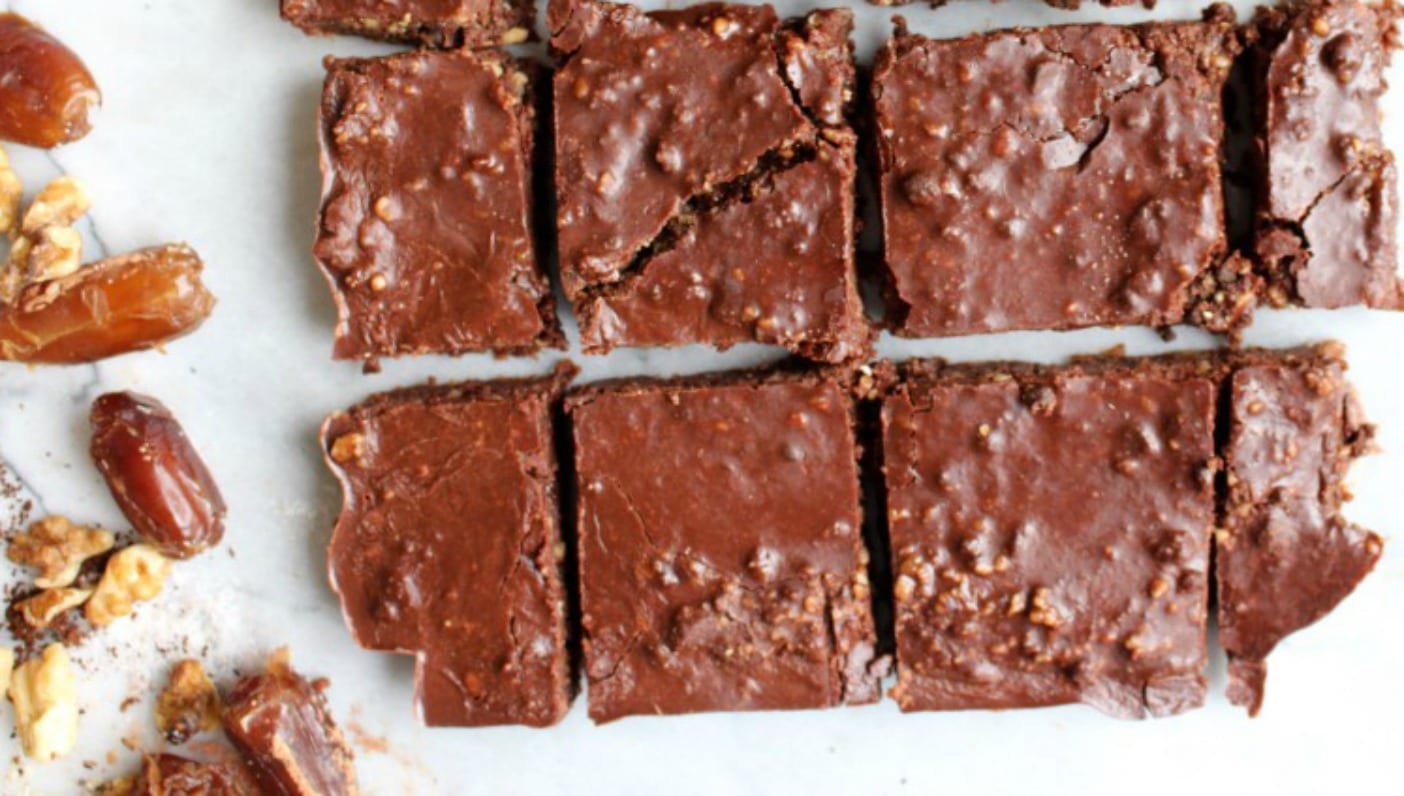 Photo courtesy of Tara Milhem
This piece originally appeared on TheWholeTara.com.
---
I can't find words to describe this blissful combination of dates, cacao, spiced coffee, and walnuts. It's a soft, yet chewy, chunk of chocolatey goodness that's too good for some descriptive adjective. If you're looking for a brownie that tastes better than an actual brownie, then these coffee-kissed chocolate walnut brownies are the ones for you. They'll fool you by tasting as unhealthy as ever, while they're actually one of the healthiest layered brownies out there and are bursting with antioxidants and omegas with a kick of caffeine. Yes please!

I'll be honest with you and tell you that I'm not really a coffee kind of gal. However, I love to use it in my recipes. Adding in some quality ground coffee provides a sense of richness that takes these brownies to a whole 'nother level with a burst of caffeine energy. Personally, I used Via Bom Dia's Cinnamon Chocolate Cacao flavor of coffee for it's subtle addition of cacao nibs and cinnamon spice. But you can really choose any flavor of coffee to custom tailor your brownies (you may just want to add in a bit of cinnamon for some spice).
This raw, vegan, gluten-free brownie recipe will knock your socks off and give you an energy kick. What on earth are you waiting for? Get cooking already!
Coffee-Kissed Chocolate Walnut Brownies
Makes 12 brownies.
INGREDIENTS
1¼ cup raw walnuts
½ cup hulled hemp seeds
1½ cups pitted dates, soaked to soften
1 cup raw cacao powder, divided
½ tbsp ground coffee
1¾ tsp vanilla extract, divided
½ cup coconut oil
¼ cup maple syrup
Sea salt
½ tsp cinnamon (optional)
DIRECTIONS
In a food processor, pulse the walnuts until crumbly. Scoop out ¼ cup of the crumble and reserve for later. Add hemp seeds and dates and process until very sticky and chopped. Add ½ cup cacao powder, 1½ tsp vanilla extract, ¼ tsp salt, ½ tsp cinnamon (optional), and ground coffee and process until well combined. In a parchment-lined baking pan scoop the mixture and press until smooth and flat. Layer the pressed mixture with the crumbled walnuts previously set aside, so that you have two layers so far. Freeze for 10 minutes.
In the meantime, heat a small pot over medium heat and add the coconut oil until melted. Remove from heat and stir in ½ cup cacao powder, maple syrup, ¼ tsp vanilla extract, and a pinch of sea salt. Then remove the pan from the freezer and drizzle the chocolate over the brownies. Place the pan back in the freezer until the top hardens, or about 20 minutes. Remove from the freezer and slice into squares. Serve chilled.
—

Tara is a recipe developer, nutritionist, and writer at TheWholeTara.com.