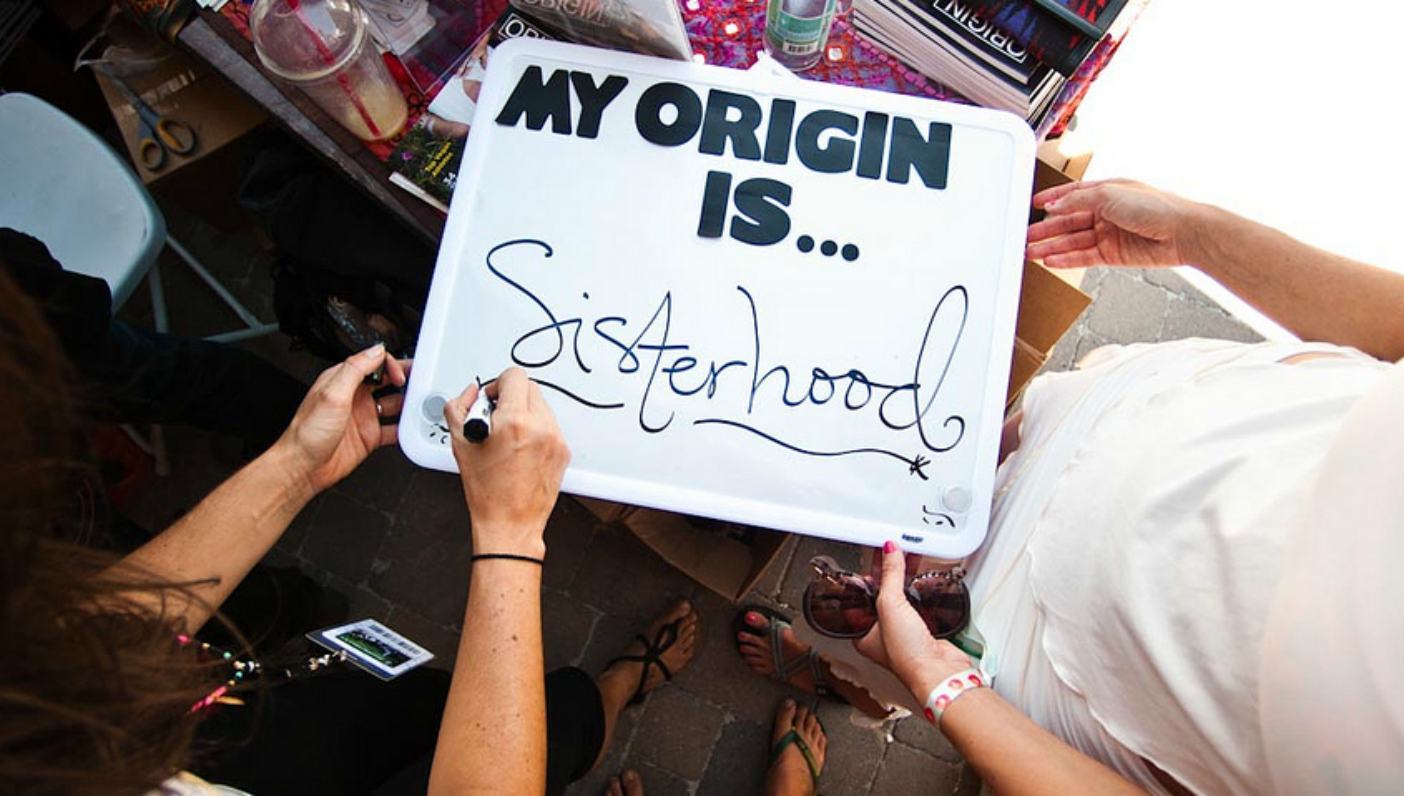 Connect with your sisters (and brothers, too!) at a Wanderlust 108, the world's only mindful triathlon. Find out where we're headed and purchase tickets here. 
---
Imagine: Running wild through the mud with a team of sisters. You're laughing while surmounting some of the toughest physical challenges you've ever faced; you're filthy and exhausted. But you're still encouraging each other to keep on going when it seems impossible. Mudderellas are team events that take Shine Theory to the next level. That's because these 5–7-mile obstacle courses are designed by women, for women, and encourage sisterhood over competition. A confidence boost that doubles as a bonding experience with your girlfriends? Sign us up.
Erica Pollock, Operations Director at Mudderella knows that sometimes the hardest part is doing just that—signing up. "We feel that one of the biggest struggles for many of our participants is the idea of trying something new and being scared of the challenge," says Pollock. "This event is as much about proving to yourselves that you are physically and mentally strong as it is about encouraging your fellow Mudderellas that they are too."
Ready to take the challenge? Use these five tips to promote overall health and balance while you're gearing up to get down.
Practice Affirmations Daily
To overcome the mental challenges presented by these events, start building your own sense of "I Can" on a regular basis. Practice looking in the mirror and saying "I am strong, I can endure." It will feel a little cheesy at first, but affirmations seriously work to shift your mindset and that inner voice. Put yourself on your own side! (Feel free to change the words around—just make sure to keep the sentence in the affirmative tense… No "not" "no's" or "but's".)
Mix it Up
Of course the physical challenge is real, too. Mud runs challenge your agility, balance, strength and endurance. So does yoga! Keep asana practice regular to prepare for an event like Mudderella that will present a variety of challenges, but include some other types of activity to round you out. A combination of yoga, interval running, and weights will help you find your balance of strength, speed and adaptability to conquer whatever comes at you.
Slow and Steady
This tip is a twofer. First, in any of your physical training look for steadiness over flash. A mud run is an endurance challenge. Try building the length of your holds in poses like Warrior I, Warrior II and Plank which will seriously build leg muscle and willpower. Second, pace yourself in your training. Start from wherever you are and add on slowly. Consistent training is way more powerful than trying to "pack it all in" before a big event.
Find Your Tribe
These challenges are team events. You want a team of supportive women to rally with you and for you. Even if you're on a team of people you may not know well, use the opportunity to bond and share the experience. Train with your team to really boost the benefits of teamwork, and to stay motivated before the big day. As Pollock says, "Mudderellas really live and breathe the 'I don't shine if you don't shine" mentality while out on the course, and yes you can still shine when covered in mud!"
Meditate
Whether you're preparing for a five-mile obstacle course or the first day at a new job, meditation gives you the mental clarity to take on any challenge. New to meditation? No need to worry. Start with a couple of minutes a day, literally two minutes. Right when you first wake up is a great time to fit it in and set up a routine, but you can choose any time that works for you. After a few weeks of two minutes every day, bump it up to five minutes. Repeat in small increments. Benefits include improved focus, reduced stress, and an increase in compassion.
Whatever challenge you are facing, these tips can help you prepare and overcome, one fierce step at a time. See you in the mud!
—
Elizabeth Crisci is a yoga teacher and artist in Fairfield County, Connecticut. She is the creator of Love by E, handmade gemstone mala and jewelry. She teaches in workshops, special events, and trainings in the Northeast in addition to a range of regular, weekly classes. She teaches smart and accessible yoga designed to make you feel good. She loves every minute of her work. You can find her writing and her teaching schedule on her website.