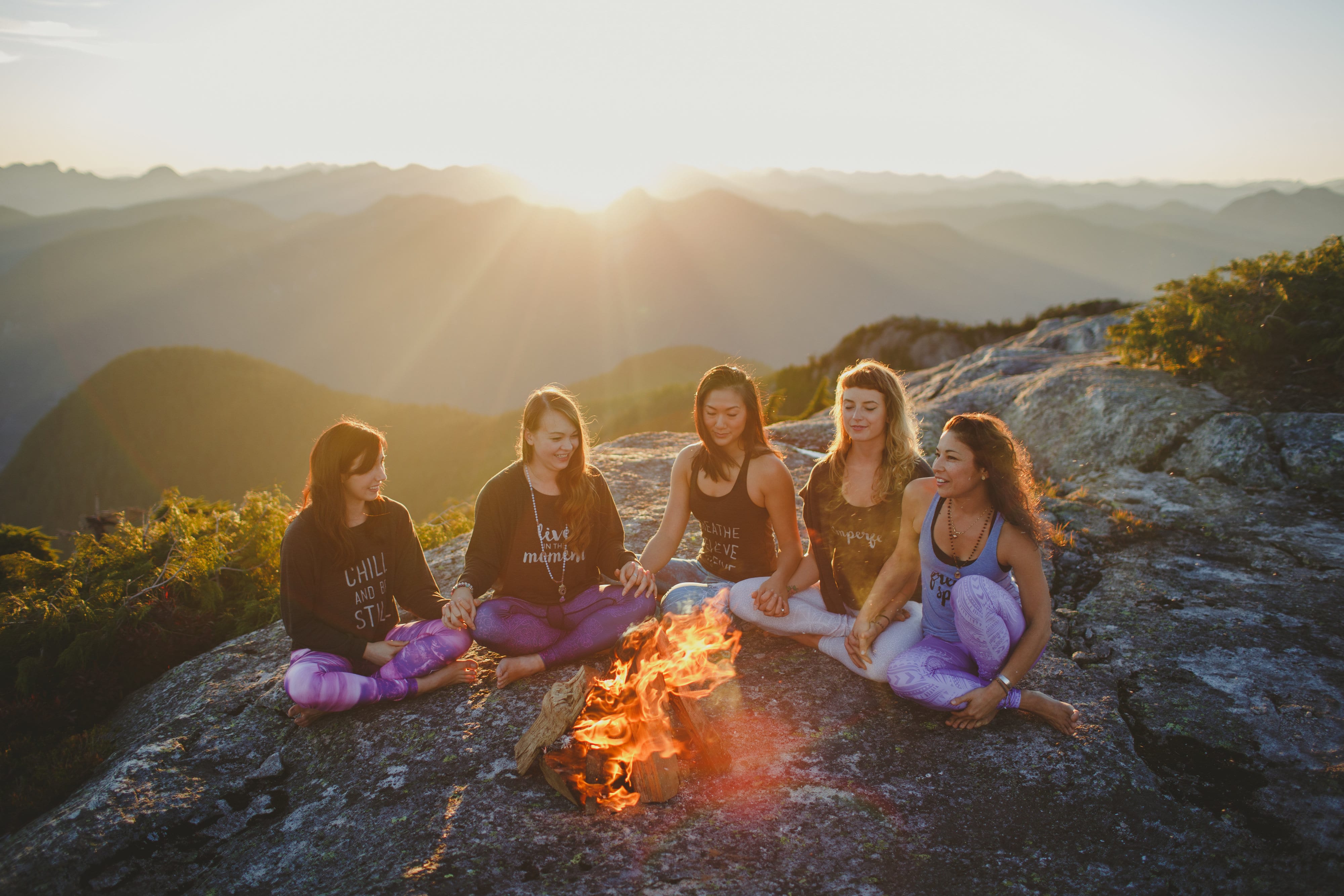 Cheers to a successful summer season, yogis!
As we wrap up our summer tour in Tremblant, I get a little sentimental about the last six weeks of touring some of the most beautiful places in North America. And Tremblant is no exception. While I have never been to Europe, this resort feels like I am walking around in a sweet little village in the French Alps.
Our selection of vendors closes out our season strong. The market can be found in the lower section of the village between the Compass and the base of the gondola.
But before I get to the vendors, I bring you this special announcement!
I recently had the pleasure of taking a little time for myself during a festival and took my first Wanderlust yoga class. What a truly wonderful experience I had in Gurmukh's class about love.
As someone whose job it is to select all the vendors for our events in the US and Canada, I can't help but feel excited immediately when I see fine quality, special products around me. I became enamored with Chattra's meditation cushions and yoga bolsters.
Chattra has been a wonderful asset to Wanderlust, outfitting our yoga classrooms, green rooms, and our True North Cafe. Ann Mordine officially began Chattra in 2014 after six years of traveling and living in India with her family.
Mordine writes, "Sanskrit for parasol, chattra symbolizes dignity and protection. In Buddhism, a chattra tops stupa monuments and often represents the Buddha. The playful and profound elephant-headed Hindu deity Ganesha, remover of obstacles and Lord of Beginnings, often carries a chattra. Lovely meanings to enhance yoga practice."
Once you are done drooling over admiring the yummy cushions and bolsters in your class, head down to our market and peruse more fantastic goods.
RAD Roller
Another veteran on the Wanderlust Kula Market tour is RAD Roller. These fascia-releasing tools are a perfect complement to a weekend full of yoga, hiking, and dancing. Stop by the RAD Roller booth for a free roll out and learn the pro tips on how to use these state-of-the-art massage instruments.
Wakami Canada
Wakami Canada is more than a great jewelry vendor we partner with in Tremblant, they are improving the world, one village at a time.
Wakami, in their own words, explains their mission: "We work closely with our non-profit partner Comunidades de la Tierra to create sustainable, income-generating opportunities for people in isolated areas of Guatemala. Comunidades de la Tierra reaches out to artisans in rural villages all over the country and presents them with the opportunity to become entrepreneurs and establish their own formal businesses. Artisans participate in a two-year business-training program that teaches them the valuable skills they will need to run their company. At the completion of the program, the artisans establish a formal enterprise that becomes a production partner with Wakami. This relationship provides a sustainable source of income for the advancement of their families, investment in their communities, or reinvestment in their businesses."
Encircled
As someone who travels every week from April to November, I have packing down to a science. I am an avid carry-on-only traveler, and as you can imagine, this leaves little room for outfit error. Everything must transition from travel outfit to "Fancy Outfit Friday," a pastime of Wanderlust colleagues.
The master of clothing magic is Kristi Soomer of Encircled. Her pieces are multi-functional, pack beautifully, ethically-made, and feel so soft.
Soomer perfectly embodies the wisdom of Yogi Bhajan: " Travel light, live light, spread the light, be the light"
Check out our full list of Vendors below!
Enjoy your orbit around the Tremblant Kula Market!
 —

 Katie Fuller is Wanderlust's Vendor Manager.