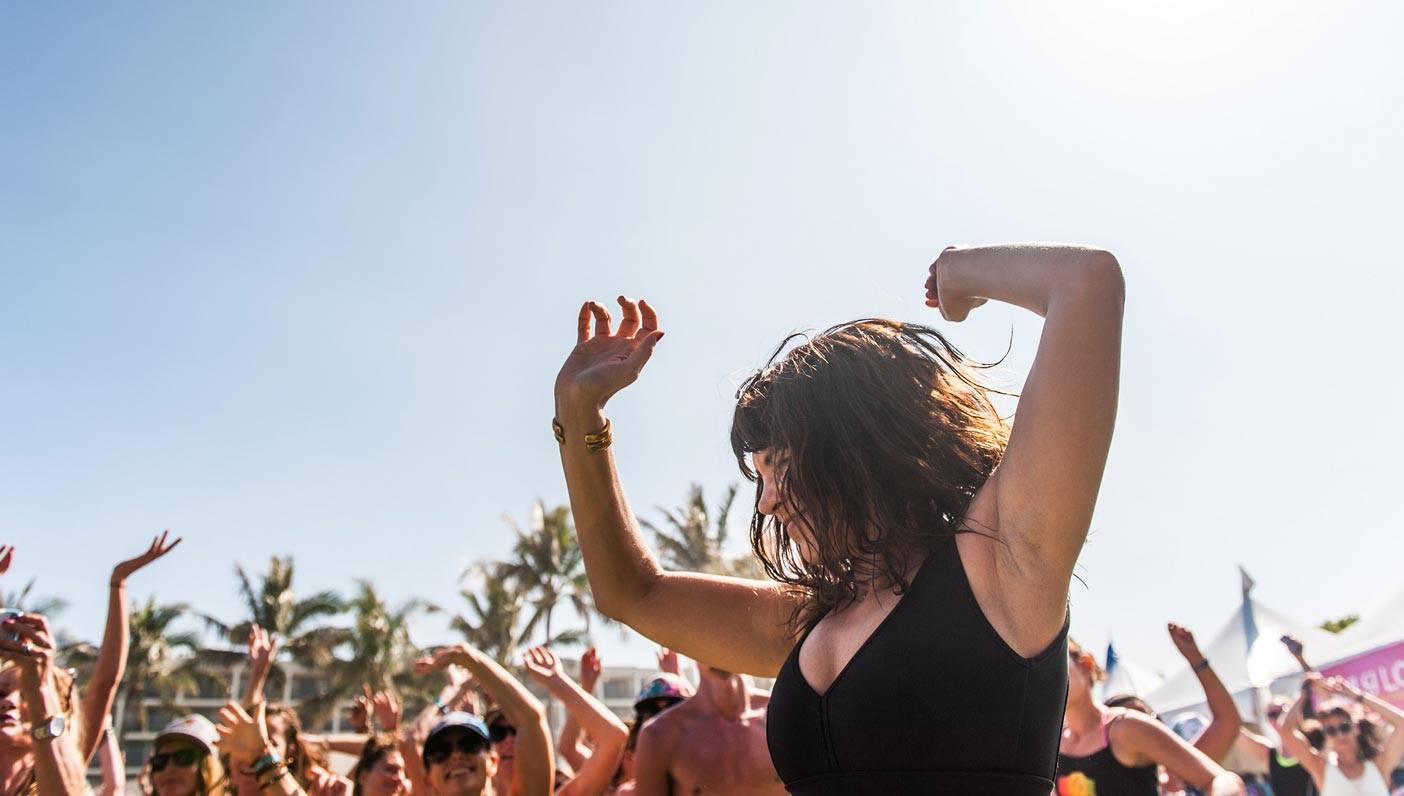 Photo by Ali Kaukas
Get your groove on at Wanderlust 108! Learn More | Get Tickets
---
I did not grow up loving dance. I took dance class several times a week from ages 6 through 17. While I did enjoy the community of the classes, the costumes and performances, and learning choreography, I never thought of myself as a dancer. It didn't feel like it came very naturally to me, and becoming the star of the dance studio never felt like a priority.
It was years later as an adult, at Wanderlust Stratton in 2010, that my inner dancer was really awakened. I was in a yoga class with Dana Trixie Flynn, the brilliant beauty behind Laughing Lotus studios in New York City. Dana teaches a unique blend of yoga, martial arts, and dance. She encourages free improvised movement within the structure of her classes. I loved it.
Free movement dance is challenging for me. Rules, form, and structure make me feel safe and intellectually stimulated. After taking Dana's class, I realized that I was missing the freedom of movement without structure or rules. I started exploring 5Rhythms, NIA, and JourneyDance. I still hop into a class or workshop in these styles of interpretive, free movement whenever I can. It can be tricky to find teachers and classes, so I improvised my own solution.
I start every week with a short dance party in my own bedroom, or the studio, or wherever I find myself.
Monday became dance party day. I start every week with a short dance party in my own bedroom, or the studio, or wherever I find myself. If there are others around, they join me. Sometimes I even bring the dance party to my yoga classes and start off with a few minutes of booty-scooting. It's not just a really fun way to get out of your box—there are a ton of health benefits to dancing (even just for a few minutes).
According to an article from the Alberquerque Journal, subjects of a study on Zumba classes were found to improve their moods, cognitive skills, and decision-making abilities.
A study from The Arts in Psychotherapy: Volume 41 Issue 1, "[Dance Movement Therapy] and dance are effective for increasing quality of life and decreasing clinical symptoms such as depression and anxiety. Positive effects were also found on the increase of subjective well-being, positive mood, affect, and body image."
There are even results suggesting that dance can serve therapeutically for individuals with Parkinson's Disease.
Feel it for yourself. Put on your favorite tune and shake it like you mean it. You'll feel the benefit in your body and mind immediately!
—
Elizabeth Crisci is a yoga teacher and artist in Fairfield County, Connecticut. She is the creator of Love by E, handmade gemstone mala and jewelry. She teaches in workshops, special events, and trainings in the Northeast in addition to a range of regular, weekly classes. She teaches smart and accessible yoga designed to make you feel good. She loves every minute of her work. You can find her writing and her teaching schedule on her website.