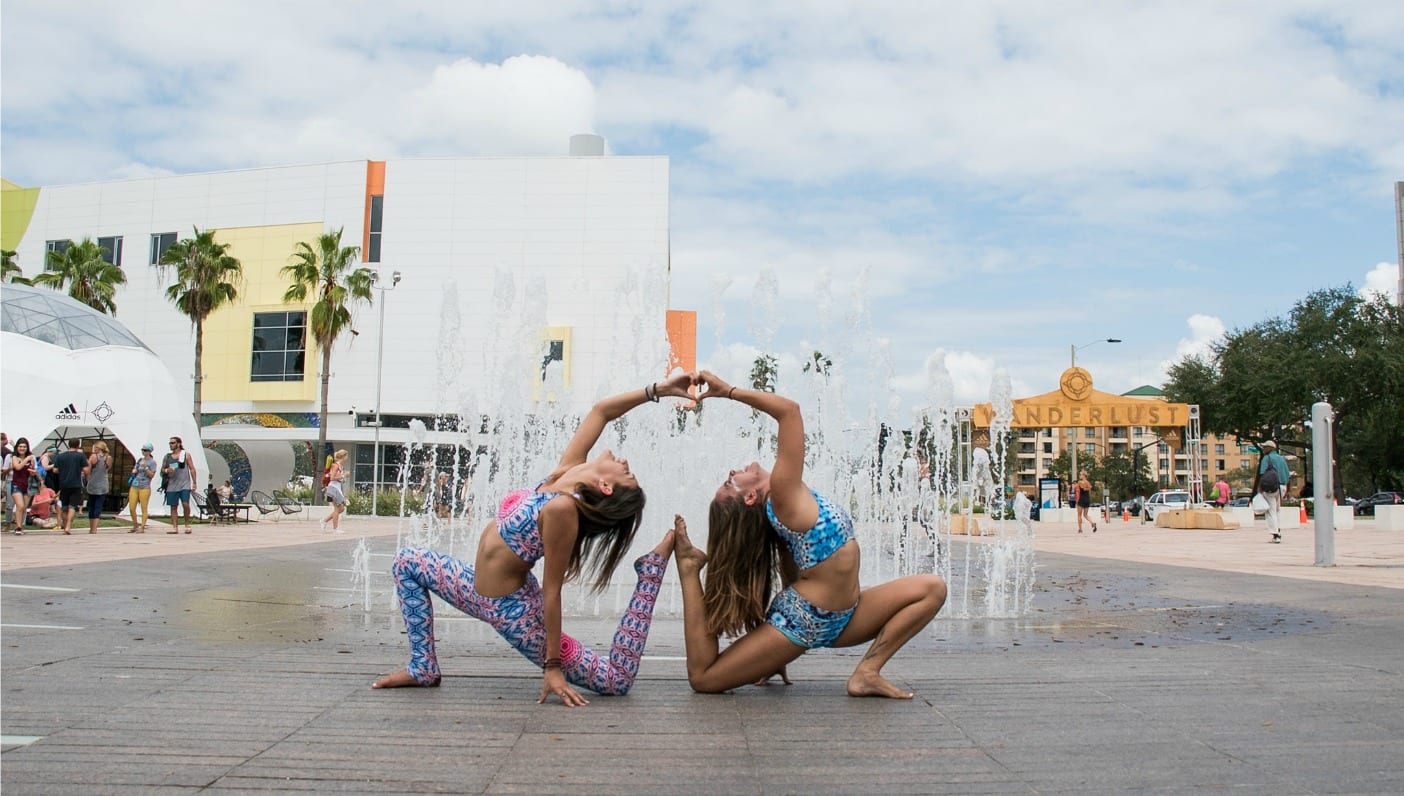 Photo by Kris Holman
Floridians know how to party—but to say the state is all va-va-voom and no vinyasa is as insincere as crocodile tears. South Florida may be most famous for swashbuckling pirates, but the gangplank isn't the only Plank the region is good at, and Tampa offers some of the most varied and interesting places to flow in the country. We love gearing up for Gasparilla every fall at Wanderlust 108 in Julian B. Lane Park; enough of those Planks and we're ready for any treasure-hunting that may present itself. 
It's not too late to join us at Wanderlust 108 Tampa! For tickets and more info, click here. We have several types of tickets available this year, something for every budget. Snag a Practice Ticket for entry to the yoga and meditation portions of the event, as well as the Kula Marketplace. Entry to other bonus activities and the 5K are included with either the 108 Ticket, the 108 Ticket Package, or the premium WAN(DER)LUST Package.
Have a spot you'd like to see on this list? Reach out to us on the Tampa 108 Facebook event page and let us know. Studios marked with an asterisk are part of our Studio Partner program. Want to learn more about the perks of becoming a part of the Wanderlust family? → community@wanderlust.com
---
Their roster of impressive teachers (including Ashtanga teachers, which are relatively difficult to come by!), the three beautifully-decorated rooms in their bright space, and their wide variety of classes all make Bella Prana Yoga and Meditation one of our best go-to spots in Tampa. We love that we can learn meditation basics in their Open Meditation class—and come back to sweat in a Hot Power Hour.
Stretch into your fullest potential in this beautiful hot studio, offering classes in the Bikram and Hatha traditions. We can't get enough of the live music classes every Friday night—there's no better way to step into the weekend feeling like we've sweat out the workweek. Gaze also offers periodic community days, where all classes our free—we love a studio that recognizes and gives back to its practitioners.
Billed as the "national hub" for all things stand-up paddleboard yoga, no list of Tampa studios would be replete without mentioning the SUP Yoga Center. With SUP classes for yogis of all levels—both with and without water experience!—it's a great place to dive deeper into your floating practice, or take your practice off the mat for the first time. We also love that a percentage of all proceeds goes to supporting marine conservation efforts.
A one-stop shop for all your wellness needs right in the heart of South Tampa? Yeah, we can't get enough either. With traditional yoga alongside bodywork classes and Float Therapy, Kodawari has something to both get the blood moving and the energy flowing—and with the option to work one-on-one with a wellness professional on staff, you're guaranteed to find what works for you. Did we mention they offer Float Therapy?
Conscious that individualized attention begets the best results when it comes to yogis of all levels, class sizes at Yoga Loft Tampa are kept small, and everyone who passes through the doors walk away with a boutique experience. Featuring Yin to Prenatal classes, you'll find what you're looking for here—and with a robust corporate yoga program, you may even be able to get them to come to you.
The defining characteristic of Palm Yoga is most certainly the Yoga Wall, a wall equipped with straps that allow for a practitioner of any level to explore movement in her body safely and fully. This offers the potential to deepen an understanding of anatomical and energetic movement in the body during practice—something we haven't seen to this extent anywhere else in Florida. Don't take our word for it: Three-time Olympic gold medalist Tianna Bartoletta has called the studio "life-changing."
More retreat center than studio, The Lotus Pond offers up yoga, teacher trainings, and so much more. Retreat from the hectic pace of life on their beautiful grounds, or stop in for a single lesson. Stay overnight in one of their wooded cabins—the perfect spot for a romantic weekend, a girl's trip, or a solo check-in. With pilates, massage, and a plethora of workshops, we could easily spend the rest of our year here and be just fine.
The decor in Chi Yoga may be super simple, but their tutelage is anything but. With an infrared sauna on-site and a cafe that offers Acai bowls (our fave post-yoga snack), as well as beautiful, spacious bathrooms with showers, you can stop by Chi at any point during your day and return feeling refreshed—both energetically and physically!—than when you came in.
Join us at Wanderlust 108 Tampa!