Sarah Tiefenthaler is a seasoned SUP yoga teacher and the founder of YOGAqua, LA's premier Stand Up Paddleboard Yoga studio operated out of Mothers Beach in Marina Del Rey. For Sarah, the ocean is her studio. 
Read on for more information about just what a SUP Yoga Teacher Training is, and why you want to consider it. 
---
Wanderlust (WL): Why do a SUP Yoga Teacher Training?
Sarah Tiefenthaler (ST): There are many reasons one may decide to complete a SUP Yoga TT. Most often people participate because they already feel passionate about practicing yoga on the water. Whether they are interested in going on to teach or simply to experience four full days on the water learning more about something they love. There are also those who are already yoga teachers and want to expand there skills by learning how to create their yoga practice on a floating surface.
WL: What's the difference between a SUP Yoga TT and a mat-based one? Aren't the basic principles the same?
ST: These are entirely different courses. During the first day of SUP Yoga Teacher Training, participants earn their World Paddle Association Level 1 Certification which covers SUP equipment, harbor laws, water safety, water rescue, towing (yes, towing), paddle technique, and are even CPR and AED certified. There is so much more to teaching yoga on a floating surface in nature. Mother Nature is unpredictable. You are in her home when you are on the water and the safety of your students is in your hands therefore we have to very thoroughly navigate through all the potential scenarios one may experience and how to properly handle them.
Once we've covered safety, there is anchoring. Anchoring a class of 10 students or more is not as easy as it sounds. The conditions of the water and weather effect this greatly-where you're anchoring your classes effects this greatly. Some SUP Yoga classes are held on the ocean but some may be in a lake, river or even a swimming pool. Anchoring changes for each of these environments. Wanderlust, in particular, has a very unique anchoring set-up.
And of course there is also the topic of customizing yoga poses for the board. If you ask beginner level students to come into the perfect yoga alignment on day one, you will have your entire class swimming. You have to learn how to build the poses up before you get them to that level.
WL: I'm already a certified teacher. How could I benefit from a SUP Yoga TT, even if I don't plan on teaching?
ST: You will learn how to navigate safely on any body of water with efficient paddle skills, you will be knowledgeable to teach someone how to paddle, you will be prepared to rescue someone from drowning and administer CPR. Whether you go on to teach SUP Yoga, these are all incredibly valuable skills.
WL: What can being on the water teach us about being in the flow?
ST: As mentioned before, Mother Nature is unpredictable. You may have the perfect Vinyasa Flow prepared for your class one day and then find that the conditions of the water are too rough due to wind so therefore you have no choice but to teach a Slow Restorative Flow. The point is, you have no choice but to "go with the flow". You have to work with whatever Nature offers you and you must learn how to enjoy it's unpredictability. Once that happens, you begin to apply it to life. When you stop resisting Nature, you stop resisting Life and all it's wonderful challenges-instead you learn how to "ride the wave".
WL: What is the most valuable lesson you've taken off your board and into the world?
ST: Every time I'm on the water, everything about the experience feels different. Sometimes the water is a beautiful glass that looks as if I can literally walk across it and sometimes the wind and current has it moving like a river beneath me. One day the sun shines through the clouds in the most magical, shimmery way and other times it is blocked out by the marine layer. What I have learned is not to create expectations all the time. Let life offer you little surprises and find the humor in it, find the magic and experience it for all it's beauty.
—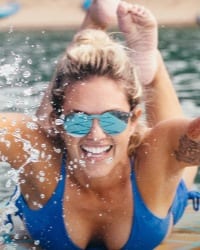 Sarah Tiefenthaler is the owner and founder of "YOGAqua". In addition to being a Presenter at Wanderlust, she is also the SUP Program Coordinator for all four day festivals. Sarah completed her first 200 hour Yoga Teacher Training in the tropical jungles of Costa Rica where she focused intensely on the philosophy of Yoga as well as meditation practices. When she returned to Los Angeles, she completed her second 200 hour Yoga Teacher Training certification in Hollywood, CA at Earth's Power Yoga where she was able to expand her knowledge of human anatomy and alignment in relation to Yoga.