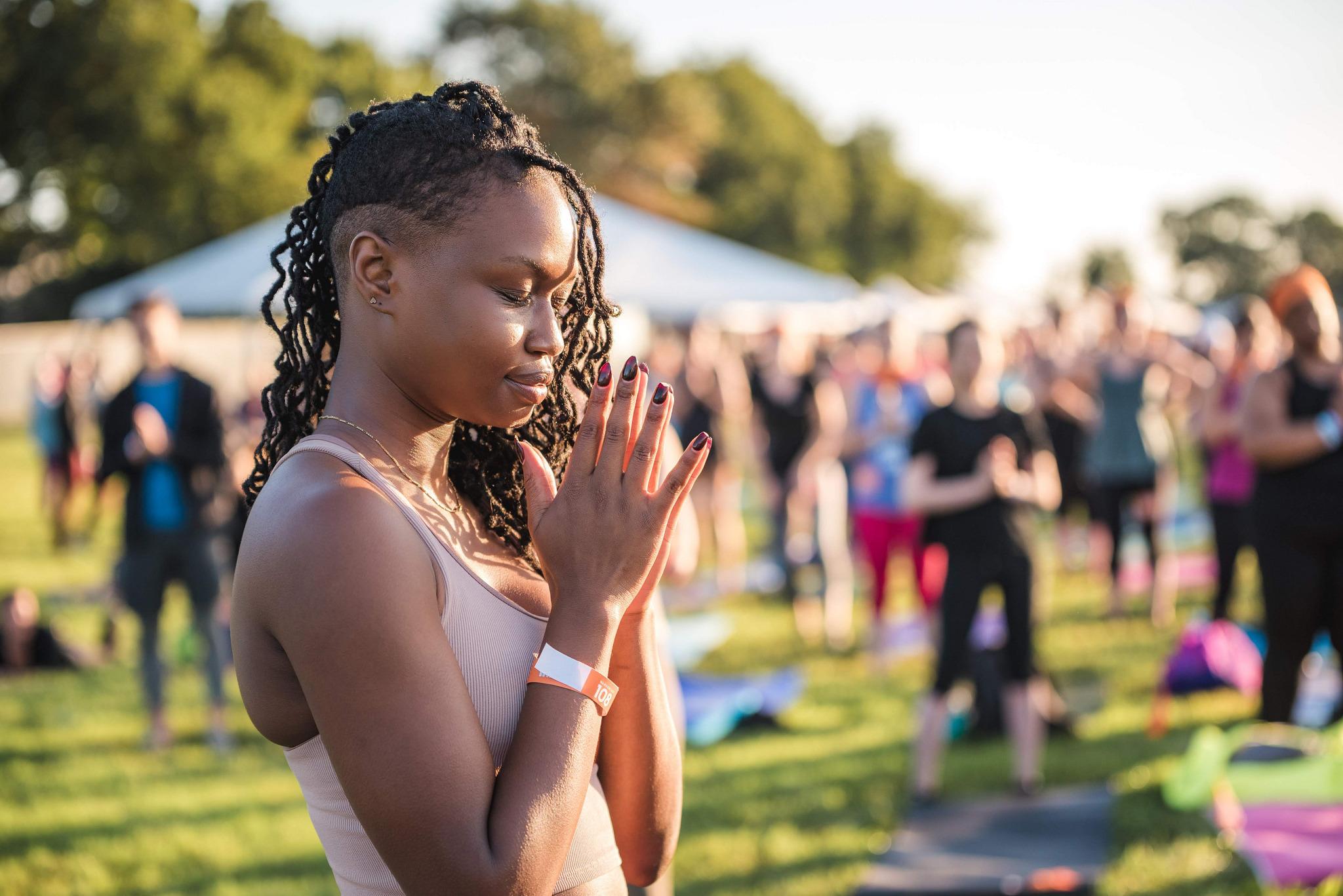 Photo by Thurston Willis
It's no secret that accessibility is an issue in the yoga world. When we opened SHAKTIBARRE in 2016, we had only a few teachers of various body types, ethnicities, and sexualities—and even that was revolutionary in the boutique fitness industry. At the beginning, 10 students applied for our sliding-scale pricing. Sometimes all it takes is someone to start breaking the mold… Fast-forward, two-and-a-half years later: We're launching our third location, 12 of our 23-strong teaching team identifies as minorities and nearly half our student demographic participates in the accessible payment program.
So what is SHAKTIBARRE? And what can be learned from the model?
SHAKTIBARRE was founded after my partner, Shauny Lamba, and I learned that about 44 percent of yoga participants make more than $75,000 annually and 76 percent of them are white women. "When I visited SHAKTI for the first time," says Portia, one of SHAKTIBARRE Harlem's teachers, "I felt like I was walking into someone's well-decorated apartment rather than a barre studio, but I liked that. It's a space people can feel welcome in and even let their guard down."
Portia says that she learned quickly that the SHAKTIBARRE philosophy aligned with many of her own beliefs, and that it was essentially created with inclusive community in mind. "That empowered me, particularly since a lot barre studios are not concerned with inclusivity, or if they are, they don't prioritize it. That includes clientele and instructors. Outside of SHAKTIBARRE, I can maybe count on one hand the amount of boutique teachers I know who look like me," says Portia. That's exactly what the SHAKTI model is challenging.
Avoiding a "Savior Complex"
One of the lasting things we learned on this journey is the importance of avoiding "the savior complex" when launching community spaces such as this. What we learned, when we made the transition, was that we first needed to get to know the community. When you move into a new community who either already has a yoga program or is being introduced to yoga for the first time, it's imperative to become a part of the landscape rather than set yourself apart from it.
As co-founders, carrying this positive response into Harlem meant getting to know our neighbors (such as Harlem Cycle, ACP Coffee, Askeya by Marion Hair Salon, Harlem Hops, and 7 Grains Health Food Foods) through organic dialogue and cross-promotion, as well as saying yes to local requests like doing a podcast with The Visionary Leader Network and developing yoga class for mothers and daughters.
The teaching team played perhaps an even larger role, each bringing to the table their own way to navigate opening a yoga-barre studio where there aren't many. SHAKTIBARRE's manager, Sami, says, "Why Harlem? Because the studio is about inclusivity and accessibility. We want to be the students of our students. We could have shown up in a neighborhood we're familiar with, furthering the cookie cutter image many other studios broadcast. Instead, it was about stepping into an area we can truly learn from, being true neighbors, and offering up a safe space in return for everyone to feel and exist in."
Shauny echoed Sami's perspective as well: "Harlem, while very different from Brooklyn, has that same diversity and created the same opportunity for us to bring women of all backgrounds together to support one another and learn from each other."
One Woman's Experience
Kendal Hunt was one such woman for whom Shauny wanted to provide a safe space to practice. "Before I found SHAKTIBARRE," says Kendal, "all other yoga classes felt like this to me: 'Where should I stand?  The back of the room is always safe. Maybe over to the side? Definitely in the back. Geez, the mirrors. I hope someone stands in front of me so I don't have to see myself. Ok, more people are coming in. This class is going to be full. Looks like I'm the only one. Yup, I am THE only one.'"
The was the only black woman. The only plus size woman. The only beginner. "I would attempt to follow the others around me and smile, but how quickly this strategy fell apart," she recalls. "How do you salute the sun? What is a Tree Pose? Warrior what? What language are we speaking? I was unable to keep up with the pace, unable to make my body do the poses that came so easily to other class members, and unable to breathe when told to, "just breathe.""
Then the inevitable would happen. Kendal recalls instructors pushing on her back in an "effort" to have her touch my toe when she couldn't. "I was left feeling judged and full of shame at the end of classes, laying on the floor in the only pose I possibly could do… Crying and thinking, "I am not good enough.""
Her yoga experience entirely changed with SHAKTIBARRE. "I walked past a new establishment in Harlem, my neighborhood," says Kendal. "Searching it on the Internet later that night, it at first appeared to be another gentrified place where people of color or size would not truly have a place, but I wanted to give it a chance anyway. Entering the studio, it was cozy. The lady at the desk answered all my questions, and to my surprise, as the previous class ended, an African-American woman, along with her students of various shades and body types, came out of the previous class. Never before had I seen this.
"Every instructor at SHAKTIBARRE, African-American and otherwise, encourages me in ways I was not able to recognize for myself. They notice my progression, and tell me "you've been getting stronger." The first time I was able to hold a plank without being on my knees, it was celebrated. It was not just the recognition of progress for progress sake… It was the recognition of MY progress," says Kendal.
Kendal is now comfortable to take a spot in the middle of the class. She says she feels encouraged, but not expected to push further. "There is a community beyond shape and skin," says Kendal. "I am empowered to be nothing other than who I am and where I am. I can now lay on my mat in Savasana and cry tears of of gratitude for what I'm allowed to "work through" during class. I know I will be supported not only in class, but when I leave the class setting and enter the community space as well."
Advice for other Studio Owners
For other "yogapreneurs" that want to be inclusive, we first suggest checking in on what being included looks like to the surrounding neighborhood, your students, and your teachers. One of the easiest ways to do this is to speak with people in the community. Because, full stop, they'll be doing the same with you.
"I had to further investigate before I would get on board to be apart of this unique space," says Evelyn, one of the highest attended teachers at SHAKTIBARRE Harlem. "I struggled with trying to understand why this white woman [Corinne] and Indian woman [Shauny] based in Brooklyn were so enthusiastic about me potentially teaching barre in Harlem. Two thoughts ran across my mind: Was I being set up to be the black poster girl in hopes for their business to be accepted in an African American, gentrified community Or, could it be, this women sees me, like sees my heart through my Instagram posts and fitness videos? I was either being exploited or pushed further into the direction of my personal desire. Out of these two ideas, the core common denominator was trust. Trust helped me to push past race, lower level thinking which wouldn't serve me, and it gave me permission to accept the journey. Isn't it funny how before we take initiative to teach anyone, we first have to learn. I was learning to lead from a place of simply meeting women where they are," says Evelyn.
That is to say, look. Listen. And be aware that you intention matters. When you do so, not only will your personal community grow, but so too will general accessibility in wellness. And that's something we can all get behind.
—
Corinne, Co-Founder and CAO of SHAKTIBARRE, achieved her Ed.M. from Harvard in Educational Psychology, dual B.A in Honors English and Spanish, a 200 Hour E-RYT Yoga Alliance Training Certificate and YACEP credentials from Three Sisters Yoga, Personal Training Certification from AFAA, and is a KRI-registered Kundalini Yoga Instructor and Illumined Woman Ambassador under Hari Kaur's Master Teachings. Currently awarded amongst Brooklyn's Top 100 Culture Influencers, SELF Magazine's 9 National Wellness Leaders Making an Impact, and a 2019 Be More Human Ambassador for Reebok, Corinne has worked actively and purposefully for over 12 years empowering equal-opportunity wellness education for women.