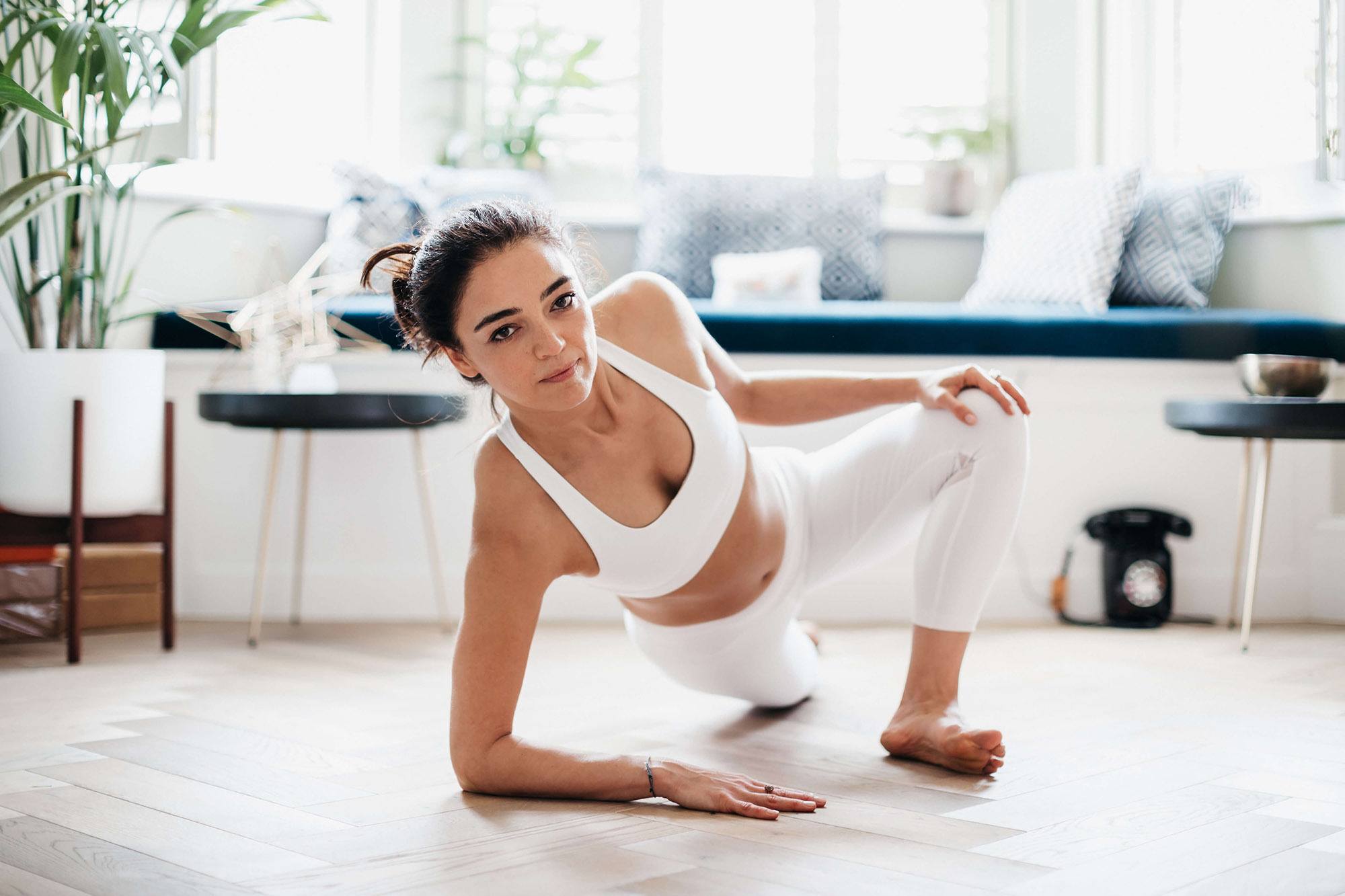 Spinal Mobility for Back Pain is the new five-part course taught by Sarah Drai. In this course, Sarah will get you to focus on building more strength and mobility for the spine to tackle the most common upper, lower back, and neck conditions. Strengthening the muscles affected by our sedentary lifestyle, you'll learn how to better support the posture and build more spinal mobility, and as a result, move with more fluidity and less discomfort. Check out the course now on Wanderlust TV.
Sarah is a French yogini who has let go of her career in international banking to dedicate herself to the passion for yoga. She started practicing a decade ago in New York City. Yoga has helped her grow stronger, more flexible and fearless on and off the mat. She has now over 1000hs training, specialized in vinyasa yoga, acro yoga, hot yoga, Budokon yoga, meditation & mindfulness. Sarah was featured in different publications such as Tatler or Yoga Magazine to share her expertise.
---
How did Yoga enter your life? 
My first yoga class was in an NYC gym and I hated it. I parked yoga thinking it wasn't for me. At the time, I was working for a big corporate bank and my life was mainly my work. A friend of mine dragged me to a Bikram yoga class in the East vVllage and I loved it! I loved it so much that I went on to practice every day before work. I was totally hooked and always felt so amazing post-practice. It impacted my life in a big way from my diet to my mood, everything changed from then on.
What is your favorite part about being a teacher?
The ability to help people feel better with themselves. I also love deconstructing the yoga stereotypes to my students. No, you don't need to be flexible to take a class and yes, it is easier to start meditation than do a down dog.
Spinal health is a very large topic. Not only from the physical perspective but most importantly, from the psychological and emotional one. Does the spine tend to take a lot of emotional burden from our minds and hearts, lock it in and then transform into tightness?
Exactly. The spinal cord aka the heart of our nervous system is traveling all along the spine and as a result, our emotions, which directly affect the nervous system, can translate into tightness in the back and the neck. There is a reason why we use the expression about situations or people being 'a pain in the neck'!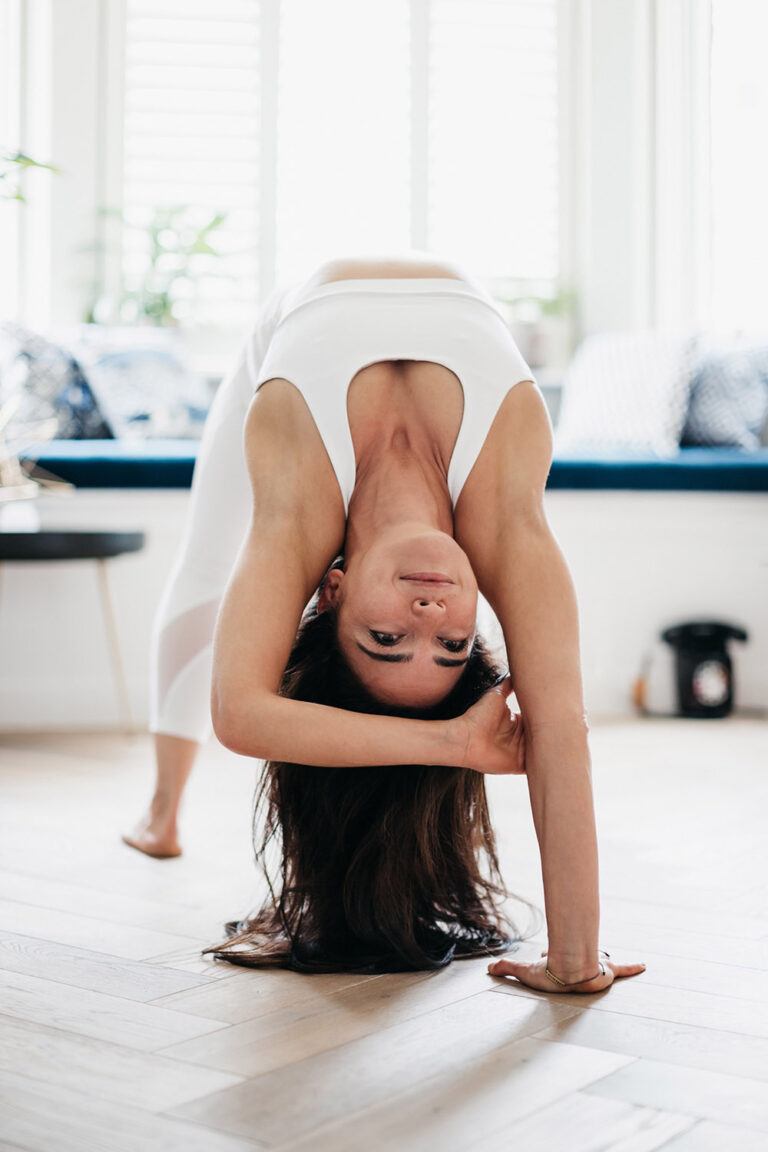 With spinal health, it's like chicken and an egg or flexibility and strength – what comes first?
We talk about spinal mobility in general but some areas of the spine need more stability or more strength to be stable (the lumbar, for example) while other parts of the spine need more mobility (like the thoracic). I wouldn't say that one or the other need to come first but rather that maintenance of your spinal health is like a beautiful dance between strength and flexibility.
Have you noticed that after a year of working from home the issues with backs and spines have increased amongst your students?
Yes, definitely, more sciatica issues. Those are usually coming from having a bad posture when working from home.
I actually experienced it myself as I spent too much time working on my laptop from my sofa during the first lockdown. Now, instead of sitting on the floor, I'm using blocks in a squat-like position and my laptop is on a chair. No more issues 🙂
Is there a "magic pill" asana that can help to tackle back pain?
That would be great but no!
Some poses may be better for the lower back and others for the upper back but because we are so unique in our shape, postures, and injuries, it is best to have private individual advice. Alternatively, you can try some of the poses for the lower back (class 2) or the upper back (class 3) to see which are the ones that make you feel better.
Is there one tip for making the most out of a virtual class? How do you connect with the teacher and with yourself more when practicing online?
Virtual classes allow us to have so much more diversity in our practice. Personally, I took classes online that I wouldn't be able to attend in real life. This in itself is huge.
I love when the classes are live so you can actually connect to the teacher and feel you are part of a live group. Regarding connecting with yourself, I find it easier to do so online in my own environment than in a studio. I actually prefer teaching meditation online than in real life as I feel students are more at ease from the comfort of their homes.
Now, one question we ask everyone: if you could have dinner with one influential person, past or present, who would it be?
Considering the state of nature it would be David Attenborough. I love his calm assertiveness and would love the opportunity of a chat over dinner for sure!