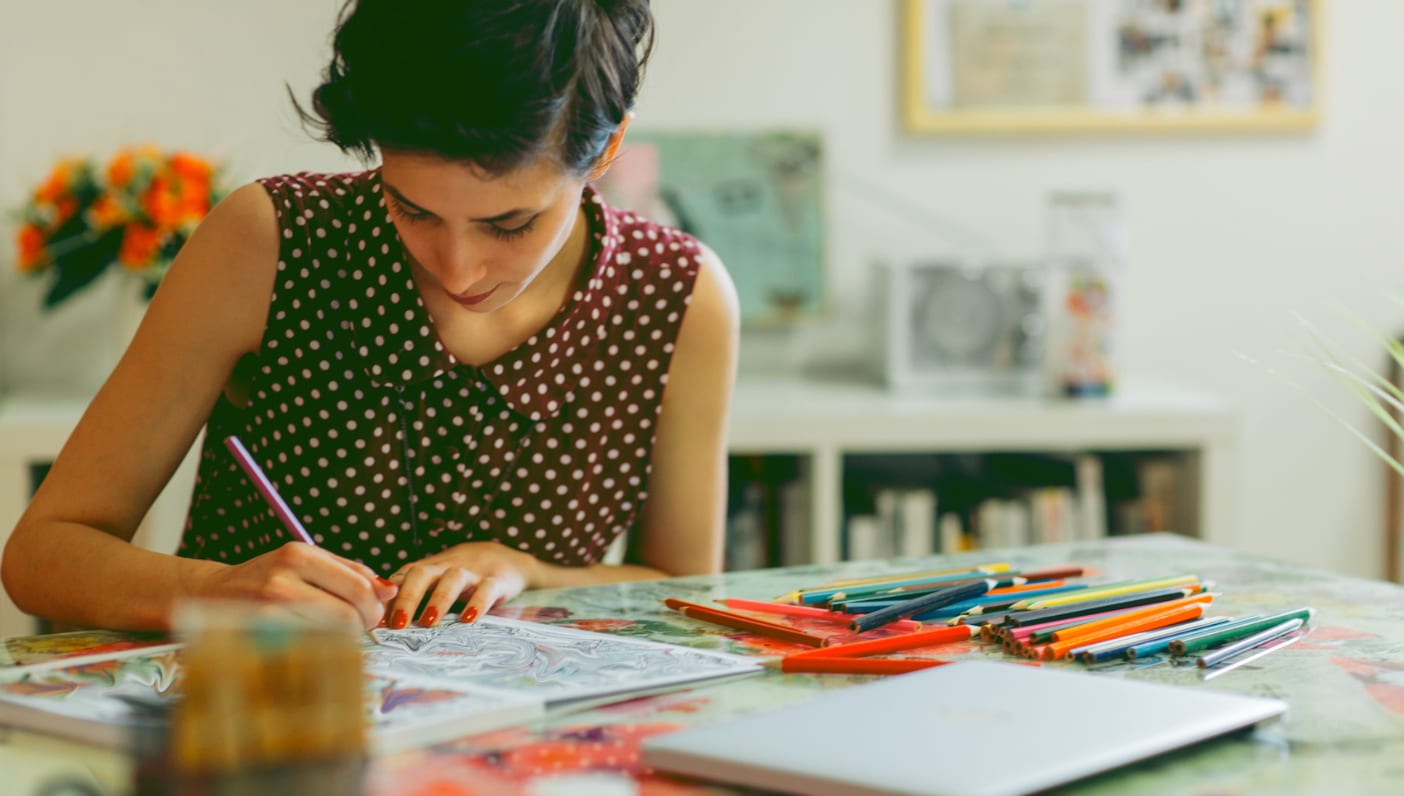 Ready to explore the calming effects of coloring? Check out Wanderlust's own adult coloring book! With original drawings by Samantha Michell, "Playful Nature" makes a great gift for anyone in your life. 
---
When I was a babysitter in college, I would spend hours coloring alongside my charges, reveling in the richness of the wax crayons, the soothing feeling of creating for creation's sake, and the satisfaction of making something all mine, that I thought was beautiful.
Coloring brought me a feeling of childhood peace that I longed for, a sense of directionless purpose that I had lost in my years of school and work: Everything you do must have a purpose, everything you create must have a reason. Coloring was just for fun, and its product was just for me.
Through the years, I would greedily snatch up crayons and spare pages from coloring books when I had the chance. When we went to a restaurant that offered broken bits of colored wax and coloring mazes for children, I always asked for one, attributing it to my quirky personality. But really, I just wanted that feeling back: Let me be, let me create, let me just do without having to worry about an outcome.
Adults are all about outcomes, aren't they?
I remember my feelings of joy and disbelief when people—adults—started coloring. In public. In groups, even. For stress relief. Just because it felt good.
The Emergence of Adult Coloring Books
Coloring books for adults have been on the market since the 1960s, but the latest trend began in 2013 with the publication of Johanna Basford's Secret Garden: An Inky Treasure Hunt and Colouring Book and shows no signs of slowing down, with over 12 million coloring books sold in 2015.
Coloring books offer adults a way to channel their creativity—something that many adults may feel stifled in with their daily work lives. Creator of the Wanderlust coloring book Samantha Michell believes that "the feeling of nostalgia and the joy of doing what you once started as a child is what brings us as adults to love coloring books. In essence, it is the same but we slowly discover as we engage ourselves more in the colors and the details that it is in a way a new chapter of a very beloved time in our lives."
Coloring also offers ways for adults to enter flow state, which is a state in which our highest abilities are meeting the task at hand and time seems to fly by, or pass not at all. Michell says that, "Sometimes I'm so emerged in my work that there are times when I am not even thinking; I just allow my hand to form all the natural elements that compose each page."
Letting the Mind Wander
Colorists can choose to let their minds wander, or they can sharpen their focus, depending on what their intention is in coloring and what kind of coloring book they are working in: For example, coloring books with bigger pictures that require less detail are good for those who want to be more relaxed, while books that require more attention to detail are good for honing those mindfulness skills.
Coloring can also be considered an informal form of art therapy, although it's important to not consider it actual art therapy, which requires a working relationship with a qualified therapist. Creating art, like coloring, is considered a method to reduce anxiety and help people relax. Creating art also helps people work through feelings and conflicts, nurture self-care, and express themselves, among other benefits.
Like meditation, coloring allows participants to develop skills to focus on the moment at hand—not what's going to happen or what the outcome may be. Studies have shown that during coloring, people's bodies have physical reactions: The repetition and mindfulness that they are developing causes their heart rates and brain waves to change. Michell would like colorists of the Wanderlust book—and colorists in general—to "forget about their surroundings when they are coloring this book and submerge into the many stories of this beautiful world where there are so many little things happening all at once."
—
Kristin Diversi is a star-child. A unicorn/monkey hybrid, she spends her days hopscotching dreams and moonbeams. After graduating magna cum laude with a BA in History and an MS in Nutrition, she delighted her parents and the student loan companies by deciding to follow her heart and do absolutely nothing related to any of her degrees. Currently pursuing a 500-hour certification, she was a yogini before yoga was cool. She is deeply flawed and terribly whimsical. Dream big. Be bigger.