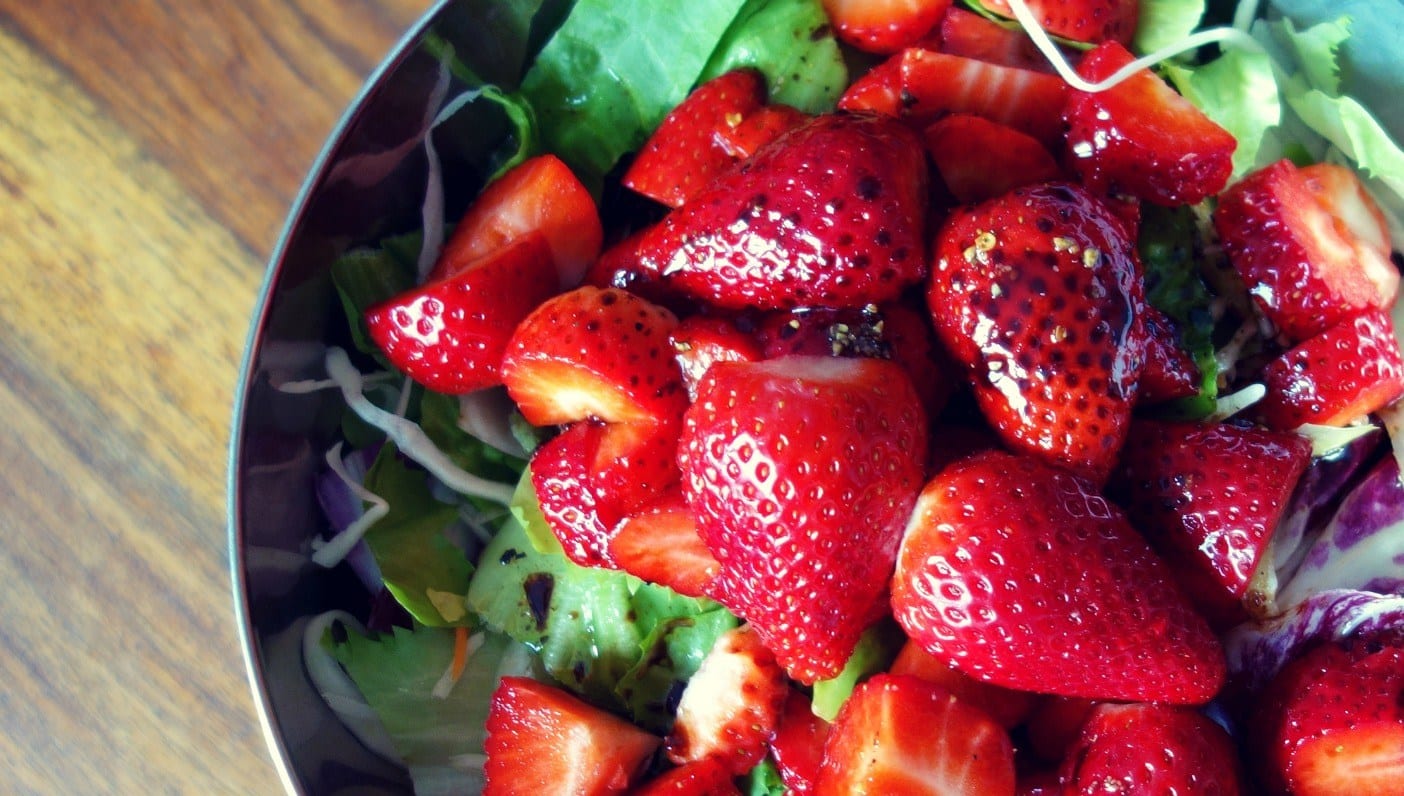 It's strawberry season in Southern California, and the beautiful bright red fruits are everywhere.
Sautéed spinach pairs perfectly with garlic, and the sweetness of strawberries really take it to the next level. Whether or not you would technically consider this a "salad" is up to you—it's a bit more hearty than your average chopped kale. It's always nice to have an arsenal of seasonal side dishes that are strong enough to stand on their own, and you can always add a protein to make it more of a meal. Combining goat cheese, pine nuts, and avocado, this recipe fits the bill. Bonus point? All those colors make for a really rad presentation.
Popeye aside, we all know that spinach is healthy. It contains Vitamins K, A, magnesium, folate, and iron in massive quantities. Strawberries are an excellent source of Vitamin C and manganese. You will get a nice dose of heart-healthy fats from the olive oil and avocado in this dish, plus a little protein boost from the pine nuts. Your taste buds and your body will thank you. Enjoy!
Warm Spinach and Strawberry Salad
Serves 2
INGREDIENTS
4 cups of baby spinach
4 cloves of garlic, minced
4-6 strawberries, sliced
1 avocado, peeled and sliced or chopped
1 tsp lemon juice
2 tsp balsamic vinegar
2 tbsp olive oil
2 tbsp crumbled goat cheese, optional
1 tbsp toasted pine nuts
Salt and pepper to taste
INSTRUCTIONS
Heat olive oil in a medium pan over low heat. Add garlic and sauté until fragrant, about 30 seconds.
Add spinach (you may have to do this in batches, spinach shrinks a lot when cooked) to the pan, and cook until just wilted, about 2 minutes.
Place spinach on a serving plate, and top with strawberries, avocado, goat cheese, and pine nuts.
Squeeze lemon juice over top, and drizzle with balsamic vinegar.
Add salt and pepper to taste.
—

Michaela is a certified holistic health + lifestyle coach through the Institute of Integrative Nutrition, and a registered yoga teacher. She lives in Los Angeles, CA, where she works as a part of Wanderlust Media. In addition to her dedicated yoga practice, Michaela loves music, travel, cooking + eating healthy food (of course), and spending time with her family and friends.