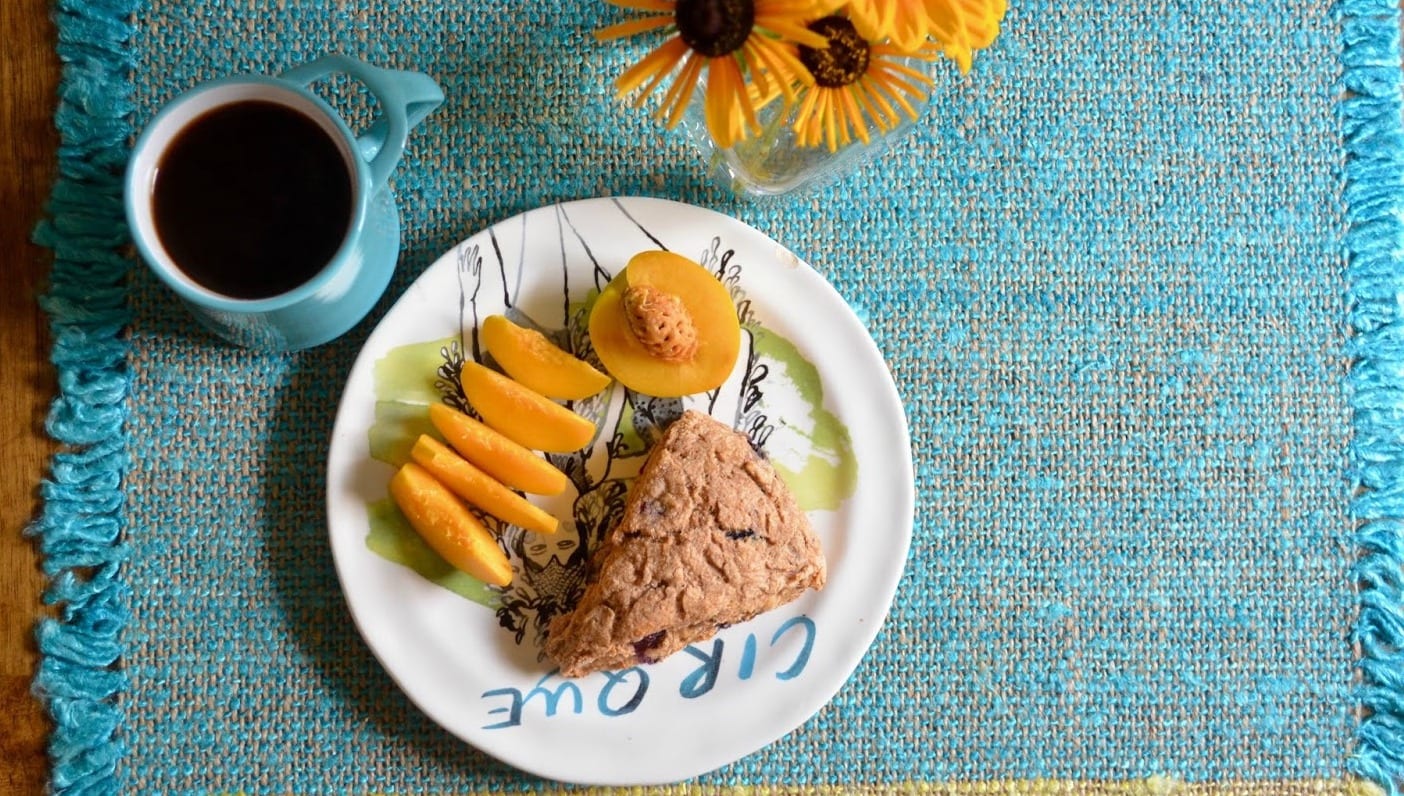 Photo courtesy of Helen Williams
This post originally appeared on Green Girl Eats.
---
There are a few recipes in my rotation that I know by heart. I can make them on my earliest, sleepiest mornings and still have them come out perfectly (though sometimes I'll admit I sort out the ingredients the night before to make it easier). What I love about this recipe in particular is that it can make an ordinary morning a little more special.
I've made these many times in many different places, including the first week we moved out to Colorado. As soon as we felt settled and the kitchen was fully unpacked, there were scones in the oven to make it feel more like home. These vegan scones are made hearty by the graham cracker flour, but light and airy from flavorful blueberries.
Vegan Blueberry Graham Cracker Scones
INGREDIENTS
1 cup whole wheat flour
1 cup whole wheat graham flour
1 tbsp baking powder
1 tsp cinnamon
½ tsp salt
⅓ cup coconut oil, solid
¾ cup mashed ripe banana (about 2 medium bananas)
¼ cup almond milk
2 tbsp maple syrup or honey
½ tsp vanilla extract
½ cup blueberries, fresh or frozen
DIRECTIONS
Preheat your oven to 425 degrees. In the bowl of a food processor, pulse together your flours, baking powder, cinnamon, and salt until evenly combined, about 10 pulses. Add in coconut oil and pulse another 10 times until you've achieved a coarse dough and there are no visible lumps.
Transfer your mixture to a wide bowl. Gently fold in your blueberries and then form a well in the center of your ingredients.
In a smaller bowl, whisk together your mashed banana, almond milk, maple syrup, and vanilla extract. Pour your liquid into the well you formed and quickly fold in until your dough comes together.
Transfer the dough onto a well-floured surface and quickly shape into a flattened round about 1–1½ inches thick. Using a pastry cutter, cut into triangles and transfer to a parchment-lined baking sheet.
Bake for about 15 minutes (rotating halfway through) or until lightly browned at the top and on the edges.
The best way I can think to describe these guys is hearty. They're warm and slightly textured from the graham flour: All in all, a perfect breakfast.
—
Helen Williams is a Colorado transplant who is passionate about cooking, writing, and combining the two on her vegetarian and vegan food blog, Green Girl Eats. She strives, every day, to be less sorry. When she's not in the kitchen, you can find her reading, loving the community at Holstee, or trying to pet your dog.
Save
Save
Save
Save
Save