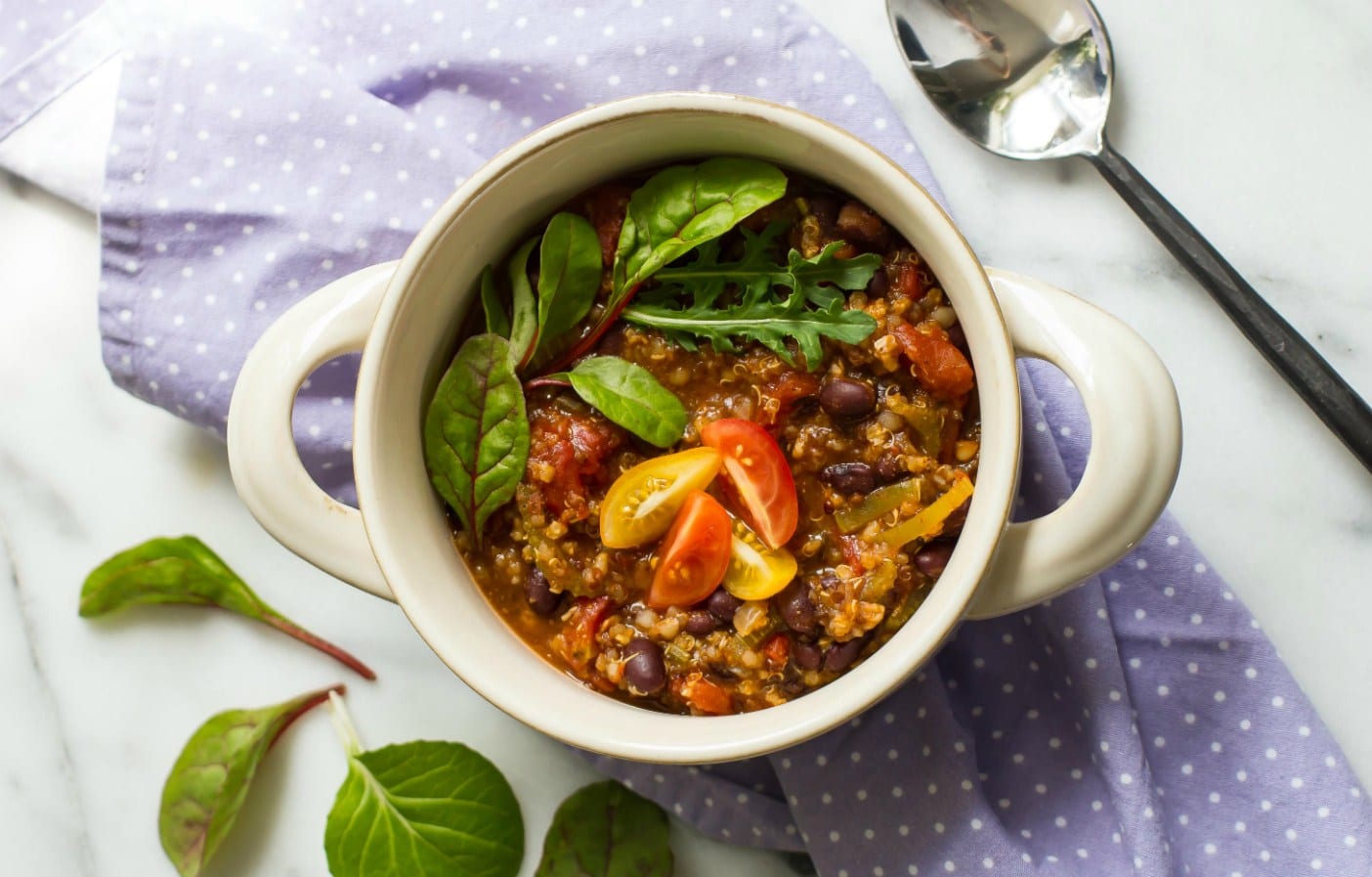 Photos by Rachel Carr
Black bean chili is easily one of the best soups. It's hearty, delicious, and perfect for those cool winter nights when you need to warm the soul and body. Best of all, it's a total canvas for your favorite ingredients, and can be loaded up with nutritious ingredients.
Black beans are high in folic acid, magnesium, potassium, and iron, which are all essential nutrients for your body to operate in tip-top shape. Folic acid helps your body continue to make new cells, while magnesium helps with the production and distribution of energy, as well as the synthesis of protein. Without enough iron, your body is not able to oxygenate itself. Potassium is important for muscle and nerve function and also fluid balance. So not only is this soup a delicious addition to your mealtime routine, it's also a nutritional powerhouse that sets you up for holistic health success.
The millet in this recipe really distinguishes this version from other vegan chilis. Millet is a seed-like grain that is naturally gluten-free and helps to give the chili a meaty texture. Try this under-appreciated grain in place of rice, quinoa, or pasta for a tasty transformation of your favorite dishes.
Until then, we'll gladly help ourselves to another bowl of chili.
Vegan Black Bean Chili With Millet
Prep time: 15 minutes
Cook time: 30 minutes
Total time: 45 minutes
Makes 6–8 servings
INGREDIENTS
1 tbsp olive oil or coconut oil
5 to 6 medium cloves garlic, chopped
1 medium onion, chopped
2 celery ribs, chopped
1 tbsp chili powder (or more to taste)
1 fresh jalapeño (optional)
1 tbsp ground cumin
1 tsp ground coriander
2 tsp dried oregano
2 tsp kosher salt
Pinch crushed red pepper flakes
1 bay leaf
1 cup millet, cooked*
4 cups (or 2 15-0z cans) cooked black beans
3 1/2 cups (or 1 28-oz can) crushed tomatoes
2 cups low sodium vegetable stock
INSTRUCTIONS
Chop garlic, onion, celery and jalapeño. To save time, use a food processor. Prepare onion, celery and garlic by quartering or chopping into large chunks. Add garlic, celery and jalapeño to bowl of food processor and process until chopped. Add in onion and pulse a couple of times.
Combine all spices in a small bowl. Measure cooked millet and broth and set aside.
Heat a medium stock pot over medium high heat. Once hot, add oil. Add garlic and onion mixture and cook, stirring occasionally, for 4 to 5 minutes.
Next, add in the spices and cook for 1 minute, stirring occasionally.  Add cooked millet, black beans, crushed tomatoes and broth. Stir to combine and bring to a boil.
Once boiling, cover, lower light to a simmer and cook for 15 minutes. Remove lid and continue to cook uncovered for an additional 15 minutes.
*To cook millet: Add 1 cup millet into a medium saucepan and add 2 cups of broth or water (or a combination of both). Add a pinch of salt, cover the pot and over a medium-high heat, bring it to a boil. Then reduce the heat and let it simmer for about 20 minutes or until the liquid is absorbed.
For more mindfully-inspired recipes, check out the Wanderlust Find Your True Fork cookbook, available online and through all major book retailers. 
—
Rachel has been preparing raw food/vegetarian/vegan cuisine for over 11 years. Previously, Rachel, was the Head Chef and Manager of a raw food cuisine restaurant, Six Main, which she co-owned in Chester, CT. Rachel has also worked as a Chef in a number of top rated raw food, vegetarian restaurants in the Los Angeles area such as Cru, and by Chole.