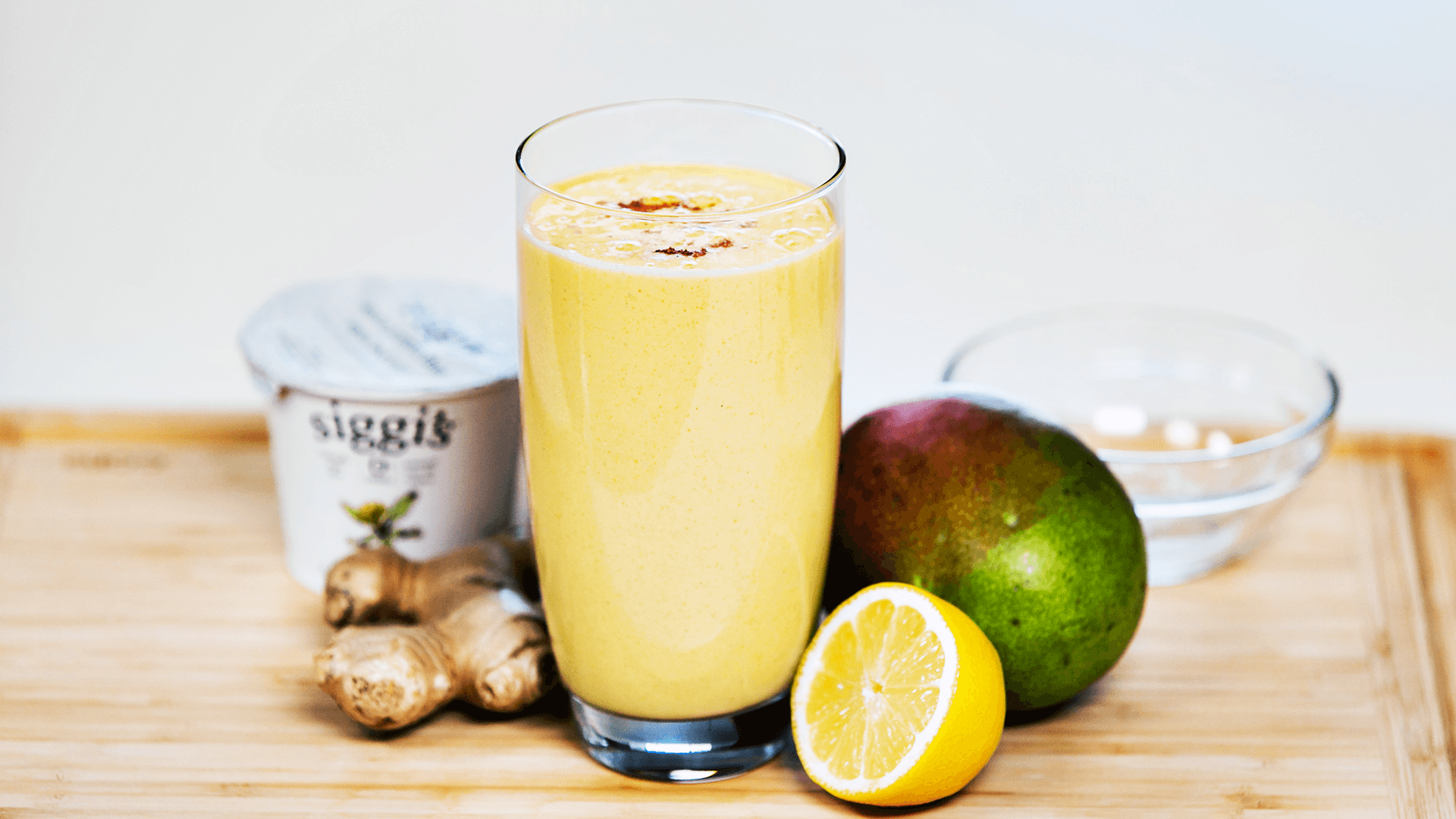 See Christa this summer at Wanderlust Stratton in Vermont. Click here for more information. 
---
If you've never had lassi, now's your chance. This gently-spiced, yogurt-based drink originated within the Indian subcontinent, and was often enjoyed as a refreshment during some of the hotter seasons. Sometimes referred to as an "ancient smoothie," this light and flavorful drink is facing a resurgence of popularity. Once you taste it, you'll see why.
In this recipe, we take the standard mango lassi and use siggi's vanilla yogurt, turmeric, ginger, lemon, and black pepper to make it a nutritional powerhouse. Turmeric is celebrated for its ability to fight inflammation, boost liver and brain function, and support hearth health. Ginger and lemon add brightness and aid in digestion, and the inclusion of siggi's yogurt adds a healthy punch of protein. Combined with the tropical flavor of mango, this ancient smoothie is a great way to add some nutrition into your daily routine.
Hungry for more? Find more recipes from the Wanderlust Kitchen on Wanderlust TV.

Turmeric Ginger Mango Lassi 
INGREDIENTS 
1 1/2 cups non-fat yogurt (siggi's vanilla yogurt recommended)
3/4 cup frozen organic mango
1/2 tsp dried turmeric
1/2 tsp dried ginger
Squeeze of lemon
Pinch of sea salt
3 turns freshly ground black pepper
1 tsp raw honey (optional)
INSTRUCTIONS 
Add yogurt, mango, turmeric, dried ginger, sea salt, and black pepper to a blender. Squeeze in the lemon. Add honey, if using. Blend until smooth and pour into a tall serving glass.
Want more healthy eating tips? Check out Christa's episode on the Wanderlust Speakeasy Podcast, available now for download. 
In partnership with siggi's
At siggi's we make yogurts with simple ingredients and not a lot of sugar. Our products are based on Scandinavian dairy traditions, such as skyr, the traditional Icelandic yogurt. Our products don't contain any of those dreadful artificial sweeteners. We only use milk from family farms who do not use growth hormones like rBST.