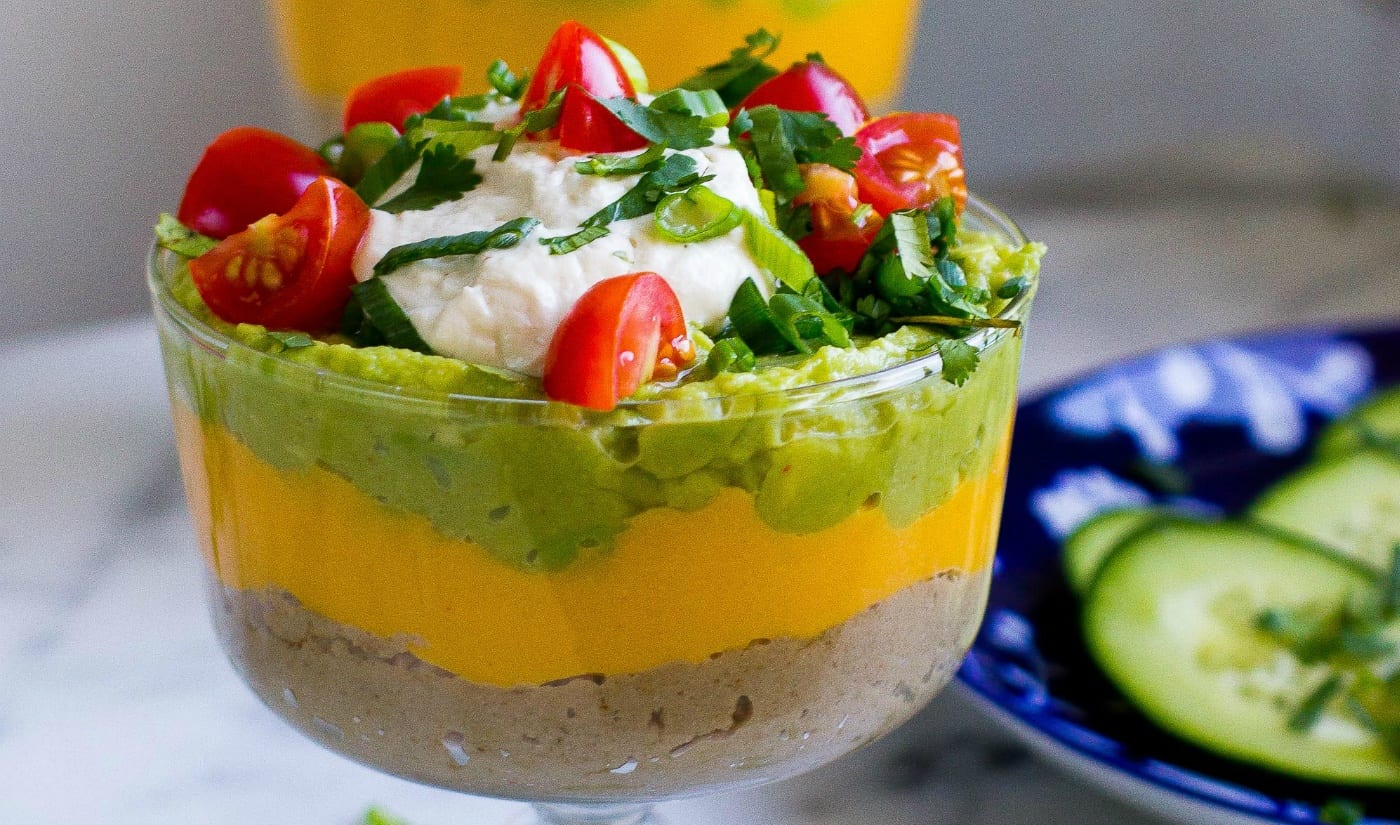 Photos by Rachel Carr
Rachel Carr is the Chef and Culinary Manager at the Wanderlust Hollywood Café. Stop by for a bite!
---
If you're anything like us, you start drooling at the mere mention of seven-layer dip. This iconic snack is known for its frequent appearances on game day or during house parties, but really you can eat it under any circumstances. Girls night? Yup. Date night in? You bet. Wednesday night after a sweaty vinyasa sesh? You need your protein—grab a bag of chips and dig in.
Everything here is grain-free, sugar-free, bean-free (even the frijoles), and mostly raw. Each layer is delicious on its own, so feel free to make them individually and add them to salads, wraps, or as their own dip.
Bean-free, you ask? How?! Here's the deal: The frijoles are made with sunflower seeds and simply seasoned with cumin, cayenne, and lime. They're as smooth as pinto beans when blended, but much easier to digest for sensitive tummies.
Enjoy with tortilla chips or sliced cucumbers and bell peppers. (We also wouldn't say anything if you wanted to scoop it directly from the bowl. It's that good!)
Paleo and Vegan Seven-Layer Dip
INGREDIENTS 
For the frijoles:
2 cups sunflower seeds, soaked 2 hours in filtered water
1 cup water and more as needed
1 tsp cumin, ground
2 tsp sea salt (plus more to taste)
1/2 tsp cayenne pepper
1/4 tsp black pepper
2 tbsp olive oil
For the guacamole:
4 avocados
Juice of 4 limes
1/4 white onion, minced vey fine
Salt and pepper to taste
1/4 tsp cayenne pepper
For the butternut queso:
1 small squash, peeled and seeded
1 tbsp nutritional yeast
1 tsp sea salt
1/4 tsp chipotle powder
1/2 cup water
1/2 cup soaked cashews
Juice of 1 lime wedge

For the sour cream:
1 cup cashews, soaked
1 cup filtered water
Juice of 1 lemon
1/4 tsp salt
For the chorizo:
3/4 cup walnuts
1/4 cup pecans
1/4 cup pumpkin seeds
1 1/2 tbsp chili paste (if you don't want to make the chili paste, you can use store bought chili paste instead)
1/8 tsp cloves
1/2 tsp salt
3/4 tsp black pepper
2 tbsp olive oil
1/4 tbsp chili powder
1/4 tbsp fresh oregano
For the green onion layer:
4 green onions, chopped

For the tomato layer:
1 pint cherry tomato, sliced
INSTRUCTIONS
For the frijoles:
Soak the sunflower seeds for a minimum of 2 hours to overnight. Place the soaked and rinsed sunflower seeds in a blender with the water, cumin, sea salt, olive oil and cayenne.
Blend until smooth, adding a little more water as needed. Season with more salt and pepper to taste.
For the guacamole:
In a medium sized mixing bowl, mash the pitted avocados with the lemon juice, onion and other seasonings.

For the butternut queso:
Preheat oven to 350 degrees. Cut squash in half lengthwise and spoon out the seeds. Roast for 30–45 minutes face down on a roasting tray until fork tender. When the squash are done allow to cool 10–15 minutes.
Scrape out the flesh of the roasted squash from the skin and discard the skin.
Add the squash flesh to a high powered blender with the rest of the sauce ingredients. Blend everything until smooth. Refrigerate until ready to serve.

For the sour cream:
Place the cashews, water, lemon juice and salt in a blender. Blend until smooth and adjust seasoning to taste.

For the chorizo:
Pulse the walnuts and pumpkinseeds together in the for processor until they are crumbly but not powdery. Put nut/ seed mixture into a mixing bowl and mix the rest of the ingredients by hand until well incorporated.
To assemble:
In a round or square bowl, spread some of the frijoles smoothly into the bottom of the bowl.
Follow with a layer of the butternut queso, and then the guacamole.
Top off with some of the sour cream, tomato, chorizo, and green onions.
For more mindfully-inspired recipes, check out the Wanderlust Find Your True Fork cookbook, available online and through all major book retailers. 
—
Rachel has been preparing raw food/vegetarian/vegan cuisine for over 11 years. Previously, Rachel, was the Head Chef and Manager of a raw food cuisine restaurant, Six Main, which she co-owned in Chester, CT. Rachel has also worked as a Chef in a number of top rated raw food, vegetarian restaurants in the Los Angeles area such as Cru, and by Chole.