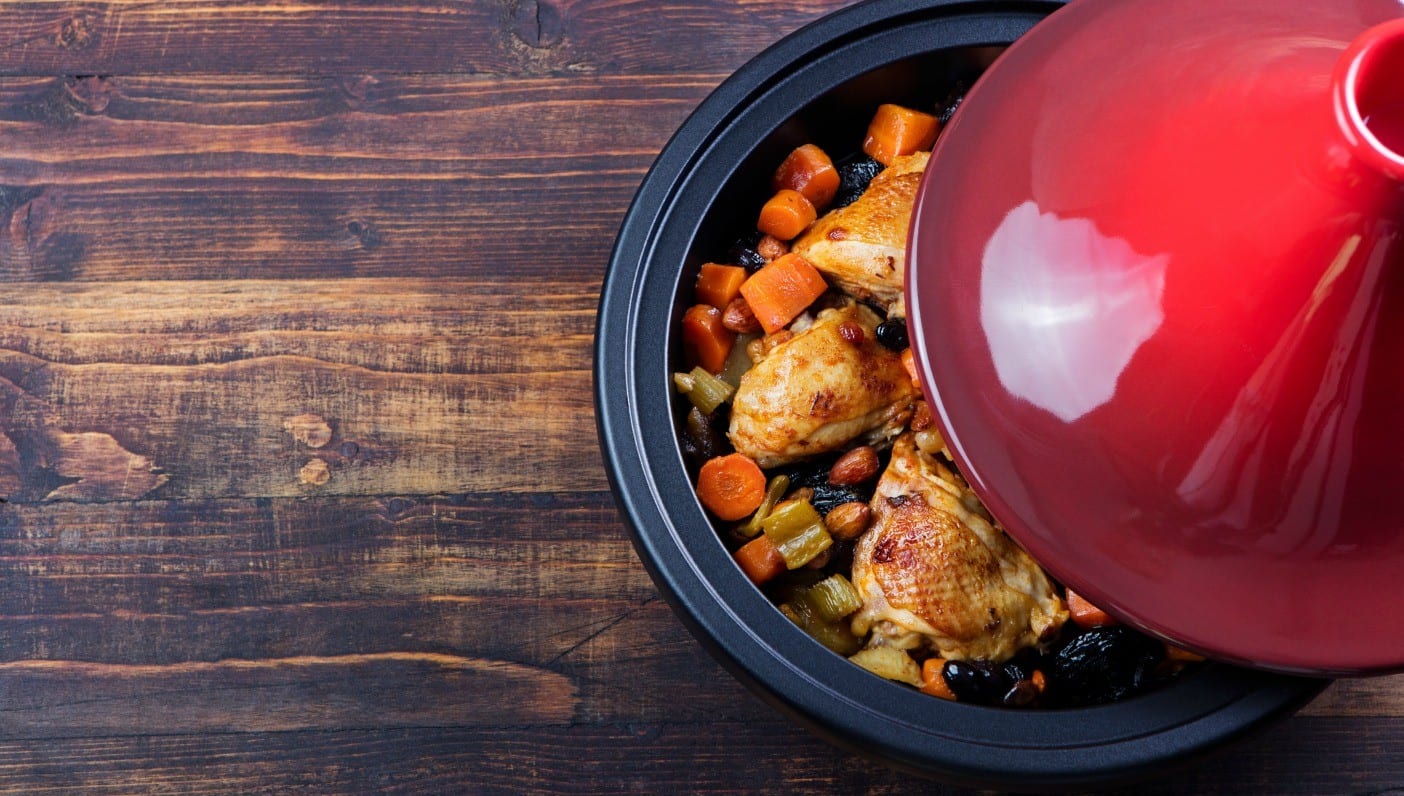 Let's face it—we're all busy. But it's important to create tasty and healthy meals no matter how hectic things get. I find that taking a little bit of time to prepare healthy meals for the week means the difference between being able to show up as my best self, or not. Food is incredibly important and what and how you eat affects the way that you interact with the world around you. That's why I love this dish, you can make it ahead of time and have dinner for three or four nights in a row, ensuring that you feel incredible all week long.
This recipe is stuffed with lots healthy goodness. Turmeric is a powerful anti-inflammatory and can aid in reducing the symptoms of rheumatoid arthritis. Ginger aids in digestion and also helps manage muscle aches and pains. Cilantro is a natural sleep aid and a powerful cleansing herb, and you'll get a good dose of protein from the chicken and almonds.
Note: I like to serve this with sliced avocado for even more healthy goodness, but it's great on it's own as well. 
Moroccan Spiced Roasted Chicken and Veggies
Serves 6
INGREDIENTS
1 head cauliflower
12 organic, bone-in chicken thighs
2 tbsp grass-fed, unsalted butter
2 tbsp olive oil
1 red onion, finely chopped
2 tbsp ginger root, finely chopped or grated
8 garlic cloves, minced
2 tsp cumin
1 tsp paprika
1 tsp coriander
2 tsp turmeric
1/2 tsp cinnamon
1/2 tsp cayenne
1 green pepper, cut into thin strips
2 yellow squash
1 zucchini
1 cup mushrooms, sliced
28-ounce box of diced tomatoes
1/2 cup minced cilantro
1/3 cup dried sour cherries
Toasted, slivered almonds
Lemon
Salt and pepper to taste
INSTRUCTIONS
Preheat oven to 400 degrees.
Rice the cauliflower and spread out in a large roasting pan.
Liberally salt and pepper the chicken. Melt the butter and oil in a frying pan over high heat. Add the chicken, browning well, about 3-5 minutes a side.
Turn heat down to medium and add onion, ginger, garlic, pepper, zucchini, squash, and mushrooms. Cook until the onions are soft. Add the tomatoes and spices, stir to combine.
Pour the veggies over the cauliflower and mix really well, so the cauliflower is completely covered by the sauce. Nestle the chicken pieces in the rice. Cover the pan 20 and bake for minutes. Remove the cover and cook for 25 minutes more.
Garnish with cilantro and almonds.
—

Michaela is a certified holistic health and lifestyle coach through the Institute of Integrative Nutrition, and a registered yoga teacher. She lives in Los Angeles, CA, where she works as a part of Wanderlust Media. In addition to her dedicated yoga practice, Michaela loves music, travel, cooking amd eating healthy food (of course), and spending time with her family and friends.