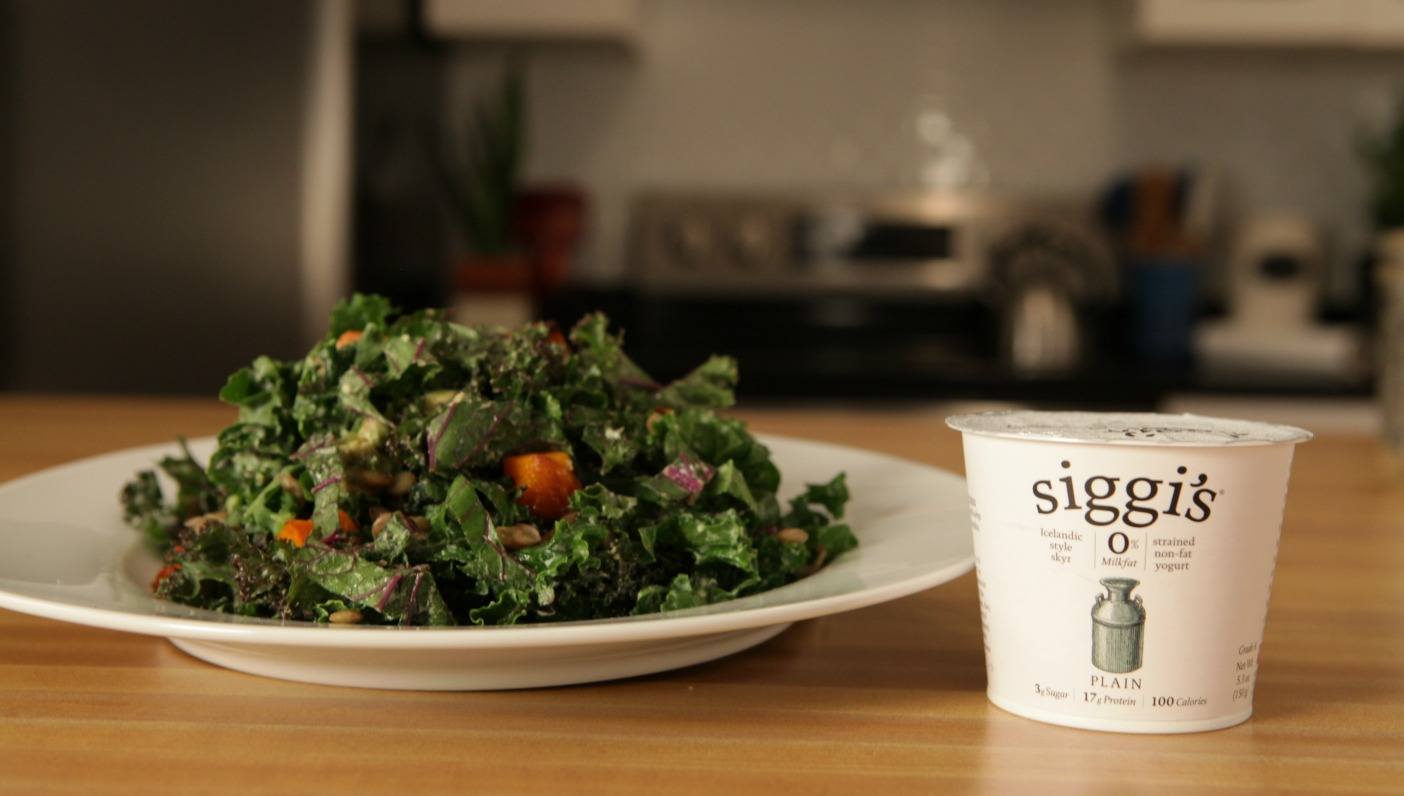 Come the warmer seasons, there are few things as comforting as a fresh salad featuring seasonal greens and healthy proteins. This recipe features nothing short of that standard, combining a myriad of superfoods to create a tasty, nourishing side for your springtime dinners.
Kale, lentils, and butternut squash create a solid foundation, all while topped with a creamy and seemingly indulgent yogurt and avocado dressing. Better than bottled, this dressing combines fresh cilantro with avocado and tangy yogurt, thereby creating the perfect pairing to your favorite seasonal produce.
---
Kale, Lentil, and Butternut Squash Salad with Creamy Yogurt-Avocado Dressing
INGREDIENTS 
Salad
1/2 cup French green lentils
2 cups water or vegetable broth
1 bay leaf
1/4 teaspoon sea salt, divided
1/2 medium butternut squash, peeled, seeded and cubed
1 tbsp extra virgin olive oil, divided
8 cups kale leaves, de-stemmed and thinly sliced.
Dressing
1/2 Hass avocado, mashed
2 tbsp finely chopped cilantro
Juice of 1 lime
2 tbsp extra virgin olive oil
Pinch of sea salt
Pinch of white pepper
1/4 cup plain yogurt (siggi's plain yogurt recommended)
DIRECTIONS
Rinse the lentils with cold water in a colander or fine mesh sieve to remove any debris. Add the lentils to at least 2 cups of fresh water or vegetable broth in a medium saucepan—I like to use homemade vegetable broth for added nutrients and flavor. Add the bay leaf and salt.
Bring the mixture to a boil, and then reduce the heat and simmer for 20-25 minutes. Drain the mixture, cover it, and set it aside.
Preheat the oven to 400 degrees. In a large bowl toss the squash with olive oil. Spread the squash onto a parchment lined baking sheet and roast for about 25 minutes, or until the squash is firm but tender and can be pierced with a fork.
While the lentils are simmering and the squash is roasting, prepare the yogurt and avocado dressing. Mash the avocado and add the cilantro, lime juice, extra virgin olive oil, sea salt, and white pepper. Add the siggi's plain yogurt. Add everything to a  mason jar and shake it vigorously.
Remove the squash from the oven. While the squash cools, massage the kale until the leaves are supple. Add the butternut squash and combine with clean hands. Drizzle the yogurt-avocado dressing to top the salad and serve.
This recipe taken from Summer's new book, SugarDetoxMe. For more information and to purchase, click here.
In partnership with siggi's
At siggi's we make yogurts with simple ingredients and not a lot of sugar. Our products are based on Scandinavian dairy traditions, such as skyr, the traditional Icelandic yogurt. Our products don't contain any of those dreadful artificial sweeteners. We only use milk from family farms who do not use growth hormones like rBST.