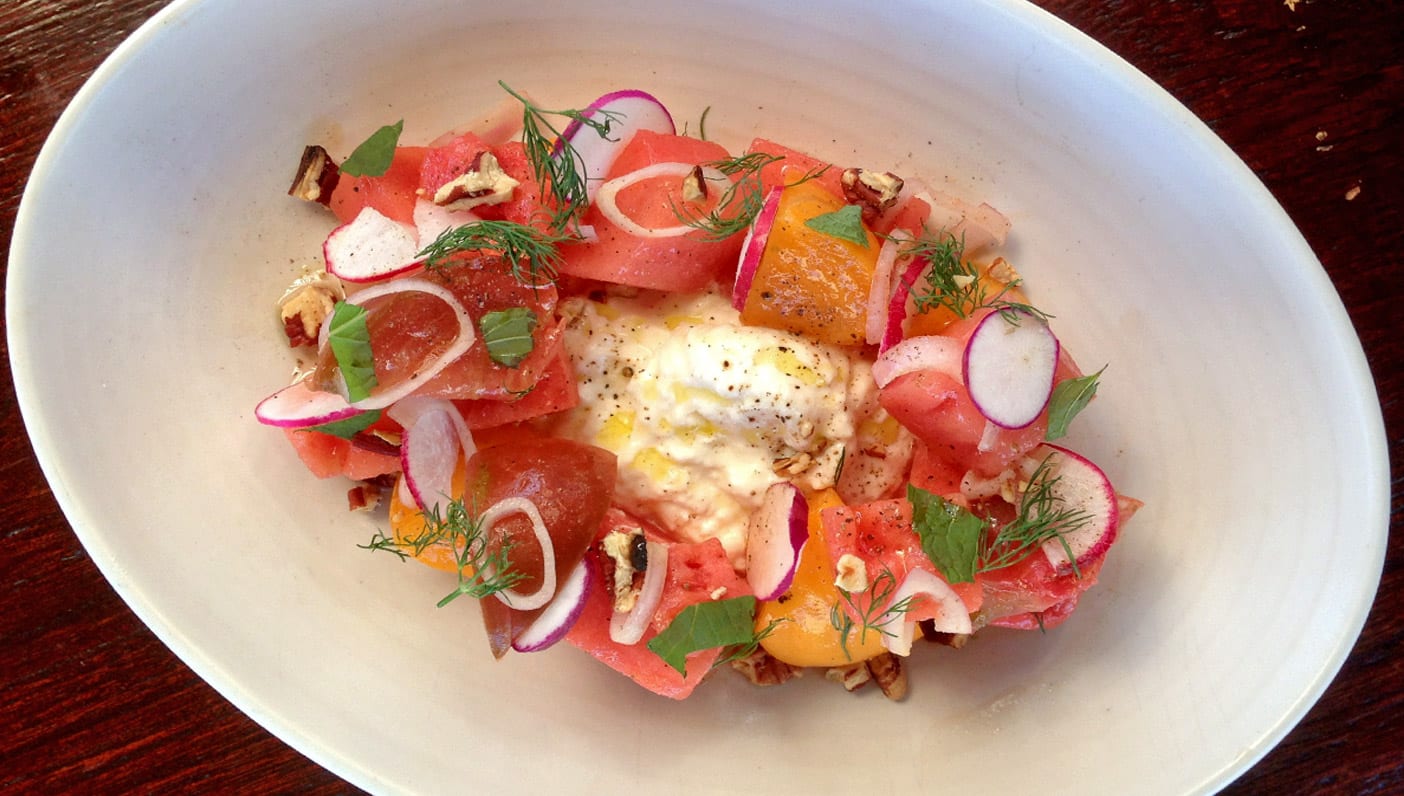 This recipe is part of a new series, From the Wanderlust Kitchen, celebrating real, good food. Receive a digital cookbook of this season's recipes by signing up here.
•••
Looking to highlight nature's bounty? This salad recipe is bright, flavorful, and beautifully simple. It really allows the quality of the ingredients to shine through.
"Heirloom tomatoes are so good and this is a really nice way of showcasing just how tasty they are," says Wanderlust Hollywood executive chef Seamus Mullen.
Heirloom Tomato and Watermelon Salad
Are you trying this recipe at home? Let us know with #WanderlustKitchen.
INGREDIENTS
2 cups mixed heirloom tomatoes, cut into 1" irregular pieces
1 cup watermelon chunks, cut into 1" pieces
2 tbsp toasted pecans
1 oz burrata*
2 tbsp Garlic chives, minced
Basil
Mint
2 oz Meyer lemon vinaigrette (recipe below)
Salt and pepper to taste
Extra virgin olive oil
*Want to make it vegan? Skip the burrata.
For the Meyer Lemon Vinaigrette:
50 g Meyer lemon juice
50 g champagne vinegar
1 tbsp honey
1 tbsp Dijon
1/4 clove garlic, grated
1 pinch pepper blend
Maldon salt
Zest of one Meyer lemon
200 g arbequina olive oil
DIRECTIONS
To make the salad, combine all ingredients except burrata and vinaigrette. Season with salt and pepper, then toss with the vinaigrette (directions below) and plate in an oval bowl. Finish with a chunk of burrata seasoned with Maldon salt and extra virgin olive oil.
To make the dressing, combine all ingredients except olive oil in blender. Process until smooth then drizzle in olive oil.
Makes 1 serving 
Photo by Courtney Smith
•••
Hungry for more from the Wanderlust Kitchen?
Sign up for seasonal recipes, digital cookbooks, and inspiring interviews.