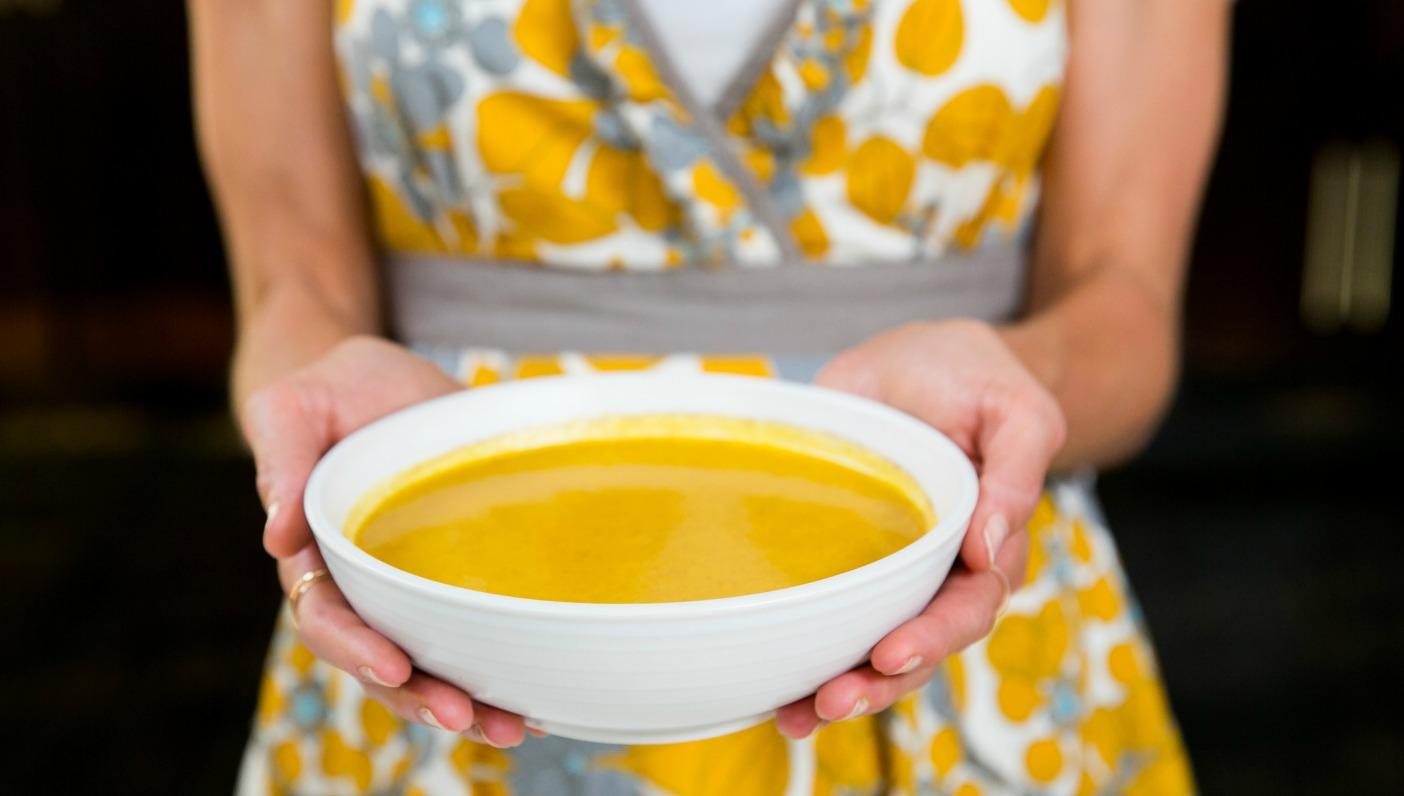 Is there anything more comforting than butternut squash soup? Warm and nourishing, this classic dish is full of complex carbohydrates, ensuring a slow release of energy. It's perfect for those days you don't feel like leaving home, and is simple enough to be whipped up on any night of the week.
This recipe takes it a step further, combining the roasted squash with coconut oil, ghee, bone broth, and collagen. While collagen may seem a bit mysterious, this protein is an awesome addition to your diet, as it can help with skin and hair health, increased muscle mass, and gut health. There's also an arsenal of healthy spices: Turmeric possesses anti-inflammatory benefits, while the ginger helps aid in digestion. Combined with siggi's coconut yogurt, the end result is a flavorful, creamy soup that provides a healthy dose of necessary carbs and protein. It's the epitome of food as medicine.
Healing Butternut Squash Soup
INGREDIENTS
3 tbsp yogurt (siggi's coconut yogurt recommended)
1 butternut squash
1 tbsp coconut oil
1 tbsp ghee
3 cups pasture-raised, slow cooked bone broth or 1 container vegetable broth
1 cup pure water
1 tsp organic powdered ginger
1 tsp Ceylon cinnamon
1/2 tsp pink salt
1/2 tsp teaspoon organic ground turmeric or 1/4-inch turmeric root
2 garlic cloves, minced
4 tbsp pasture-raised collagen
Toasted pine nuts, optional
INSTRUCTIONS
Preheat oven to 375 degrees. Cut butternut squash in half and remove seeds. Grease a baking sheet with some of the coconut oil and use remaining coconut oil to rub on the meat of the butternut squash. Place in baking dish face down for 40 minutes or until you can easily put a fork through it.
After the squash is cooked, scoop out the meat from the skin. Place the squash meat in a blender or Vitamix.  Add coconut oil, ghee, water and pasture-raised, slow cooked bone broth or vegetable broth. Add ginger, cinnamon, salt, turmeric, and garlic. Blend until smooth.
Pour soup into a large pot and heat over a medium-heat burner. After 2–3 minutes, add the collagen, stirring while adding. It should dissolve into the soup.
Pour into bowls and add one big dollop of yogurt to each serving. Add toasted pine nuts, if using.
In partnership with siggi's
At siggi's we make yogurts with simple ingredients and not a lot of sugar. Our products are based on Scandinavian dairy traditions, such as skyr, the traditional Icelandic yogurt. Our products don't contain any of those dreadful artificial sweeteners. We only use milk from family farms who do not use growth hormones like rBST.