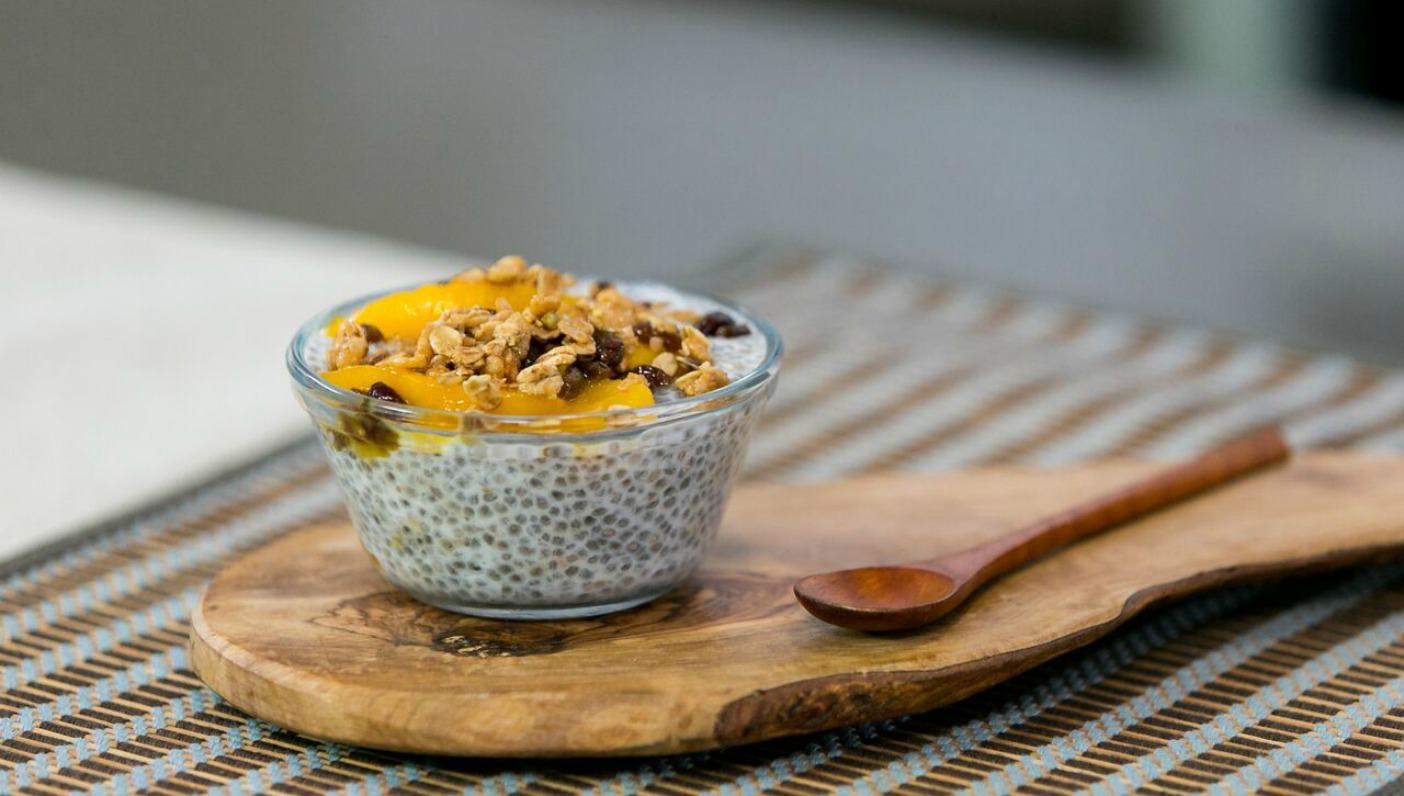 If you haven't hopped on the chia seed pudding bandwagon yet, this is the recipe to try. Heck, even chia seed connoisseurs will go crazy over this combination of vanilla, peaches, almond milk, and yogurt. With a texture almost akin to that of rice or tapioca pudding, chia seed pudding hits all the right buttons for a sweet tooth, but with a hefty dose of fiber, protein, and Omega-3 fatty acids.
For added protein and flavor, we also toss in some hemp seeds, almond butter, granola, and siggi's vanilla yogurt. The peach-vanilla combination creates a delightfully sweet "peaches and cream" flavor, making this recipe something you can enjoy for dessert, breakfast, or snack time. Just make sure you double the recipe and save some for later—we guarantee you'll be wanting more.
Fully Loaded Peach-Vanilla Chia Pudding Pots 
INGREDIENTS
For the pudding:
1 cup almond milk
3 tbsp chia seeds
1 tsp vanilla extract
1 tbsp almond butter, heaping
1 tbsp hemp seeds (optional)
1 tbsp maple syrup (optional)
For the stewed peaches:
1 peach  or nectarine
Juice of 1/2 orange
1/2 tbsp coconut oil
1/2 tsp vanilla extract
Small handful currants, or raisins
Sea salt
For the toppings:
1/2 (5.3oz) cup yogurt (siggi's vanilla yogurt recommended)
Handful of your favorite granola
INSTRUCTIONS
In a glass measuring cup, mix the chia seeds with the almonds. Place in the fridge to set.
Make the stewed peaches. Cut the peaches into slices and add them to a sauté pan over medium heat. Add the coconut oil, orange juice, vanilla extract, and raisins. Cook for about 5–7 minutes, softening the peaches.
Remove the chia seed and almond mixture from the fridge. Add the yogurt, almond butter, vanilla extract, and any additional toppings, if using. Stir to combine and pour into a separate container.
Add the peaches and a handful of granola. Serve.
In partnership with siggi's
At siggi's we make yogurts with simple ingredients and not a lot of sugar. Our products are based on Scandinavian dairy traditions, such as skyr, the traditional Icelandic yogurt. Our products don't contain any of those dreadful artificial sweeteners. We only use milk from family farms who do not use growth hormones like rBST.