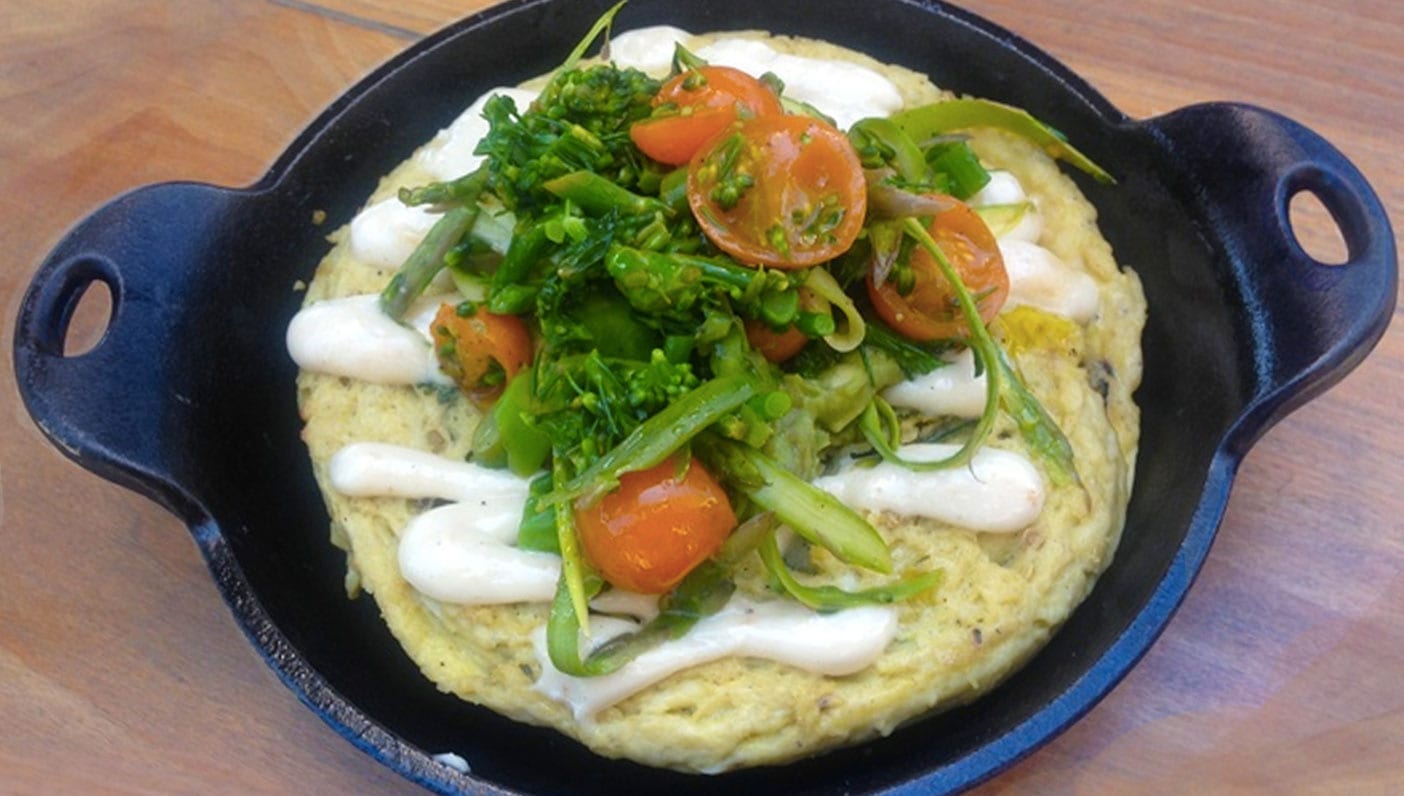 This recipe is part of a new series, From the Wanderlust Kitchen, celebrating real, good food. Receive a digital cookbook of this season's recipes by signing up here.
•••
The pros of shopping at your community's farmer's market are many—sourcing local food, meeting the good folks who grow that food, supporting the local economy, etc. But sometimes you're faced with the dilemma of what to do with all that produce.
The solution? Sauté up those veggies and throw them in a frittata. A fluffy egg base is just the vehicle you need to make a healthy dish chock-full of vegetables that's equally satisfying for breakfast, lunch, or dinner.
Farmer's Market Frittata with Roasted Garlic Aioli
Are you trying this recipe at home? Let us know with #WanderlustKitchen.
INGREDIENTS
3 eggs, whisked
1/4 cup shishito peppers
1/4 cup broccolini, chopped
1/4 cup asparagus, chopped
1 tbsp avocado, lightly mashed
1/4 cup cherry tomatoes, halved
2 tbsp cilantro
Roasted garlic aioli (Vegeniase + roasted garlic, or try this recipe)
Salt and pepper to taste
Lemon juice to taste
Extra virgin olive oil
DIRECTIONS
Heat 1 tbsp of olive oil in a medium pan. Sauté the vegetables until soft. Remove from pan and set aside.
Coat a pan with non-stick spray or olive oil. Add eggs, sautéed vegetables (leave some aside), salt, and pepper, and cook over medium heat on the stove until sides begin to cook well in pan (building a crust). Once the sides begin to set, flip the eggs. Get a new non-stick pan, spray it, and gently flip the frittata into the new pan. Cook the other side until firm, add cilantro, flip it one time back to the other pan. Remove from heat.
Add 1 tbsp of mashed avocado, add roasted garlic aioli (or other desired sauce) and finish with rest of asparagus, broccolini, and cherry tomatoes. Season with olive oil, lemon juice, and salt.
Makes 1 serving
Photo by Courtney Smith
•••
Hungry for more from the Wanderlust Kitchen?
Sign up for seasonal recipes, digital cookbooks, and inspiring interviews.