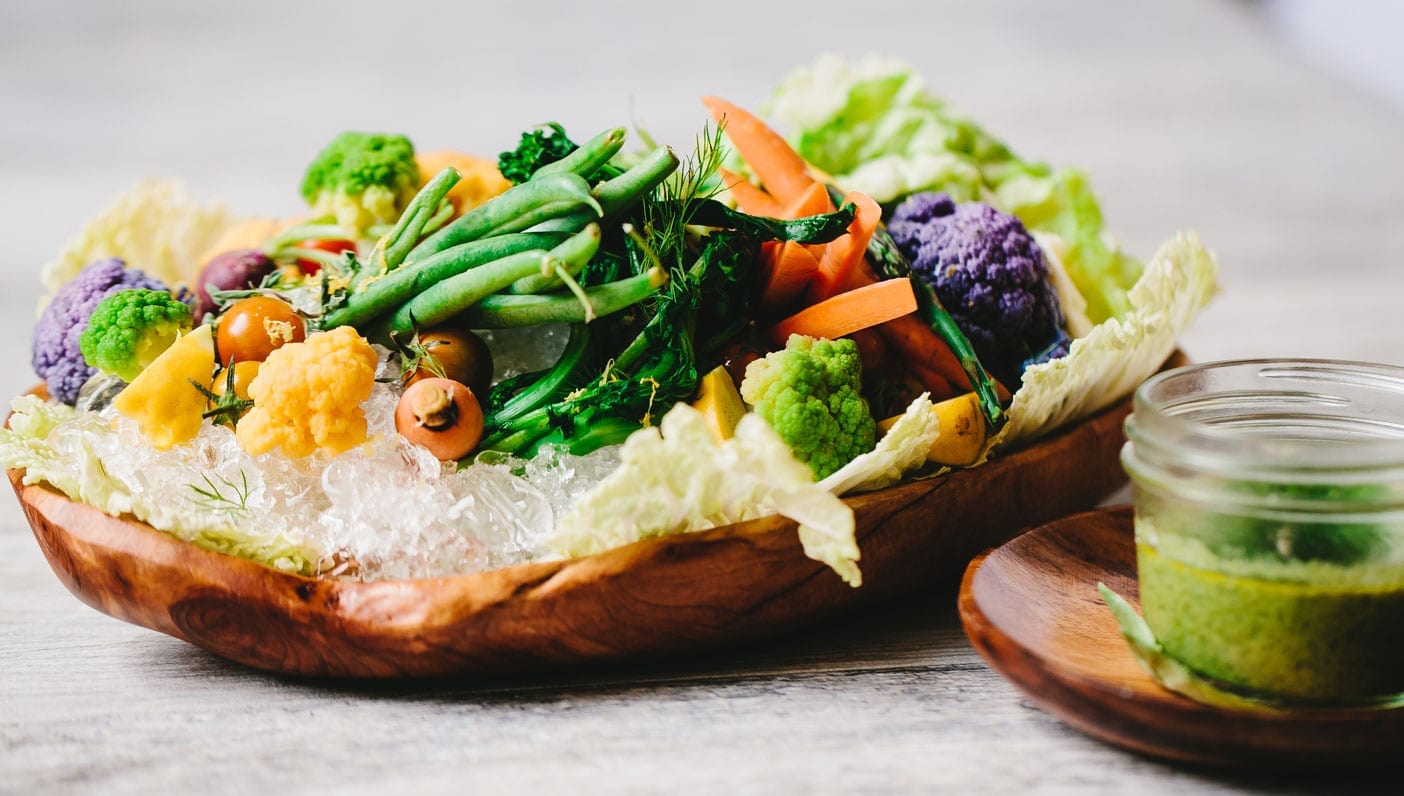 This recipe is part of a new series, From the Wanderlust Kitchen, celebrating real, good food. Receive a digital cookbook of this season's recipes by signing up here.
•••
Sure, you could pick up a veggie platter from the nearest supermarket, but it's way more fun to do your own version and serve it with homemade Green Goddess vinaigrette.
"I'm a huge fan of veggies and I generally like them raw, or close to raw," says Wanderlust Hollywood executive chef Seamus Mullen. "Having a crudité is a perfect way to get your veggies with plenty of variety of flavor, color, and texture. This is a perfect dish to share with friends."
Crudité with Green Goddess Vinaigrette
Are you trying this recipe at home? Let us know with #WanderlustKitchen.
INGREDIENTS
In well-salted water, blanch and shock the following:
1 wedge green cabbage
4 florets broccoli
8 florets mixed colored cauliflower
8 pieces green beans
2 stalks broccoli rabe
4 stalks asparagus
Served raw:
4 mixed radishes, stems left on
4 baby carrots
3 mixed heirloom squash, cut into wedges
8 sungold tomatoes
Green Goddess Vinaigrette:
1 cup dill
1 cup basil
1 cup parsley
1/4 cup tarragon
1 cup yogurt
1 clove garlic
Zest and juice of 1 lemon
Salt and pepper
1 tsp raw honey
1 cup extra virgin olive oil
DIRECTIONS
To make the Green Goddess Vinaigrette, combine herbs, garlic, and olive oil and process until smooth in a Vitamix or blender. Fold in the yogurt with a whisk and add remaining ingredients. Set aside. 
In a large wooden bowl, lined with Napa cabbage, plate a mound of crushed ice. Arrange raw and blanched vegetables. Season with Maldon salt, drizzle of olive oil, and micro plane of lemon zest. Add sprigs of dill and basil to garnish. Serve with a side jar of Green Goddess vinaigrette. 
Makes 4 servings
Photo by Melissa Ryan
•••
Hungry for more from the Wanderlust Kitchen?
Sign up for seasonal recipes, digital cookbooks, and inspiring interviews.