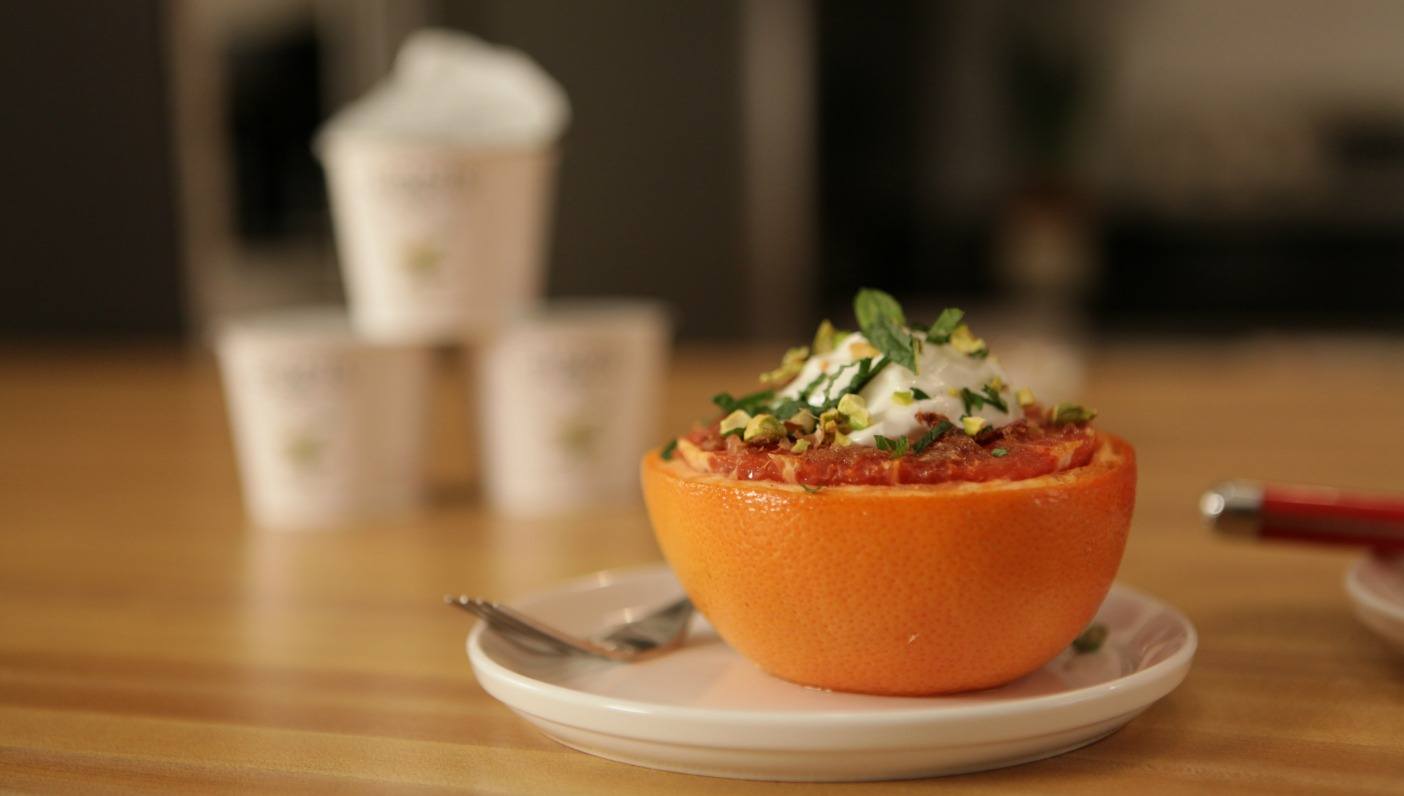 If you love the tart and juicy flavor of a fresh grapefruit, just wait until you've had it broiled. The direct heat on top of the cinnamon and ginger mixture creates a spicy, sweet crust, and the pairing of siggi's vanilla yogurt adds the perfect amount of tang.
The yogurt is also an amazing way to get those nourishing probiotics and nurture your gut while still keeping the sugar to a minimum. Top with crushed pistachios for added crunch, and say hello to your new favorite snack.

Hungry for more? Find more recipes from the Wanderlust Kitchen on Wanderlust TV.
Broiled Gingered-Cinnamon Grapefruit with Yogurt and Pistachios
INGREDIENTS
1 large grapefruit, halved
1/4 tsp ground cinnamon
1/4 tsp pureed ginger
Pinch of sea salt
2 tsp crushed pistachios
4 mint leaves, finely chopped
4 tablespoons of vanilla yogurt (siggi's vanilla yogurt recommended)
INSTRUCTIONS
Cut the grapefruit in half and start your broiler. Mix the cinnamon (I like Ceylon cinnamon), pureed ginger, and sea salt into a small bowl. Brush over the grapefruit halves. 
Position an oven rack so it sits either 4 inches below or above the broiler, depending on where your broiler is located—mine is at the bottom of the oven. Broil until the edges start to turn a little brown, about 3 minutes, but this will depend on your oven.
To complete, top the fruit with siggi's vanilla yogurt. Sprinkle each half with mint, pistachios, and a final dusting of cinnamon. 
This recipe taken from Summer's new book, SugarDetoxMe. For more information and to purchase, click here.
In partnership with siggi's
At siggi's we make yogurts with simple ingredients and not a lot of sugar. Our products are based on Scandinavian dairy traditions, such as skyr, the traditional Icelandic yogurt. Our products don't contain any of those dreadful artificial sweeteners. We only use milk from family farms who do not use growth hormones like rBST.