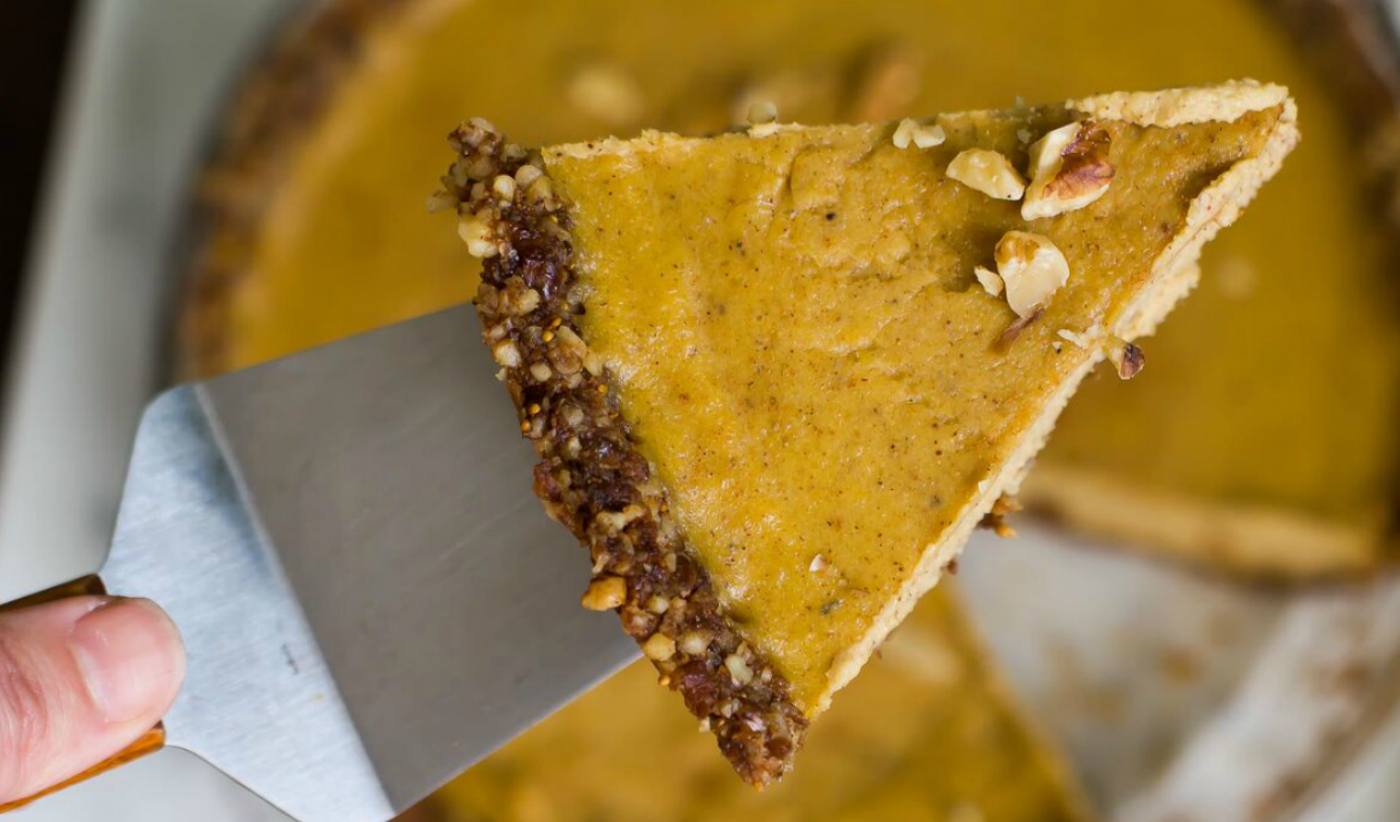 Photos by Rachel Carr
The holiday season is upon—which means so are holiday desserts. To start ideating what we want on our menus this fall, we spoke to plant-focused, Los Angeles-based chef, Rachel Carr. Rachel gave us the lowdown on some of her fave holiday recipes… Specifically this vegan and raw pumpkin pie. Trust us when we say you won't want to miss it. 
---
If you're looking for a healthy dessert option this holiday season, look no further. This raw vegan pumpkin pie is made entirely from healthy, plant-based ingredients (think raw pumpkin and figs) along with good-for-you fats like organic coconut oil and walnuts. And I say this as a diehard fan of pumpkin pie: It's better than it's cooked counterpart. Yup. I stand by that.
The secret is the homemade pumpkin pie spice. I recently took a trip to LA's Little India and was so inspired by all the spices in the market. I stocked up because I knew I would want to be making my own spice blends for the holidays. There are many ways to make pumpkin pie spice, but this recipe is simple and full of flavor. To really make it special, grind your own from whole spices.
The actual pie is so easy to make. No baking or rolling out a crust, but you do have to peel a pumpkin. I recommend using a good peeler and peeling it whole, then open it to remove the seeds and chop it into pieces. It will go much faster and be easier to handle.
Also, this pie needs time to set up before it can be served. You can get it to set up faster by placing it in the freezer if necessary and it should be ready in an hour. You can serve it directly out of the freezer.
Gather 'round and savor the flavors of the holiday! You'll feel great about it.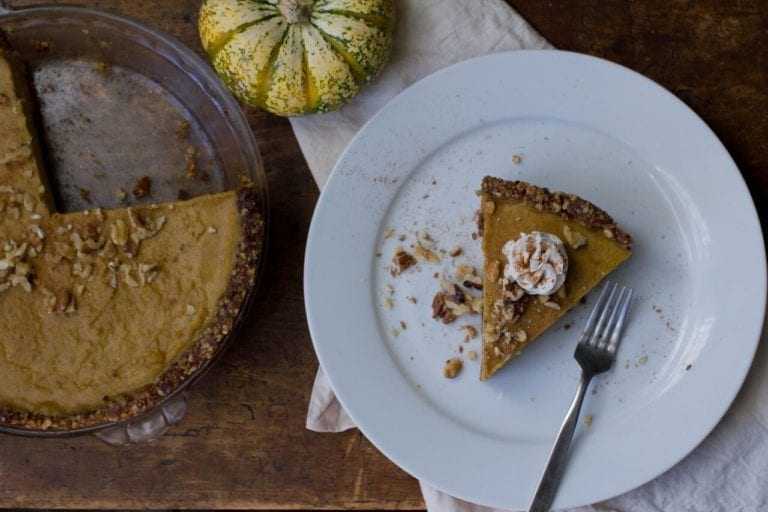 Homemade Pumpkin Pie Spice
Makes enough for two pies
INGREDIENTS
4 tbsp ground cinnamon
1 tbsp ground nutmeg
1 tbsp ground ginger
1/2 tbsp ground cloves
INSTRUCTIONS
Mix ingredients in a bowl and save in a glass jar until ready to use.
Raw Vegan Pumpkin Pie
Prep time: 30 minutes
Cook time: 3 hours
Total time: 3 hours and 30 minutes
For the crust:
12 figs, stem removed and soaked for 20 minutes in filtered water
2 cups, raw walnuts
1 tsp cinnamon
1/4 tsp salt
For the filling:
2 cups raw cashews, soaked
2 cups raw pumpkin, seeded peeled and chopped
1 cup coconut oil, melted
2 tbsp nutritional yeast
1/2 cup agave
1 tsp lemon juice or apple cider vinegar
2 tbsp pumpkin pie spice
2 tbsp soy lecithin granules
1/4 tsp salt
*Substitute maple syrup and add more to taste if  desired. You can also blend 1/2 cup of dates with 1/2 cup of water and substitute that.
INSTRUCTIONS
For the crust:
Put the walnuts, cinnamon, and salt in a food processor and pulse until the nuts are mostly broken up.
Drain the figs and add them whole to the food processor and pulse some more until the mixture begins to stick together, and the figs are fully incorporated.
Remove from the food processor and press into the bottom of a 9″ pie pan. Press down on the mixture well to make sure that the crust is firm. Set aside.
For the pie filling:
Blend all the filling ingredients together in a blender until smooth and pour into the prepared crust.
Refrigerate the pie overnight and serve topped with coconut whipped cream if desired. (Recipe for coconut whipped cream available here.) 
This post originally appeared on rachelcarr.com.  For of Rachel's recipes, click here. 
—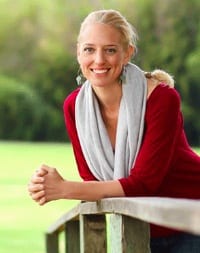 Rachel has been preparing raw food/vegetarian/vegan cuisine for over 11 years. Rachel has also worked as a chef in a number of top rated raw food, vegetarian restaurants in the Los Angeles area such as Cru and by Chole.