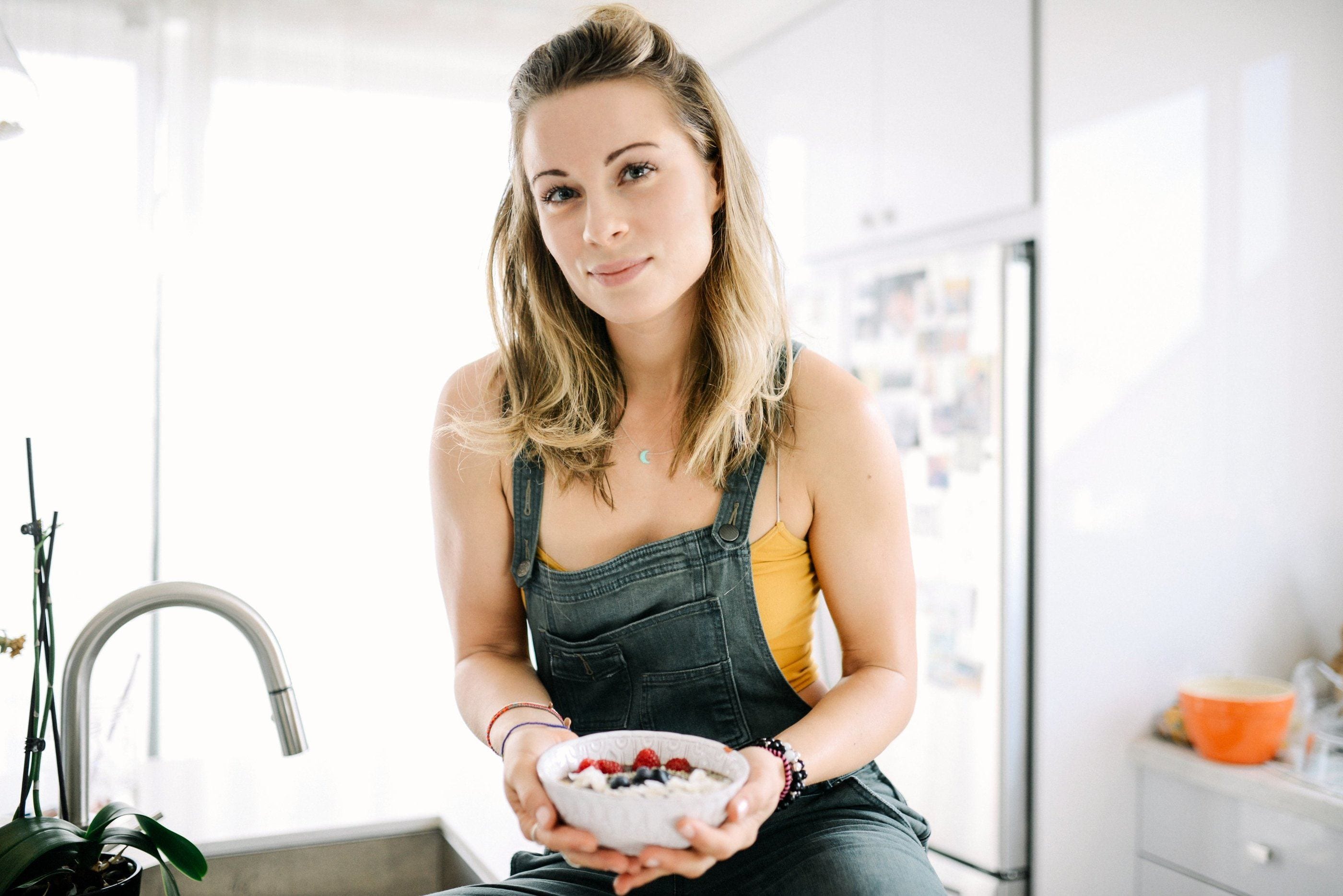 Meal-prepping, biohacking ,and superfood-style eating are on the rise, but it can be hard for folks with jam-packed schedules to make that sort of time commitment. Buying quality food takes intention and thoughtful thinking, especially when you're cooking for a family. But don't let intimidation keep you out of the kitchen—there are delicious shortcuts that will send you on the road to real food eating.
Entrepreneur, influencer, podcaster, wife, and mom of three Sophie Jaffe knows this all too well. She shares tips on how to sneak in your superfoods, maintain an organized pantry, and some go-to recipes to fit your busy lifestyle.
You've got two little boys and a new baby girl! How do you make sure you and your family get your superfoods?
I've passed on healthy eating habits and wellness practices to my kids by teaching them the value of food and the importance of their health. Instead of creating a "healthy diet" based on limitations and rules, I show them how to eat, move, and breathe from a place of love: love for themselves, their communities, and their larger world.
I make smoothies with the boys or superfood waffles. I don't limit their diets because I show them how to love whole, nutritious, and vibrant food. I cook with them and allow them to experiment with meals—under my watchful eye. I stock the house with a ton of fruits, veggies and delicious nutrient-dense snacks. Some other tips and tricks for keeping your kids healthy and happy include never limiting their diets (but instead offering healthier but equally sweet alternatives), substituting ingredients for healthier options, and doing active activities together such as a hike or a trip to the beach.
Grocery shopping for organic foods can be time-consuming and expensive. Any hacks you'd like to share?
It can be unless you know where to look and how to shop smart. Over the years I've learned tips and tricks to buy whole, nutritious foods that don't break the bank. We go to our local farmer's market almost every weekend where you can find organic fruits and veggies for cheap. We buy in bulk and add superfood powders to meals for extra nutrition.
Organization feels like it would be important. How do keep your kitchen organized? Does sustainability play a factor?
Sustainability plays a HUGE factor. Our family composts and not many people in Los Angeles do, but it's so easy! You can call your city to have a green compost bin put outside your house or apartment complex and then keep a compost bin in your kitchen. We freeze all our fruits and most of our veggies so less items go bad and we're not wasting anything. When we have leftovers of smoothies or veggie meals we reuse them in other meals. It's amazing how much you can create from one bag of frozen berries.
Tell us about mealtime in your house. What are some of your favorite recipes?
I love mealtime in our house, although it's hardly consistent. Some days it's me and the boys, others it's all of us or somewhere on the go. Now that we have our newest little babe, meals have been nonstop in our home from snacks to breakfasts, and all the milk for baby girl.
There have been so many amazing memories created in our kitchen surrounding food. Kai will create smoothies for us and sometimes we have a brunch party with endless superfood waffles. We try new things together and get fun and experimental with food.
Today you made us a veggie stir-fry and a Quinoa Macadamia Nut Porridge Bowl. Can you tell us more about these dishes, and why they're so good for us?
A simple veggie stir-fry is a go-to in the Jaffe home because it's so simple and you really get a lot out of it. I I love using the NOW FoodsEllyndale® Foods Avocado Oil. It adds such a great flavor and it's a trusted organic product.
I'm obsessed with the coconut quinoa porridge bowl.  The NOW Foods Real Food® Organic Q-Cups adds a lot of flavor and makes a robust, full meal. Coconut is a healthy fat to fight off hunger pangs and keeps you full longer and quinoa is a great source of protein. When it comes to plant-based, this is a new staple.
Quinoa Macadamia Nut Porridge Bowl
INGREDIENTS
1 cup Ellyndale® Foods Q Cups™ Organic Quinoa
1/2 cup – 3/4 cup almond milk
1 tbsp Ellyndale® Foods Macadamia Nut Oil
1 tsp honey
1/2 tsp cinnamon
1/2 tsp cardamom
Shredded coconut and bee pollen to top
INSTRUCTIONS
Cook quinoa according to packaging. Place cooked quinoa in a bowl, add almond milk, macadamia oil, honey, cinnamon and cardamom, and stir well. Sprinkle the bee pollen and shredded coconut to top and add remaining toppings, if desired.
Superfood Veggie Stir-Fry
INGREDIENTS
1 cup Ellyndale® Foods Q Cups™ Savory Garlic and Mushroom Quinoa
1 1/2 cup veggies, stir fried in the Ellyndale® Foods Organic Coconut Infusions™ Garlic Flavor coconut oil
Sprinkling of NOW Real Food® Organic Hemp Seed Hearts
Sprinkling NOW® Nutritional Yeast Flakes
INSTRUCTIONS
Cook quinoa according to directions, set aside. In a large pan over medium heat on the stovetop, add the garlic coconut oil and veggies, stir fry for about 4 minutes, then add quinoa and combine.
Transfer stir fry to a plate and sprinkle with hemp seeds and nutritional yeast.
In partnership with NOW
NOW, a family-owned company since 1968, is a leader in the natural products industry, committed to offering high-quality, natural and affordable products. NOW's extensive line of 1400 products, many of which are organic and non-GMO, includes dietary supplements, personal care, essential oils, healthy foods, sports nutrition, and pet supplements.