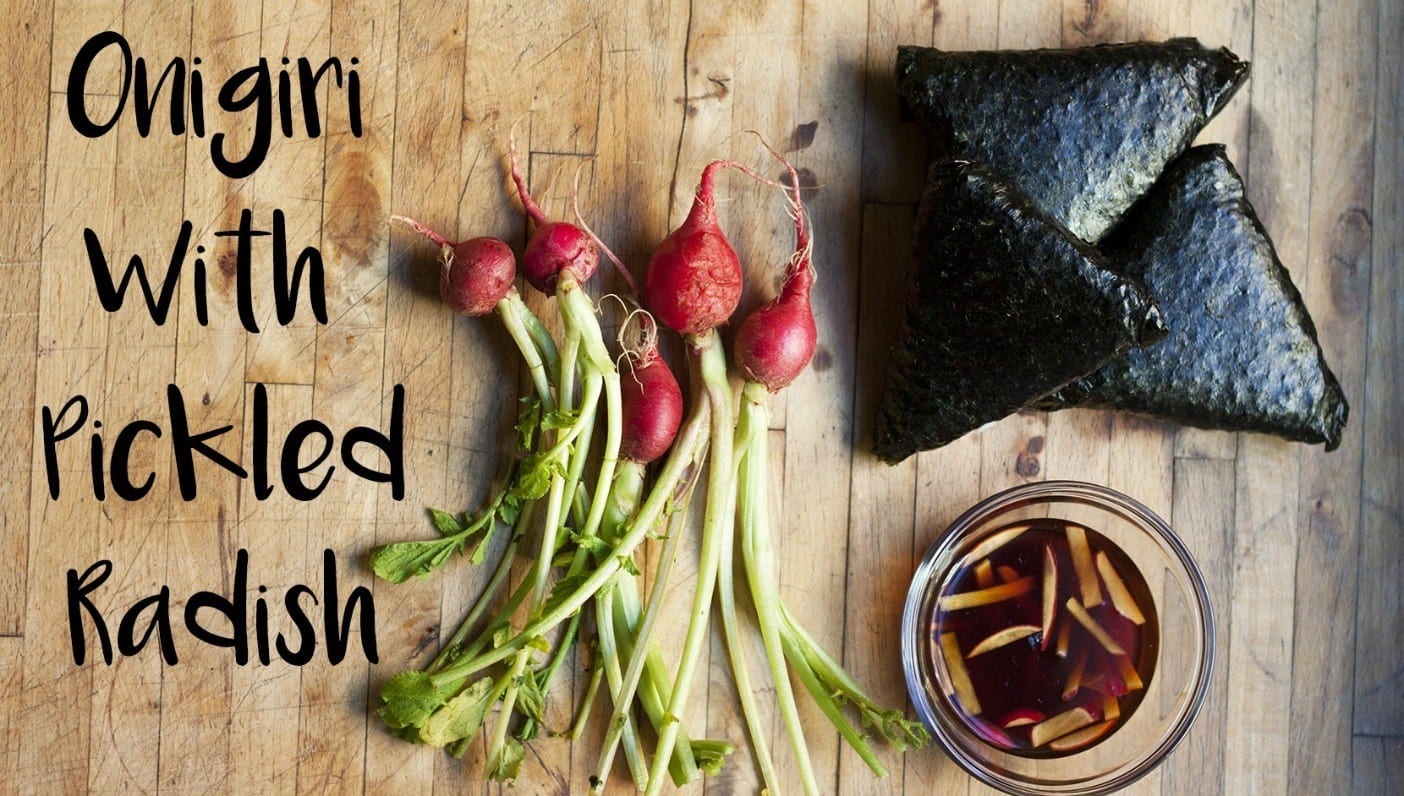 This recipe is part of a Wanderlust TV series, Play With Your Food.
---
Also known as omusubi, onigiri are Japanese rice balls wrapped in seaweed and stuffed with a morsel of salty filling. They fit perfectly in the palm of your hand, travel well, and make the ideal snack. In this recipe, onigiri are stuffed with pickled radish, but you can try using different fillings, such as cooked fish, pickled plums, or shrimp tempura.
Makes 4 / Serves 2 – 4
2 cups short-grain rice
2 ounces radishes, sliced into matchsticks
1/3 cup rice vinegar
1 tablespoon soy sauce
4 sheets toasted nori
Rinse the rice in cool water three times. (My favorite way to do this is to fill a large bowl with water and swish the rice in it. Pour off the water and repeat twice.) Cook the rice in a rice cooker according to the manufacturer's instructions. Or, place the rice and 2 cups water in a large, heavy-bottomed pot. Bring the water to a boil, then reduce the heat to low, cover the pot, and cook the rice for 15 minutes. Remove from the heat and let rest, covered, for 10 minutes.
While the rice is cooking, prepare the pickled radish by combining the sliced radish, rice vinegar, and soy sauce in a small bowl. Let the radishes pickle in the liquid for about 10 minutes.
To assemble the onigiri, dip your hands in a bowl of warm, salted water. This will help prevent the rice from sticking to your fingers and will also season the rice. Scoop up a handful of cooked rice, shape it into a triangle, and lay a few slices of pickled radish across it. Add another small handful of rice to cover the radish, and then squeeze gently. Repeat with remaining rice and filling. Wrap the onigiri in plastic and place in the refrigerator until you are ready to eat.
When you're ready to serve, place 1 sheet of nori, shiny-side down, in the palm of your hand. Unwrap 1 rice ball and set it in the center. Wrap the nori around the rice, and enjoy!
(Nori will soften as soon as it touches the rice, so don't wrap these until you're ready to eat them.)
—
Maria Zizka is a Berkeley-born food writer, cookbook collaborator, and recipe developer. Most recently she co-authored the forthcoming Sqirl cookbook, Everything I Want to Eat, which will be published by Abrams in fall 2016. She is currently working with Elisabeth Prueitt and Chad Robertson of Tartine Bakery.
Save
Save