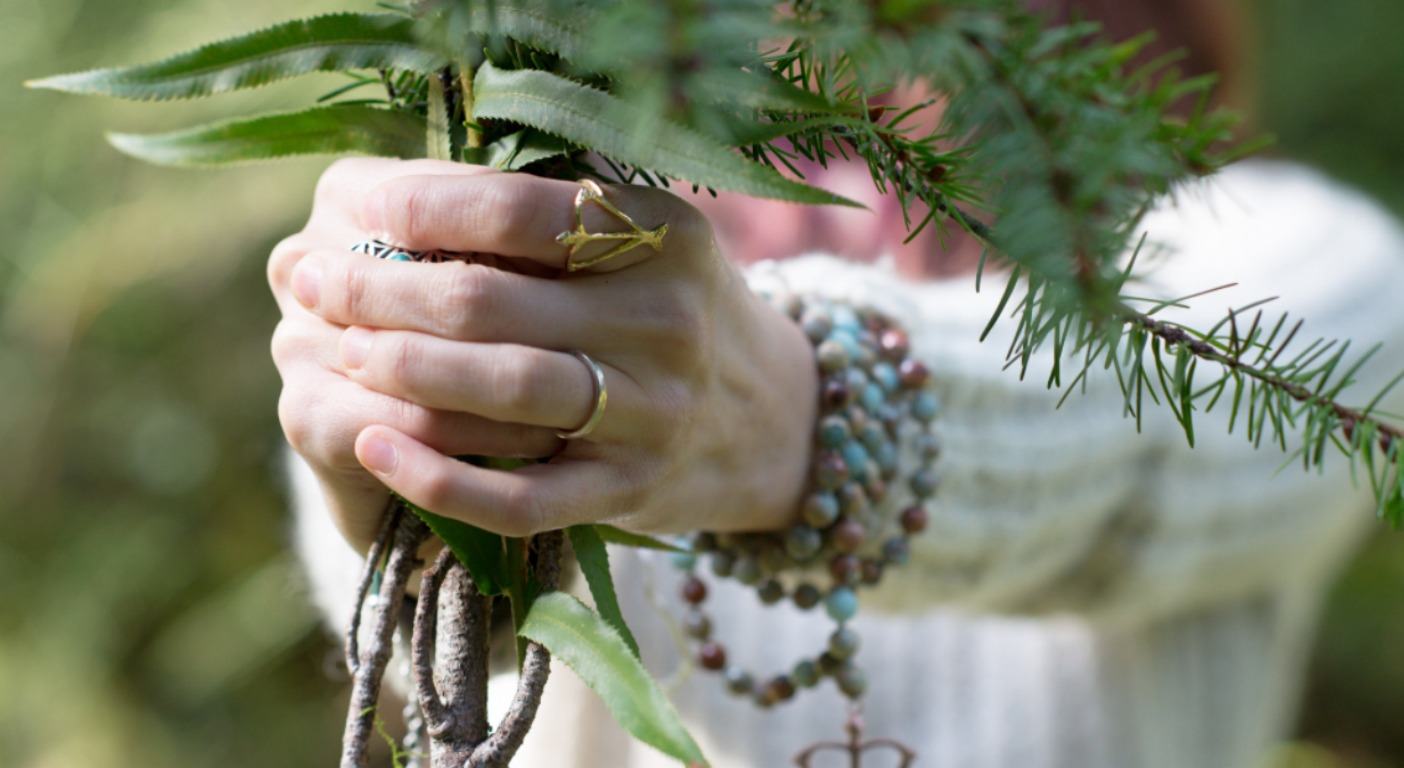 Photo by Mary Caroline Cruz
For centuries the art of adorning oneself has been used as a form of expression and significance. In China, jade has been said to protect wearers from bad luck, evil spirits, and illness, and Navajo tribes found deep connection to turquoise, as it symbolized happiness, health, luck, and connection to the natural world. These stories extend throughout time and location. Jewelry, regardless of place or appearance, has embedded itself deep into the fabric of existence.
The same rings true today. Jewelry is worn to reflect our personality. It allows us to shine. It can give us courage and remind us to ground. Open Heart Warrior is a jewelry brand that carries these intentions and more. All of the brand's pieces are handmade, original designs made using ethical practices. Designer and founder, Mary Caroline Cruz, shares the story behind her mindfully-made creations. 
"Open Heart Warrior thrives on three key purposes," she explains when asked about the company's mission. "To inspire an open heart, empower your arrow, and to connect. Connect your intentions and to connect with all like minded Open Heart Warriors in the world."
Mary uses this mindset when implementing the practical design of her pieces. She casts each of the pieces with recycled 14k gold and recycled silver, and uses gems that are ethically sourced from trusted vendors. Creating sustainable pieces, and respecting the earth, is one of Mary's top priorities. In doing so, she tells us, "Open Heart Warrior jewelry is 100 percent mindfully handcrafted by skilled artisans in Los Angeles. And by supporting local movers and shakers this gives everyone a way to not only get quality product but allow one to love the Earth and give back to it."
Inspiration from the Earth
A mindful entrepreneur and yogi, Mary possesses a deep reverence for nature and mysticism. Like many of the thoughtfully-crafted pieces that came centuries before Open Heart Warrior, Mary's creations are mainly inspired from life experiences, the wonders and gifts of Earth, and myth. She specifically draws ideas from Hindu and Greek Deities, and her signature bow and arrow design is inspired by the goddess Artemis. Each piece is made to inspire and empower the wearer, and some even utilize elements of the Earth. The organic shapes of the jewelry suggests that no two are the same, and the quality is made to last.
She also states that she gathers inspiration from her travels and dreams, and likes to reflect these unique experiences within her pieces. It allows each creation to tell a story, often one of transformation and evolution. The goal is to create timeless treasures that help remind women of their own inner goddesses.
"I love attending shows [and] festivals, as I get the chance to connect with people and share the story behind the brand," Mary explains. She enjoys sharing her knowledge of crystals with her customers in order to help inform them as to how jewelry can empower their personal journey.
"To adorn oneself is a way to love oneself," Mary explains. "I always say if you're going to wear jewelry, it might as well be with intention. And we are all visual beings that need constant reminders for various things [in life] including loving ourselves, empowering ourselves, to heal, and to feel inspired. Jewelry can be this everyday tool if you chose to adorn yourself with pieces that speak to you."
On Process and Philanthropy
Mary began designing jewelry in 2004. After a few months selling her mother's costume jewelry, Mary learned that she was allergic to non-precious metals. As much as she loved the styles of the pieces she was selling, she couldn't wear them, and used this as motivation to learn how to make her own accessories using parts that worked with her body. She taught herself to wire wrap, and quickly fell in love the process. In 2014 Mary studied the ancient technique of creating jewelry known as LostWax, a process of hand-carving designs out of wax. When asked about her favorite materials, Mary's passion shines through.
"I am proud to say that I personally source all the stones I work with," she shares. "I literally geek out to every matrix, inclusion and detail of each one of them all the way down to it's history, lore, healing properties and all the magic it comes with."
She also finds a philanthropic aspect to her efforts. Mary collaborates with positive renowned influencers in the community and foundations that align with the OHW brand. She specifically seeks programs that empower women, help underserved kids, and aid with improving living situations in third world countries.
"I feel so blessed that I am able to live my passion and do what I love and create a thriving business with it," she says. "I feel that as entrepreneurs, it is our duty to help those that are less fortunate in hopes to helping them see a brighter future."
Find Your Practice Piece
Open Heart Warrior's pieces include rings, bracelets, necklaces, and Malas, and are all designed to inspire self-reverence, self-care, and mindfulness. Wearing a certain piece may remind us to return inward and ground before we fall into our habitual responses. For instance, we may get angry when things aren't going our way, but jewelry can help to remind us to recenter and breathe through it.
These adornments can also serve as a tangible representation of one's personal practice. The Mala beads, strands of 108 beads, are powerful tools for meditation and prayer that have been used for 3000 years. "Mala" is a sanskrit word meaning "meditation garland." They're traditionally used for concentration during meditation. The beads also represent a connection to universal truth and sacred power. 
Open Heart Warrior is Wanderlust's official partner for festival jewelry this season. They will be providing the surprise and delight gift bracelet to three and four-day ticket holding festival attendees. Aim true, get your flow on, open your heart, connect with others, and adorn yourself with these beautiful one of a kind pieces.

—
Jillian Billard is a poet, yoga teacher, cellist and avid wanderer. A native New Yorker, she is often caught daydreaming of sprawling green fields and mountains. She trained and received her ashtanga yoga teacher's certification in Goa, India and works at Laughing Lotus Yoga Center in Brooklyn. You can often find her with her head buried in a book, doused in lavender. Follow her on her (very newly developed) Instagram page for class schedules and updates at @jillboyoga.