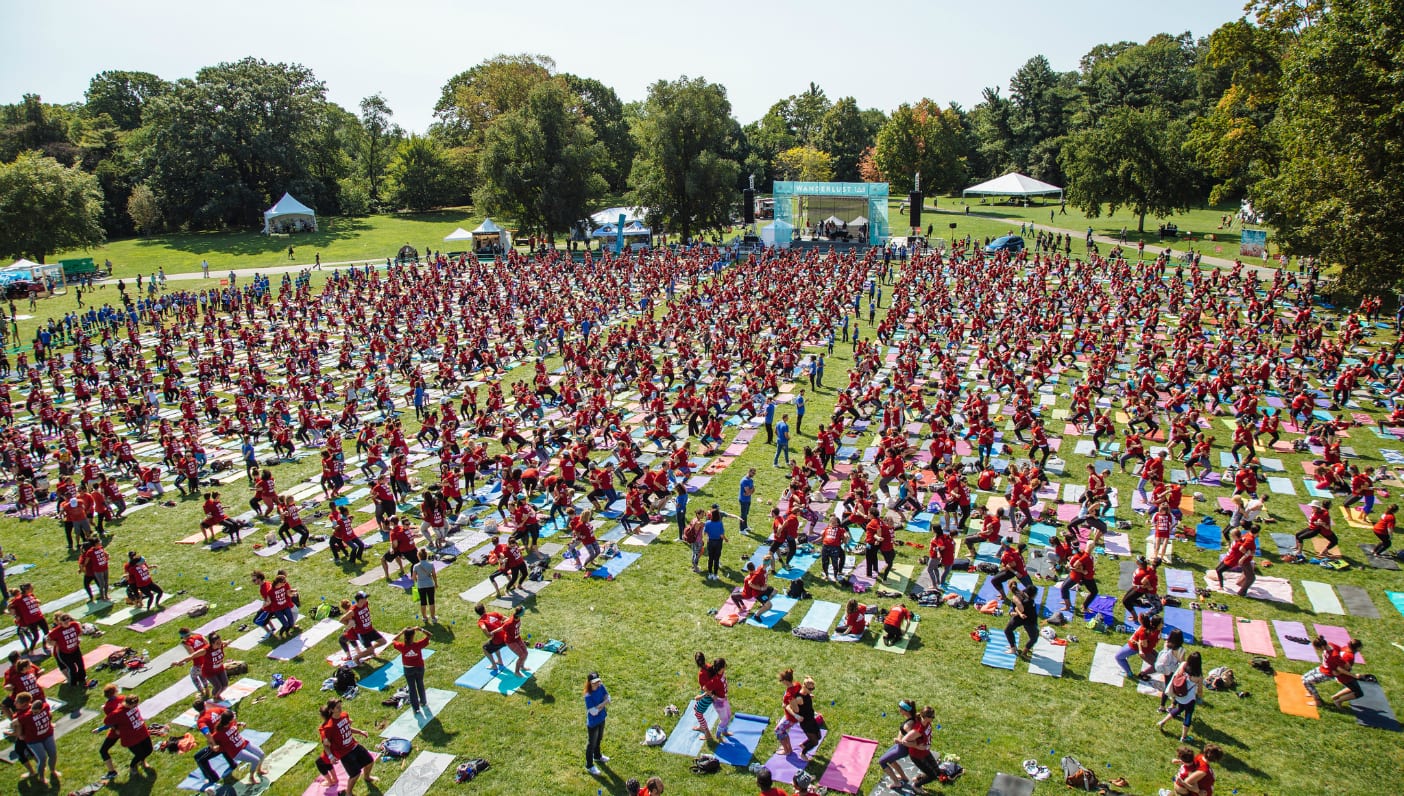 Breaking a Guinness World Record at the Brooklyn 108, 2017. Photo by Diana Gerstacker
There's no place like home. That's why the #Wanderlust108 Brooklyn is basically Thanksgiving for Wanderlust—after traveling the globe all year long, we CANNOT. WAIT. to kick asana in our own backyard. New Yorkers know that our City is the best on the planet, and when thousands of likeminded souls flow together in Prospect Park, even the most jaded among us falls back in love with this concrete jungle. Needless to say, New York also boasts the best studios in the country to find your flow. We've put together a list of our faves, so you can prep for Wanderlust 108 on September 9—and keep the momentum going all year long.
Tickets for Wanderlust 108 are still available! To buy and for more information about your best day ever, click here. We have several types of tickets available this year, something for every budget. Snag a *FREE* Practice Ticket for entry to the yoga and meditation portions of the event, as well as the Kula Marketplace. Entry to other bonus activities and the 5K are included with either the 108 Ticket, the 108 Ticket Package, or the premium WAN(DER)LUST Package.
Have a studio you'd like to see on the list? Reach out to us on the Brooklyn 108 Facebook event page and let us know.
If you'd like to be a part of our *NEW* studio partner program and earn commission and free tix for your community, click here! We'd love to have you a part of the fam.
---
Founded by Wanderlust Festival co-founder Schuyler Grant, Kula Yoga Project is where we go to get that Wanderlust magic all year long. All teachers are trained with a serious background in anatomy, so we know we're going to flow safely—and with flair. With three studios and several different types of offerings (including Mysore Ashtanga), we never get bored with the schedule, no matter how often you'll find us there.
We love Yoga Vida for being so transparent about what they're all about—and for practicing what they preach. They tout these five core values: Compassion, Humility, Teamwork, Integrity, and Accessibility, and we have yet to find them not holding true.
To say New York is a diverse place is obviously an understatement—though it can still feel that way in the yoga community sometimes. Sacred Brooklyn is an antidote to that trope, with teachers from all backgrounds and of all body types, creating a truly inclusive studio, inside and out.
Entering Vero Yoga is like walking into an oasis, with its smooth wood floors and exposed brick walls, you could just as easily be in a sauna in Iceland as a yoga establishment in the country's biggest city. We love that they offer teacher mentorships for recent training grads to take it to the next level—in an industry plagued with inexperienced teachers, Vero offers a viable solution.
The namesake of this Greenpoint-based studio is a Turkish phrase that means "welcome," and this place lives up to its name. We most certainly feel welcome when we enter here, with all sorts of yoga classes alongside Reiki, acupuncture, and Marma Therapy offerings as well.
This Upper East Side studio offers serious teacher training programs and both workshops and mentorships for teachers to help explore and deepen what should be a lifelong learning practice. With a focus on holistic healthy living, we love Five Pillars for always helping us take it to the next level.
With over 70 yoga class offerings every week, Bend and Bloom is the spot if you're looking for something a little different (and what New Yorker isn't?) There are prenatal and kids' classes, as well as a robust workstudy program so offerings are available to everyone. We're always in bloom when we're bending here.
This sunny Park Slope studio (just minutes from the Wanderlust 108 site!) gets us all aligned with its various wellness offerings, from pilates to barre to yoga to functional fitness and nutrition. The studio is owned by a licensed chiropractor, so you can trust you're moving in a safe space.
The belle of Bushwick, Daya is a boutique beauty with two sunny studios. They offer all types of yoga and unique workshops with master teachers you won't find elsewhere in the City. Classes are capped at a relatively small size, so you can feel comfortable while you learn and make mistakes.
Founded in 2016, SHAKTI has quickly become a neighborhood staple in Williamsburg, with a second location in Harlem opening this year. Boasting a signature barre-yoga style alongside yoga classes, SHAKTI is as much a women's empowerment and community center as it is a traditional studio.
Living in the City can be a slog—sometimes we just have to sweat it out. We love getting drippy at Manhattan's first and only Baptiste Power Yoga studio, where the classes are as empowering as they are challenging. Don't be scared, though—Lyons Den is as intensely welcoming and community-based as its classes.