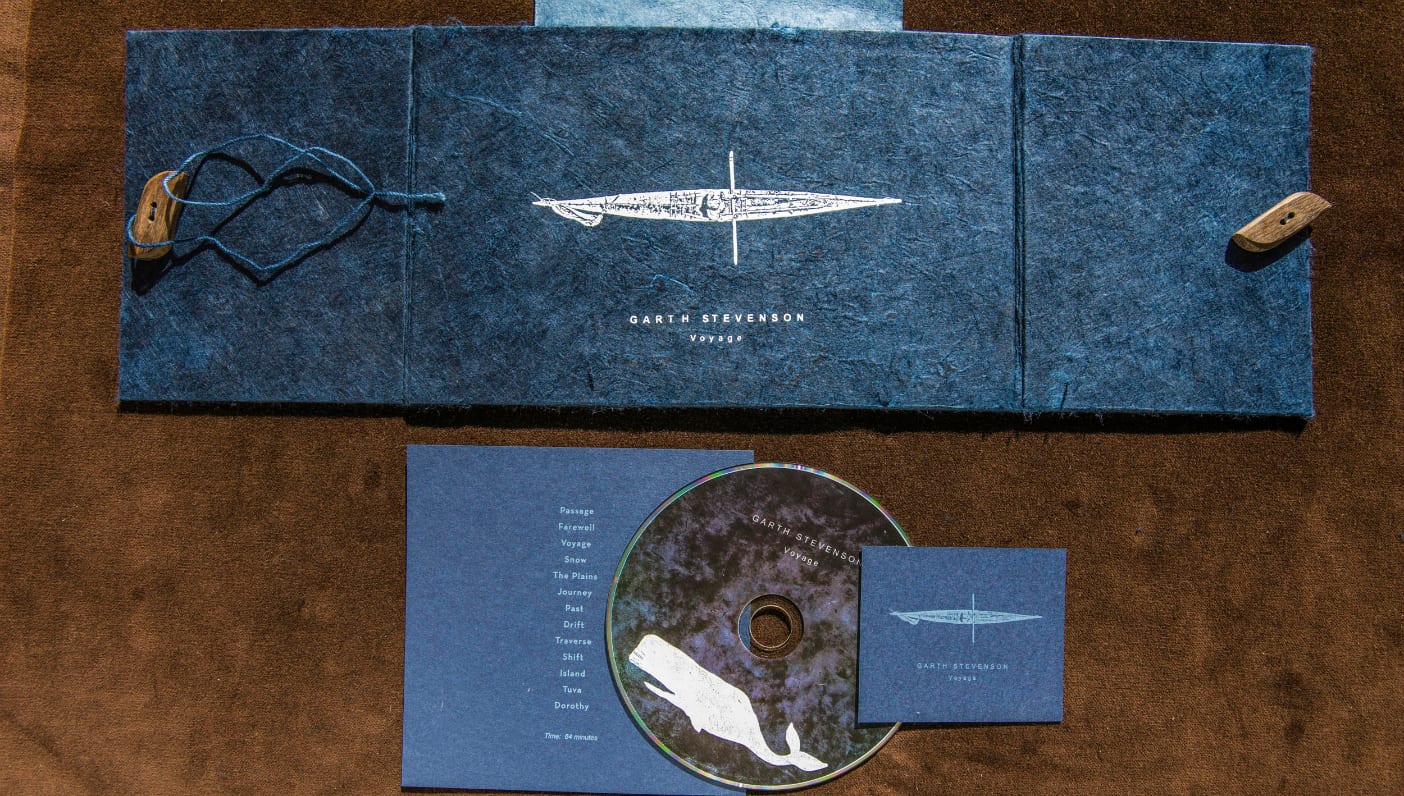 For a free download of Garth's song, Voyage—exclusive for Wanderlust readers—click through here!
---
Garth Stevenson is a double bassist and composer based in Brooklyn. Growing up in the mountains of Western Canada, his music is profoundly influenced by nature. He has released two full-length solo albums which chronicle his experiences traveling to various landscapes across the globe. His music has an ethereal quality, and is a favorite among yogis (and Wanderlusters!) for its unique ability to transport you to new realms through sound.
Stevenson's newest album is entitled Voyage. The album's inspirations are derived from both the "literal and metaphysical voyages that have impacted him over the four years he spent creating the music." The opening track, Passage, is inspired by an encounter with a humpback whale in the Pacific Ocean. Farewell was composed at his grandmother's bedside during her final moments. The Plains is inspired by Lewis and Clark, and Voyage is an homage to Shackleton's journey to Antarctica in 1914, inspired by Stevenson's own travels to Antarctica in 2010. Finally, Tuva, which features the Alash Ensemble, is Stevenson's interpretation of the music, land, and culture of the Tuvan people. We had the pleasure of speaking with Garth about the new album, his travels, and what inspires him.
Wanderlust (WL): Your music is highly experiential and paints a landscape in its depth and expansive sound. How does nature inspire your music? Do you derive inspiration primarily from visuals, sounds, wildlife, or otherwise?
Garth Stevenson (GS): Nature is the main inspiration in my life. I am constantly humbled and fascinated by it's beauty, mystery and vastness. In music, my goal is always to allow life's experiences to transcend the notes on paper and bow on the instruments into an honest and pure form. There are no clichés in nature so why should they exist in music?
I grew up in British Columbia spending most of my childhood outdoors. I moved to Boston after high school to attend the Berklee College of Music and although music school and city life were inspiring in their own way, I quickly felt the void of nature in my life. I saved up and purchased a station wagon, vehicle of choice for many double bassists, and discovered Walden Pond just outside of Boston. I hiked my bass to the far end of the pond and started practicing to the sounds of birds as opposed to the drummers and saxophone players in the practice rooms. After two weeks of coming daily, I started to question why I was practicing my scales and jazz studies way out in the woods. It felt like I was imposing music on my surroundings as opposed to finding a sound that could interweave. That's when I began searching for and developing a musical language and sound that was in harmony with nature, to my ears.
Nature is without a doubt the world's best surround sound system and has an enormous influence on my mixes. One of my favorite things to do is hike out into the woods or down to the ocean, close my eyes and focus on how all of the sounds are moving. There's wind traveling from the north high up in the trees, there are birds calling from every direction, a stream is weaving along the forest floor, waves are hitting the beach at different rates. I then try to translate these into my mixes, moving layers of bowed instruments or reverb tails around like the wind or stream. Examples of this movement or panning can be heard in my recordings, especially if you listen on good headphones.
WL: Your music draws a great deal of inspiration from your travels. How do your compositions take shape? Do you compose during an expedition, or as a recollection of your experiences?
GS: It's a combination. I always bring a portable recorder with me to capture musical ideas that are improvised on my bass or if a melody pops into my head. A couple elements from Voyage were ideas that were improvised on the hikes I lead at the Wanderlust festivals. If I am moved by a location in nature or people I meet, that becomes part of my life and in turn the music.
WL: Can you tell me a bit more about your time in Antarctica and how this influenced your music?
GS: My time in Antarctica was truly a life changing experience. I spent a month on an icebreaker with a group of exceptional artists and scientists including Cormac McCarthy, Juliette Binoche, Todd Murphy, Gregory Colbert, Roger Payne, Fiona Struengmann and Scott Cohen to name a few. Between experiencing the wonders of the Antarctic together and living in close quarters, we all became close and continue to cross paths today. I could write a book about how this trip affected my music but I will focus on a few examples. Roger Payne was the first person to record the songs of whales back in the late 60s. His recordings were instrumental in rallying Greenpeace behind protecting whales. I spent a few weeks prior to the trip learning to adapt whale calls on my bass by playing along with Roger's Songs Of The Humpback Whales recording. One evening, in the middle of a four-day open sea crossing between South Georgia and Antarctica, I gave a concert at sunset on the bow of our ship. I was improvising and creating layers with my loop pedal then started imitating whale calls on the bass. A few minutes later twelve sei whales came and swam next to our vessel!
I will always remember the morning as we neared the Antarctic Peninsula and saw our first icebergs. Some were the size of a school bus and others, a city block. Each one was a masterful sculpture with an infinite palette of whites and blues. Watching the icebergs drift by is a feeling that is present in much of my music.
Playing my bass while balancing on a small zodiac next to a 400 ft wall of ice or on a beach surrounded by 750,000 king penguins definitely beat playing in a club! There are some great photos of this on my website and here is a video of duet with seal.
WL: Passage was inspired by an encounter with a humpback whale. Do you see music as a way of conversing with nature and other sentient beings?
GS: Whales are highly intelligent and sensitive beings, probably far more than humans. I think music does offer path to connect with whales since they are such aural creatures. The encounter with the humpback was one of my most profound moments in nature. I was kayaking with my family in the Bunsby Islands, a remote group of islands off the west coast of Vancouver Island. We were paddling slowly in a sheltered bay when suddenly the water in front of us appeared to be boiling. At a second glance we noticed that it was dozens of salmon swimming in a tight circle near to the surface. Moments later a large humpback came shooting out of the water with salmon jumping out of its open mouth. It crashed down in front of us and disappeared below our kayaks. After a couple minutes it resurfaced and we began following it as it peacefully maneuvered through the bay. A strange kind of mist began to dance above the water and sent chills through my body, the good kind of chills. It was a warm summer day with no humidity so there was no rational explanation to the mist. A year later I felt that same feeling when my grandmother found peace shortly before passing. The connection between these two moments is the essence of the music in Voyage.
WL: You lived in Tuva and played with throat singers and instrumentalists. What drew you to throat singing? Did you travel to Tuva specifically to collaborate with this remarkable musicians? How did this experience shape your work?
GS: Tuvan music is an ancient folk tradition that is passed on aurally from generation to generation. I was first exposed to it in 2005, when the Alash Ensemble was performing in Brooklyn. I was completely blown away by the spirit of the music and introduced myself to the musicians. Six years later I invited Alash to perform at my CD release concert for Flying in New York. We had a great connection and a few months later they invited me to perform at their international music festival in Tuva.  Having the opportunity to live and collaborate with these exceptional throat singers and instrumentalists changed the way I play bass and hear music. Tuva, a track from Voyage, features the Alash Ensemble and represents my interpretation of the music, land and culture of the Tuvan people.
For more information on the album, visit Garth's website.
—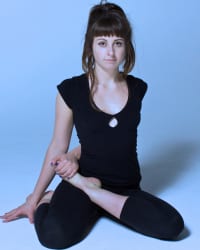 Jillian Billard is a poet, yoga teacher, cellist and avid wanderer. A native New Yorker, she is often caught daydreaming of sprawling green fields and mountains. She trained and received her ashtanga yoga teacher's certification in Goa, India and works at Laughing Lotus Yoga Center in Brooklyn. You can often find her with her head buried in a book, doused in lavender. Follow her on her (very newly developed) Instagram page for class schedules and updates at @jillboyoga.