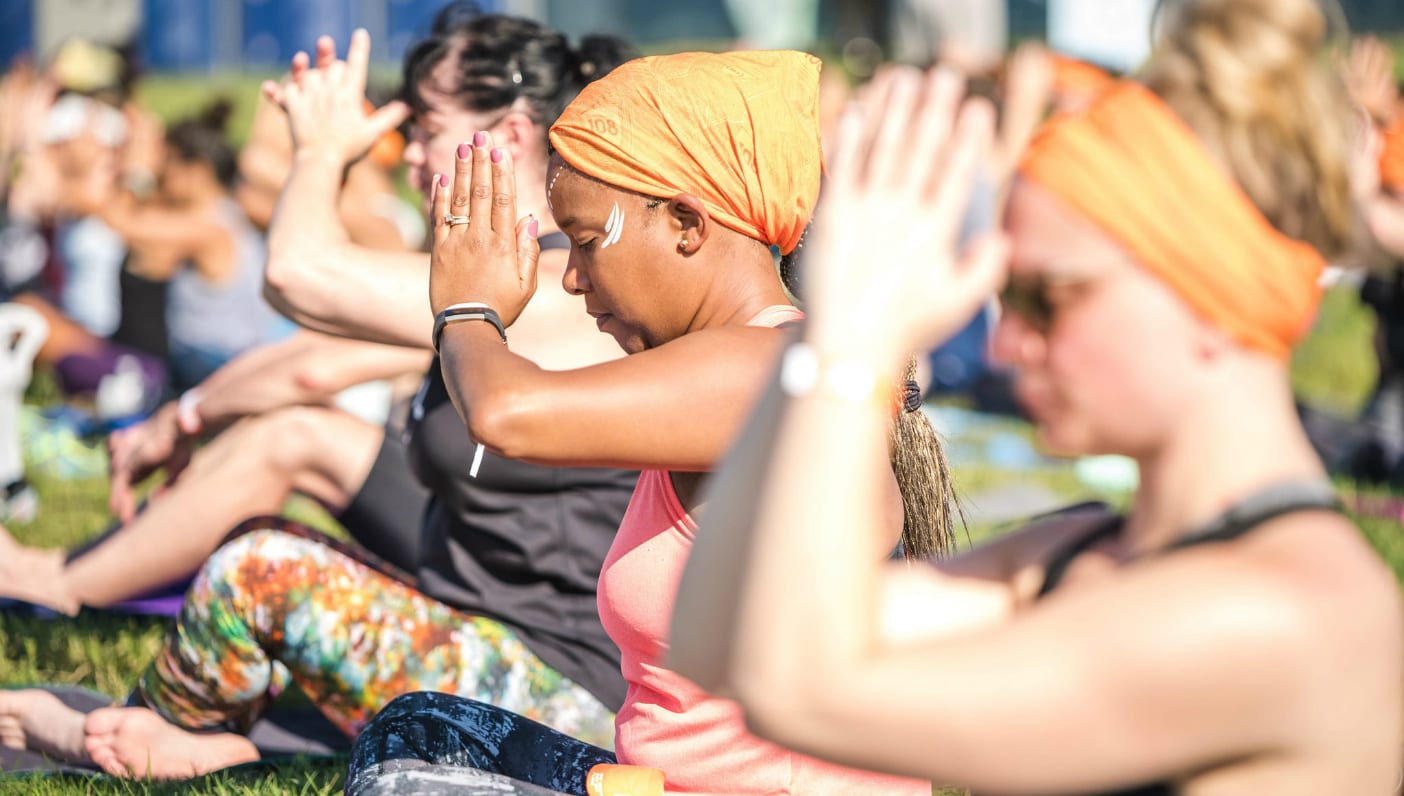 Photos by Thurston Willis at Wanderlust 108 DC, 2018
What better place to try meditation than with community at Wanderlust 108? If you're in Tampa or Austin, join us for our remaining 2018 US 108s, or stay tuned for exciting news coming in early 2019. See you on the mat!
---
We've all heard that daily meditation is helpful for our mental and physical health, but between rushing around at work and the never-ending chore list at home, the intention to sit quietly evaporates. But meditation is much easier to slide into a routine than you might think, even if you're swamped with work. Even just 5 minutes of sitting still in silence can reap major benefits to our mental health. 
I wasn't a believer until I went on a yoga and meditation retreat in the California mountains with my sister. By day five, my NYC stresses felt manageable and even better, I felt capable of tackling them. Which got me thinking—I can't be the only one to benefit from this. Many of my friends my age also suffer from chronic stress and anxiety, whether that be due to feeling overworked, a lack of sleep, or money troubles. 
Meditation: A Millennial's Perfect Practice 
According to a recent NYT article, millennials are the most stressed generation our world has ever seen. Thanks to longer work days, constant connectivity via iPhones and email, and the ambitious urge to get ahead, it's no wonder why we feel this unsurmountable level of stress.
Enter meditation as a useful tool to combat all the inconveniences of the millennial life. Not only does a daily meditation practice reduce stress, it's also a great way to combat screen time. Millennials are constantly on their smartphones, at their computers or, even if they don't have their phone in their hands, they're thinking about all the work emails they're missing. Meditation encourages you to unplug from electronics and plug into you time.
Have you ever eaten your entire lunch in front of the computer, only to feel hungry and reach for a chocolate protein an hour later? An unfortunate byproduct of stress is overeating, which also dogs many millennials. By promoting more self-awareness and mindfulness, meditation allows us to bring insight into our daily food choices and not act out of impulse or routine, but rather, to consider each choice in the moment.
Another perk for us thrifty folk? Meditation is totally free, or at least fairly inexpensive.  It's a cost-effective way to really harness your emotions and thoughts and to reroute them into positive thinking. Consider how much you pay for a monthly gym membership for the endorphins benefit, and compare that with the bliss you feel  with meditation.
Perhaps you love to travel, or are one of those millennials living out of a backpack or hopping from train station to train station. Another added benefit is that you can do it anywhere. Legendary Buddhist Thich Nhat Than meditates literally anywhere—desserts, airport terminals, or even restaurants. We're not advocating meditation where you don't feel comfortable, but the point is that you can tap into yourself anyplace you feel the need.
Ready to get started? Follow a few of our simple steps to incorporate meditation into your life and within a few days, you may find yourself a little calmer, a little happier, and all around more positive.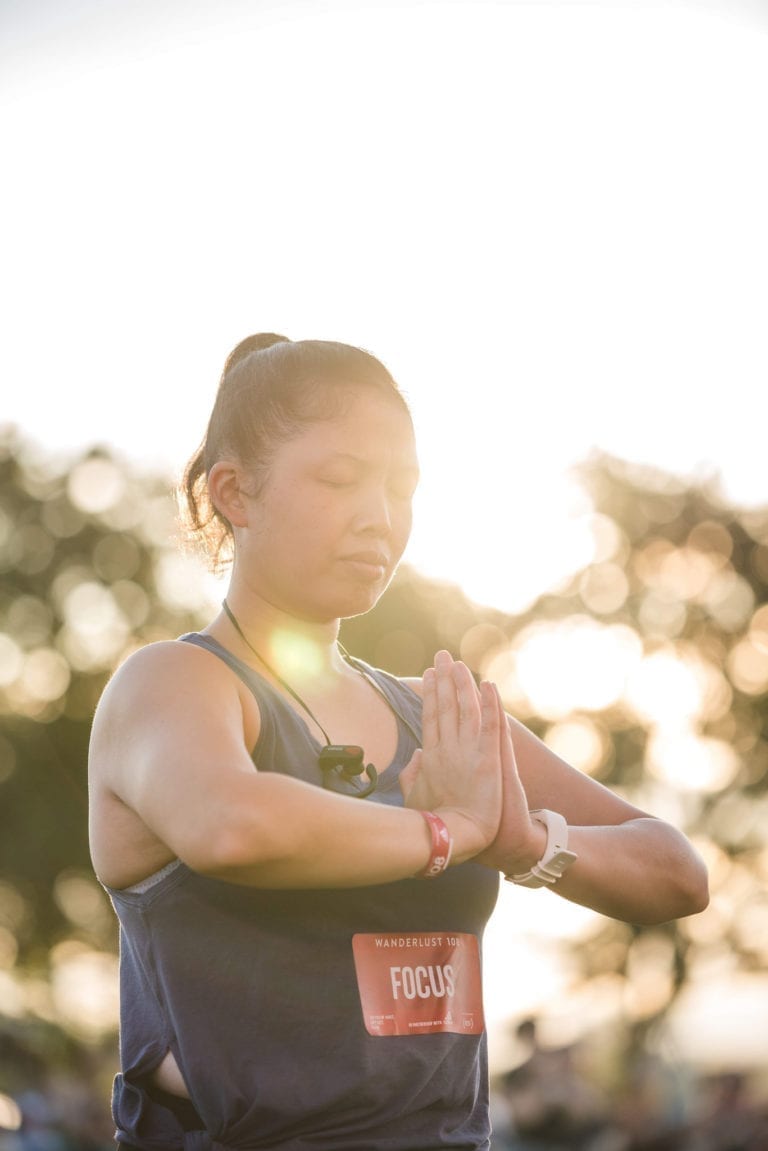 Get comfy.
Keeping your mind still is hard enough, so ditch the idea you have to sit on the floor. Sitting on a chair with your feet firmly planted on the floor and knees at a 90-degree angle works just as well.
Declutter.
There's a reason feng shui is so popular—a cluttered space doesn't often lead to relaxing thoughts. Try dedicating one uncluttered area of your home to your meditation practice. The key aspect here is to make it a space you want to spend time in.
Start small.

Back in my apartment post-yoga retreat, I found it much harder to sit still for large periods of time, so I cut my meditation time down to 10 minutes. Surely, I thought, I could sit quietly for ten minutes. As I became more comfortable, I slowly began to add time to my practice. It doesn't matter how much time you start with, the point is that you're setting aside time for yourself.
Focus on breathing.

Meditation isn't so much about turning your mind off (who can do that, anyway?), but it's really about being present in your life. Some people recite mantras while practicing (the Buddhist monk Thich Nhat Than recommends the mantra, "Breathing in, I calm my body; breathing out, I smile," but I find counting to be helpful until I get into a groove.
Meditate with a friend.
Anxious to meditate alone? Bring along a buddy! Sit together for ten minutes, and then discuss afterwards how you both felt. Just like working out in pairs brings additional commitment, so does meditation, so don't go at it alone!
Take a class.
Thanks to the growing popularity of meditation, there are tons of classes you can take, including online challenges, which are super beneficial to a millennial's schedule. The guided group meditation allows you to truly let go of anxiety and grow your practice around a group of like-minded beginners.
What are you waiting for? Get cozy on the mat and let your busy mind unwind.
—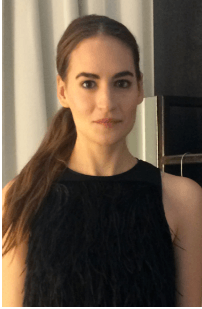 Kaitlin Clark is a freelance beauty, wellness and lifestyle writer based in Brooklyn. Her work has appeared in Lucky, Domino, Racked, and Stylecaster, among others. Follow her on IG @KaitnotKate.