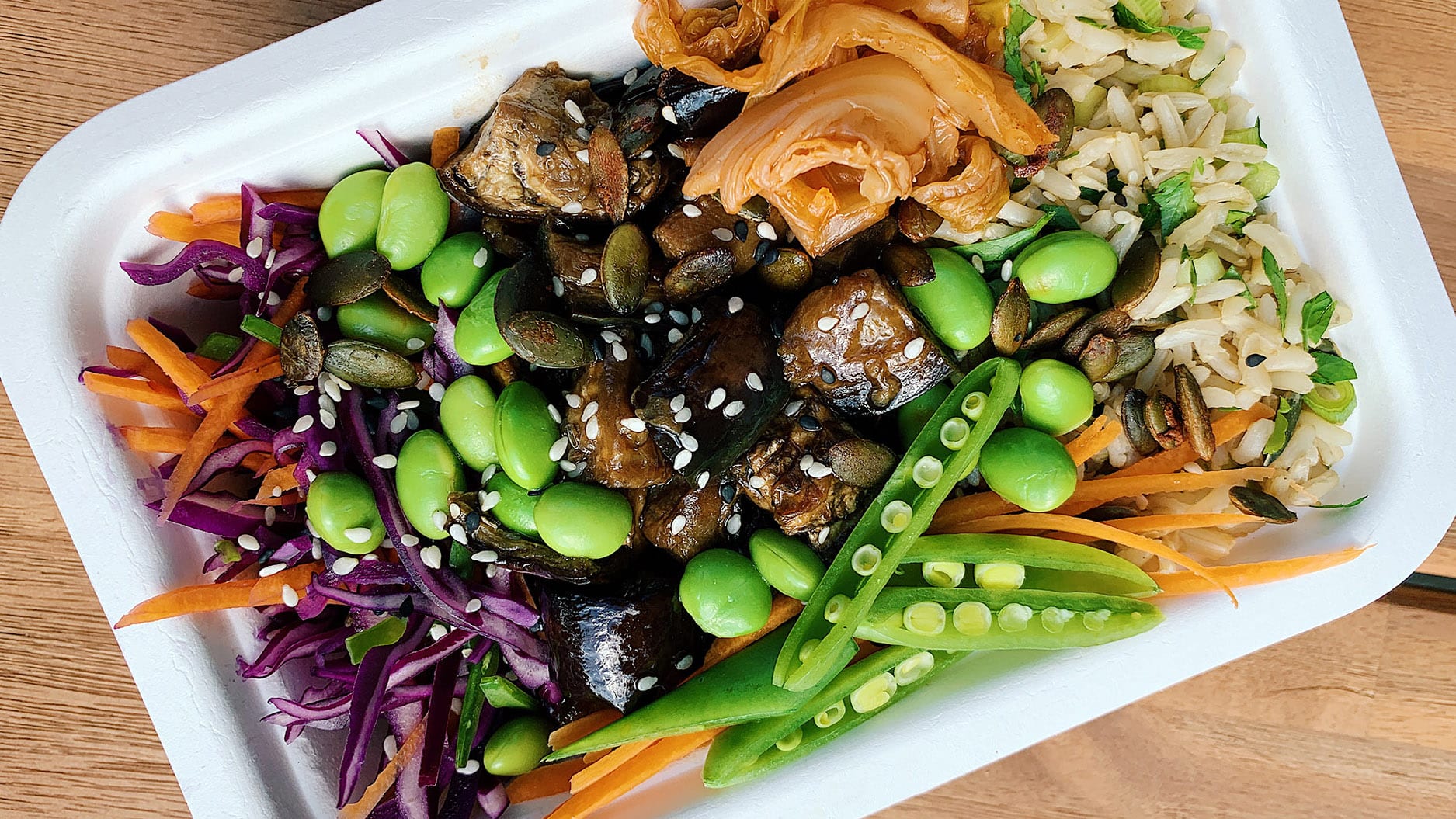 Processed with VSCO with c3 preset
We're excited to present the brand new Wanderbowl that The Yoga Chef, Kim Parsons, has developed for Wanderlust 108 London attendees this year. Get a taste of this flavor-packed, nutritious lunch bowl at the festival this year – you can pre-book it in advance and collect at the True North Cafe on the day.

Click here

to book your tickets and the bowl.
Serves 2
Ingredients
Roasted miso aubergine 
2 aubergine
2 tablespoons miso paste
4 tablespoons water
6 tablespoons tamari
4 tablespoons toasted sesame oil
6 tablespoons extra-virgin olive oil
Pimped brown rice 
400g cooked brown rice
2 tablespoons tamari
2 tablespoons pumpkin seeds
Handful of fresh coriander, roughly chopped
3 spring onions, thinly sliced
Rainbow slaw 
Handful grated white cabbage
Handful grated red cabbage
Handful fresh coriander, roughly chopped
1x carrot, peeled and grated
To garnish
Edamame beans, thawed from frozen
Kimchi
Sesame seeds, sugar snap peas, sliced
Toasted pumpkin seeds
Method
To start, chop the aubergine into 2cm cubes, place into a baking tray. Mix the miso paste and water together and then pour over the aubergine cubes along with the tamari, toasted sesame oil and olive oil. Toss to completely coat the aubergine then bake in the oven for 20-25 minutes at 180C or until soft and roasted. Remove from the oven and leave to one side.
To prepare the rice, mix together the tamari, pumpkin seeds, coriander, spring onions and brown rice. Toss together and leave to one side.
To prepare the slaw, mix all the ingredients together and leave to one side.
To put the wanderbowl together, add the rice to one side of your chosen bowl, then add the slaw on the opposite side, then spoon the cubed miso aubergine over the middle of the bowl. Then sprinkle the edamame beans, toasted pumpkin seeds and sesame seeds over the top. Then place a large pinch of kimchi along with some sliced sugar snap peas to the side of the bowl.
Enjoy at Wanderlust 108 London this year or in your own home.
Kimberly Parsons is an Australian born chef, author and qualified naturopath. Her series of cookbooks titled 'The Yoga Kitchen' and 'The Yoga Kitchen Plan' use traditional yogic philosophy and eating principles for long-lasting, vibrant health and happiness. Her latest book, 'A Balanced Life' brings together her naturopathic and yogic philosophy in a beautiful health and lifestyle book to help us all find long-lasting balance. Kimberly spends her time cooking on health retreats all over the world and resides in the English countryside where she is a mother and enjoys cooking, gardening and writing. Believing wellness is not a prescription, but a skill, you can find Kimberly giving talks to corporate businesses and at other wellness-related events all over London.