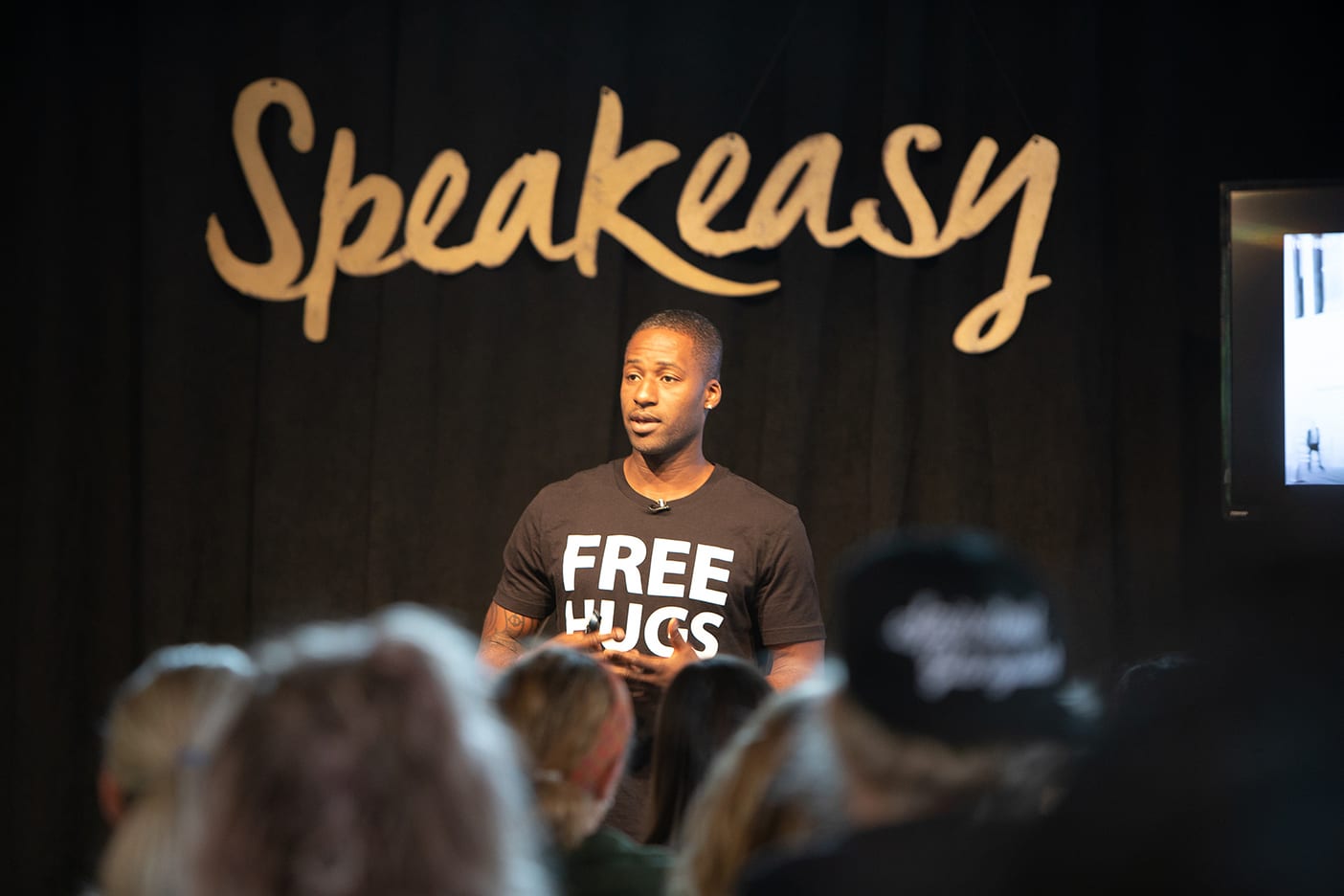 Want a hug from Ken? Hear his inspiring, in-person lectures at Wellspring this October. For tickets and more information, click here. 
---
Affectionately known as the "free hugs guy", Ken E. Nwadike Jr. is spreading love and affection like it's his job—in fact, it totally is. Ken works as a documentary filmmaker, peace activist, motivational speaker, and founder of the Free Hugs Project, an initiative that promotes peace, inspires change, and draws awareness toward social issues through radical affection. The efforts of the Free Hugs Project have helped aid in the de-escalation of violence during numerous protests, riots, and political rallies, and they aren't by any means slowing down. 
We were lucky enough to have Ken share his talk, "The Power of Positive Human Interaction" at many of this year's Wanderlust festivals. In his lecture, Ken encouraged a discussion surrounding understanding and compassion during a time of rampant hate and racism. His goal is to create unity through community, reminding us that we're all humans who are simply craving some love. And based on the feedback from the talk's participants, we can see he's well on his way to making this dream a reality.
From Wanderlust Snowshoe in West Virginia 
"Such a great surprise! I wasn't sure what this would be about, but Ken's story and his work are incredible. Loved seeing him around the festival afterwards too!" – Jennifer Smither
"Ken's talk blew me away. He is such an impressive person and hearing his story was hopeful and inspiring. Loved this experience and thanks for giving me the opportunity to hear him. Plus I got a free hug!" – Jaclyn Wood
"Beautiful presentation. You are helping to create a better world through action, which I love. I can tell you love what you do and are embodying the change you want to see!!" – Jordan Smith
From Wanderlust Stratton in Vermont
"Ken is one of the most amazing people I have ever had the pleasure of meeting.  His Free Hugs campaign is wonderful and he truly is an amazing come from behind story.  I had tears in my eyes while he was telling his story. Made me want to get out and make a difference in my community! I will be following him on social media from this day forward." – Leslie Zedlovich
"Excellent talk! Inspiring and motivating speaker! So positive and uplifting." – Jennifer Rossi
"Inspiring. This guy is a superhero." – Corinne Potvin-Oriol
"Ken's talk was inspiring and incredibly hopeful, especially in today's social and political climate. Hearing his story made me realize how important little acts of kindness and love are for humanity." – Megan Fuqua
From Wanderlust Squaw Valley in California 
"Awesome human being. We need more like him in the world!" – Fancy Thompson
"Absolutely the best thing I experienced at any Wanderlust. I cried and was so inspired. I appreciate Ken's willingness to share in response to incredibly personal questions from the audience. He was the most articulate, natural speaker I have ever heard. I also appreciate him saying and answering questions. I spoke with him one on one later and was the recipient of TWO hugs." – Laura Kemp
"Amazing! Ken's work is absolutely astounding! We need more hugs." – Brenna Iversen
Have you seen Ken speak? What was your takeaway?