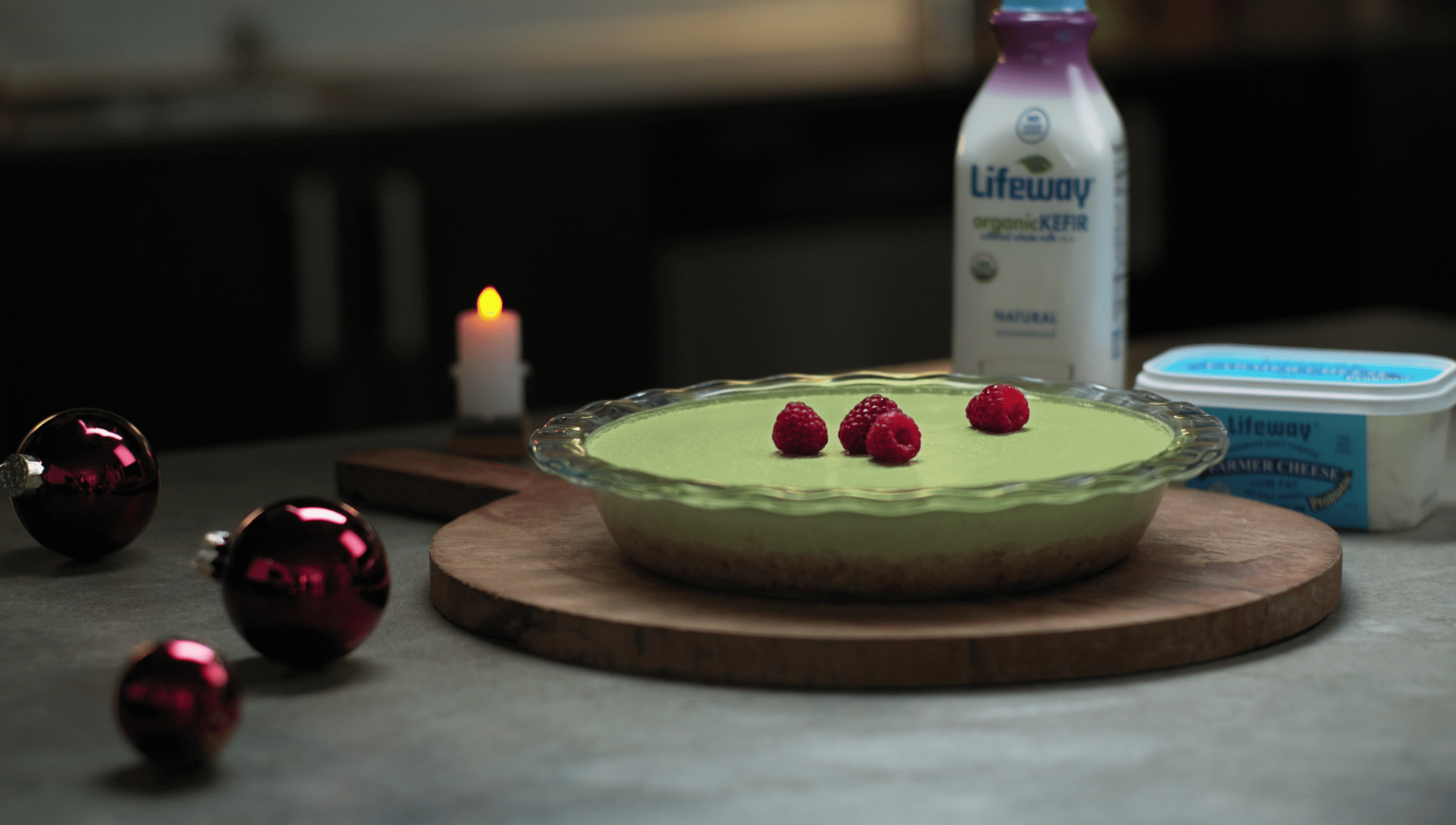 Matcha green tea is all the rage right now—so why not put it in your cheesecake? This gorgeous dessert will wow your party guests with its creamy texture and beautiful aesthetic. The grounding earthiness of the matcha green tea powder complements the savory-sweet cheese, making it balanced as well as beautiful.
Enjoy a big piece for a full-fledged dessert, or slice into squares for a tiny treat. Either way, you'll get a variety of nutrients: the coconut oil in the crust is chock-full of healthy fats, while the matcha is loaded with antioxidants, fiber, chlorophyll, and various vitamins. We also chose farmer cheese over cream cheese because we love the higher protein boost and the addition of probiotics from the tasty kefir!
Kefir Matcha Green Tea Cheesecake
This recipe serves 6-8
Crust:
13 graham cracker rectangles, crushed
6 tbsp coconut oil, melted
2 tbsp coconut sugar
Filling:
4 tbsp matcha green tea powder
3/4 cup warm water
4 cups Lifeway Kefir Farmer Cheese
2/3 cup Lifeway Organic Whole Milk Kefir
1 cup powdered sugar
2 tsp vanilla extract
Fresh raspberries for garnish
INSTRUCTIONS
For the crust:
Combine the crushed graham crackers, melted coconut oil, and coconut sugar in a bowl and mix with your hands until crumbly. Press the mixture into the bottom of a standard 9-inch springform pan until it is evenly distributed.
For the filling:
In a small bowl, mix the matcha and water to form a paste. In a separate, larger bowl, add the farmer cheese, kefir, powdered sugar, and vanilla, and beat with a hand mixer until well-incorporated. Add the matcha paste and beat until smooth. 
To assemble:
Pour the mixture over the crust into the springform. Place the pie in the refrigerator on top of a large plate or folded towel, as the farmer cheese will release a good amount of water and whey as it sets.
Refrigerate the cheesecake for at least 3 hours, preferably overnight. Garnish with fresh raspberries.
Note: For individual desserts, you can halve this recipe and use small jam jars instead of a springform pan.

Did you make this recipe? Share your thoughts in the comments below. 
In partnership with Lifeway
Lifeway Foods is America's favorite probiotic kefir company. Since 1986, Lifeway has been committed to creating great-tasting cultured and fermented foods to support the health of your microbiome. You can find Lifeway kefir, skyr, supplements, farmer cheese, non-dairy Plantiful, and ProBugs for kids at your local grocer and online.