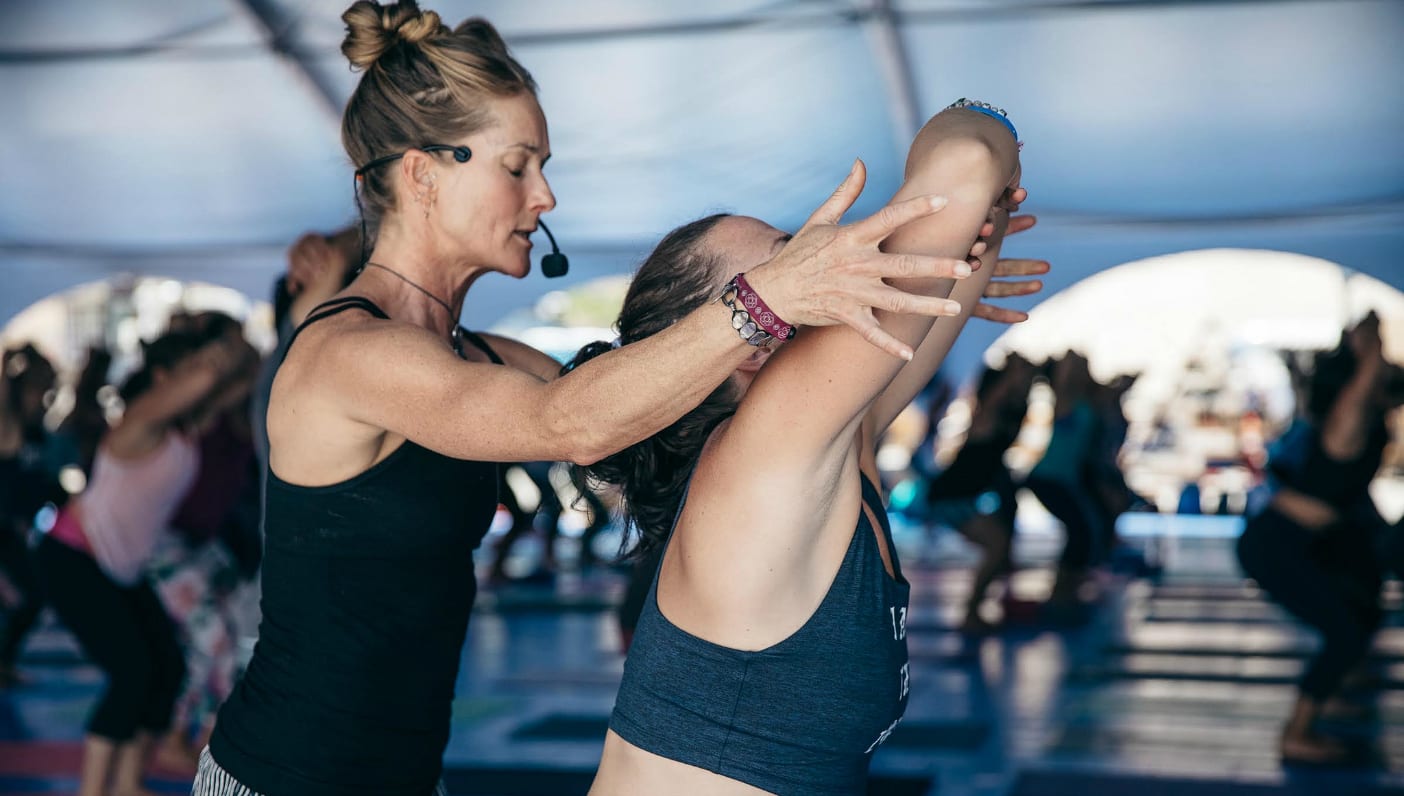 Yoga teacher burnout is real. Whether you teach full-time or just one recurring class every week, coming up with sequences that keep your regular students coming back over and over again can be tough. The struggle is real: Throwing awesome event after awesome event tests the limits of our creativity too 😀 As with many things, it all comes down to staying inspired—even against all odds.
We asked May Yu and Michael Cohen, both full-time staff at Wanderlust HQ and part-time teachers to share their tips on how they keep it fresh. Are you a yoga teacher? Have some tips you'd like us to add to this piece? Add them in the comments below, or reach out to editorial@wanderlust.com.
If you are a wellness industry professional, you qualify for a discount ticket to Wellspring! Join us for the first-ever wellness conference of its kind in Downtown Palm Springs this October. Click here for more information, and here for the professional discount.
Theme Your Class
There are a couple of ways to do this. You can either choose a theme that you're personally working with at the time, and sequence asanas that resonate, or choose something that corresponds to the time of year or season. "If I'm working with compassion or Ahimsa, for example, I'll have a lot of backbends and heart openers," says Michael. "If I'm focusing on the Muladhara (root) chakra, I may play music with heavy percussion and sequence a class with asanas that ground you and keep you closer to the mat."
May also creates thematic classes—she loves pulling from yoga mythologies, a trick she learned from her mentor. The story of Hanuman or Ganesh are her favorites. These can be great to share when you're using a pose named for such a myth: When the students are in Ardha Hanumanasana (Runner's Stretch), for example, explaining that the pose was named for the Monkey God, who, in his devotion to Lord Rama, leapt across the ocean in a single bound in an effort to bring back Lord Rama's missing wife.
Stay a Student
When we continue to learn, we not only expand the boundaries of our own comfort levels, but continue to be inspired by other teachers. No teacher instructs in a vacuum; when we allow ourselves to be open to inspiration outside of our own head, we develop a richer, more versatile and authentic teaching style. Michael, based in NYC, attends classes all over the city, and experiments with different styles: Katonah, Kula, CorePower. "They all have different ways of teaching," he says, "and have influenced my teaching in a lot of ways."
This is also true of different teachers. You can stay in the same studio, and have 1,000 different experiences. Try taking from someone you never have before, and watch your practice open up.
Change it Up!
Do you always burn palo santo before class? Try some sage. Do you have a playlist that you just absolutely stick to? Swap out a couple of songs—or go nuts, and create a whole new one. "Even just one song change makes a difference," says May. She also suggests trying new props, particularly if you often suggest using props in difficult poses. "I recently started using these soft squishy balls in restorative yoga," she says, which are "a softer, more fun alternative to a block in restorative Bridge."
If you're really stuck and feeling adventurous, take an online course or attend a workshop to expand the types of yoga you're qualified to teach.
Want some tips on writing a new playlist? Click here for advice (and tracks!) from Wanderlust performers DJ Sol Rising, DJ Jesse Blake, and DJ Taz Rasheed.