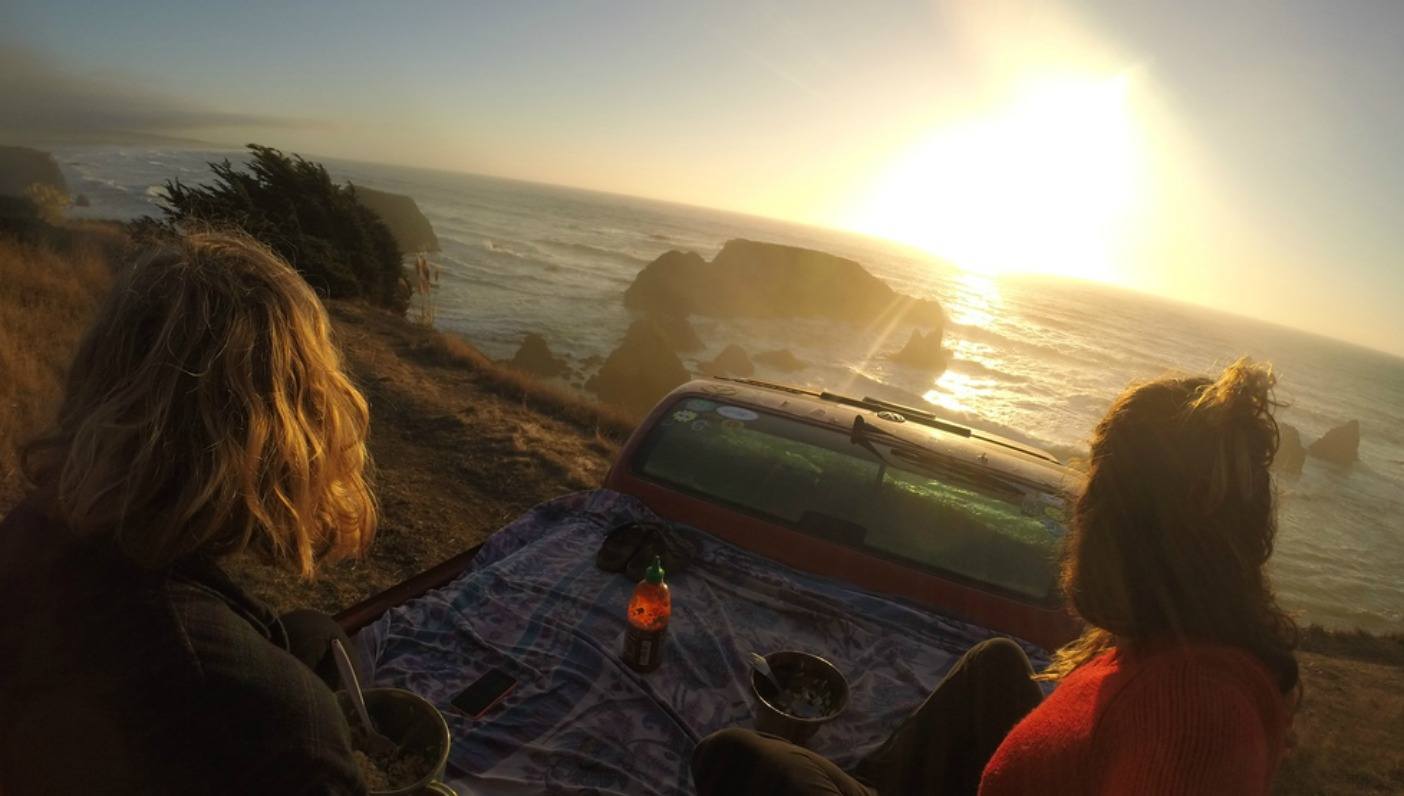 This post originally appeared on She Explores. 
---
Lindsay and Melody left their NYC life with one simple goal: To help others, to seek to find beauty in everything, and give back whenever they have the chance. Living out of their VW Van named Scarlet, their time on the road revolves around how they can make good use of their hands to help others. Follow their journey as they volunteer their time and energy, "hoping to enlighten others to follow their passions and make a little difference in the world."
Meet Lindsay And Melody
How did your trip come to be?
When our trip commenced, we had been living and working in Manhattan for over a decade. We both graduated from the Fashion Institute of Technology and were very fortunate to have started our careers in the fashion industry almost immediately following graduation. We were content with our big city lives but knew we wanted more. Growing up we've always volunteered and gave back in our local communities. Helping others showed us the true meaning of happiness. Driving across the country has always been a dream of ours and we decided to combine our two favorite things: Traveling and helping others.
Tell us about your vehicle of choice—why did you choose a VW?
In January 2014, Melody's great-uncle passed away and passed a 23-year-old van on to her father, Duke DeGroat. Mel's family wasn't sure what to do with the van and then she had this idea. Melody knew that the van would fit perfectly into our journey, and took it on as a fixer-upper. We gutted the back of the van and made room for bedding and storage.
What's your preferred camping location?
Stealth, National Forest, campsites, et cetera. We like to switch things up a bit, but having a National Park pass has been a real treat and a blessing. It has allowed us to camp in some of the most beautiful places in the country for only $80 a year instead of the $20 for each park. We camped in the Grand Canyon on the edges of the Havasupai Indian Reservation. We hiked 10 miles to this oasis of turquoise blue water. We were at the top of a 100-foot waterfall crashing into a river, where we spent the night. From inside the tent, we could barely hear one another speak. Then, night came and we woke up to look at the stars in the clearest night sky.
Stealth camping has been really exciting and amazing as well. There is nothing like waking up on the side of the cliff in Big Sur, California looking out the back of Scarlet to the open ocean. Plus, it's free!
How do you find these volunteer opportunities? Do you plan ahead of time or find them as they come?
We usually do a little bit of both as we have one rule on the road—to not pass up a recommendation or opportunity—so we can be swayed to take a new route at any time. Unless it is a recommended organization or a volunteer search engine like VolunteerMatch, we use Google to find volunteer opportunities in the town or city we are in. We try to call or email a week or two in advance and most places have been delighted to add us to their schedule.
Is there a flow to your daily routine? What does it look like?
We start off our morning like most adults, with a cup of coffee. Where we differ is in checking Scarlet's vitals. We each have our own jobs, one checks the tires while the other goes underneath the hood. We have a little breakfast and hit the road! What happens on the road changes each day so we are masters at going with the flow. When we are getting ready for bed each night we discuss the following day's adventure and wind down with a little writing, reading or practicing a new instrument.
What is your go to on the road meal?
Anything that is easy to eat. We usually have fresh produce, peanut butter, lots of granola, hummus and wraps.
Lindsay and Melody's 5 Must Have Items:
Siracha, printed leggings, dashboard electronics, hiking boots, and Atlas/Nat Geo Park book.
Any tips on how to start volunteering in our local communities?
Google is your friend. You can simply type "volunteer opportunities near me" or more specifically the type of volunteering you would like to do. For example, if you enjoy working with children, type "volunteer to mentor an after school program in (zip code)." If you don't have much notice then local food pantries are a wonderful place. They always need help, do not require training, and generally only take two or three hours at a time. We have volunteered in numerous pantries all over the country and have really enjoyed it. Have fun! Every little bit adds up to a big impact!
Where are you currently and where do you hope to be in a month?
We are currently in Northern California where we volunteered for Thanksgiving. We will be flying home to New Jersey for the holidays.
How many states have you been to? Any you'd consider putting down roots in?
21 and still counting! We also took a trip down to Mexico and have big plans for 2016 to put more states under our belts. There have been quite a few cities that stand out more than others so it's hard to say where we will rest our gypsy souls. There have been two cities that have magnetically pulled us back to them more than once during the course of this trip, the majestic Lake Tahoe, California and the soulful New Orleans, Louisiana.
How can you serve your community in the coming year?
Written for She Explores. Photo courtesy of The Gypsy Givers.