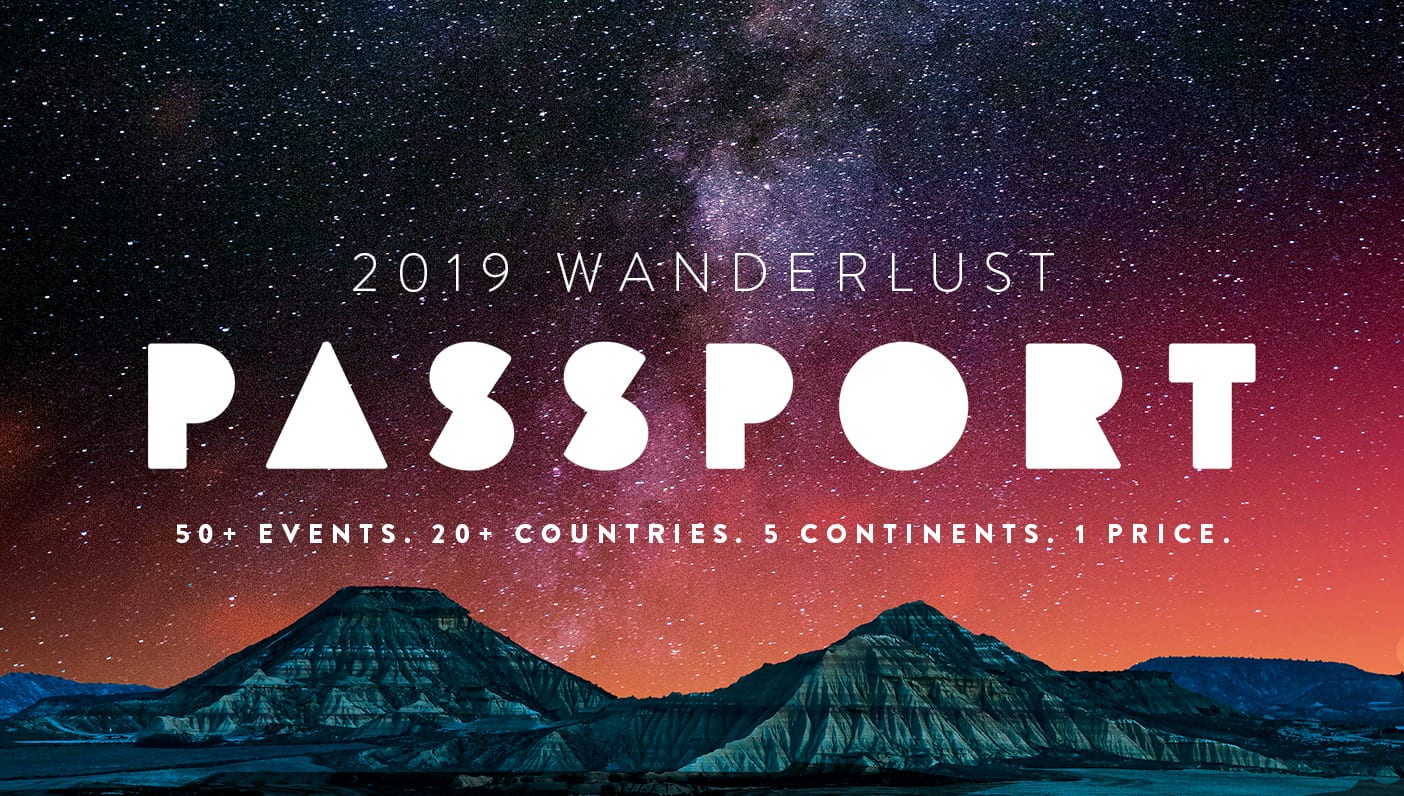 Prices rise for Passport on January 17! Purchase now to save $100. We can't wait to see you on the road. 
---
With the
Wanderlust Passport
, the earth is yours to explore. Discover new countries, learn from expert guides, and tap into a global community of like minded nomads. Simply sign up for your annual membership to receive a world of benefits.
Passport offers unlimited access to all 2019 Wanderlust events and limitless scheduling at festivals. It's valid at over 50 events in 20+ countries on 5 continents.
Yep, you read that right. You get unlimited access to all 2019 Wanderlust events—around the world—for little more than the price of a traditional festival ticket. And, to be transparent... We're all just as excited at headquarters as you are. According to our co-founder Sean Hoess, "we see two main benefits of
Passport
: The first is encouraging the literal fulfillment of our name—Wanderlust—by making it possible for any person to attend any event anywhere in the world." Wanderlust believes that sharing mindfulness across the globe is beneficial for guests—to be exposed to new ideas, new cultures, and new viewpoints; our teachers—connecting experts helps us push the community forward; and even our planet. "Call me idealistic," Sean says, "but I believe the shared values of our community can be an important voice for positive social change." The other reason we're pumped is accessibility. We started this conversation in earnest at Wellspring 2018, and we're serious about practicing what we preach. "We recognize that Wanderlust can be expensive, particularly our destination festivals where the ticket price is only a part of the total cost," says Sean. "We believe that the quality of our events speaks for itself, but we don't want the cost of a ticket to be a barrier between attending once in a year or attending five times in a year." Let's be real: You don't find your true north in a single weekend—it's a lifelong journey. We think attending multiple Wanderlust events and building your mindful community can help you on that path. "We hope that
Passport
will encourage our guests to think of Wanderlust as community to join and gather with whenever feasible, rather than an event that's a 'one and done' experience," says Sean. And we're putting our money where our mouth is: That's why we've priced Passport accordingly. It's a big world out there, and it's never been easier to grab your compass and find your true north. Where will we see you in 2019? —