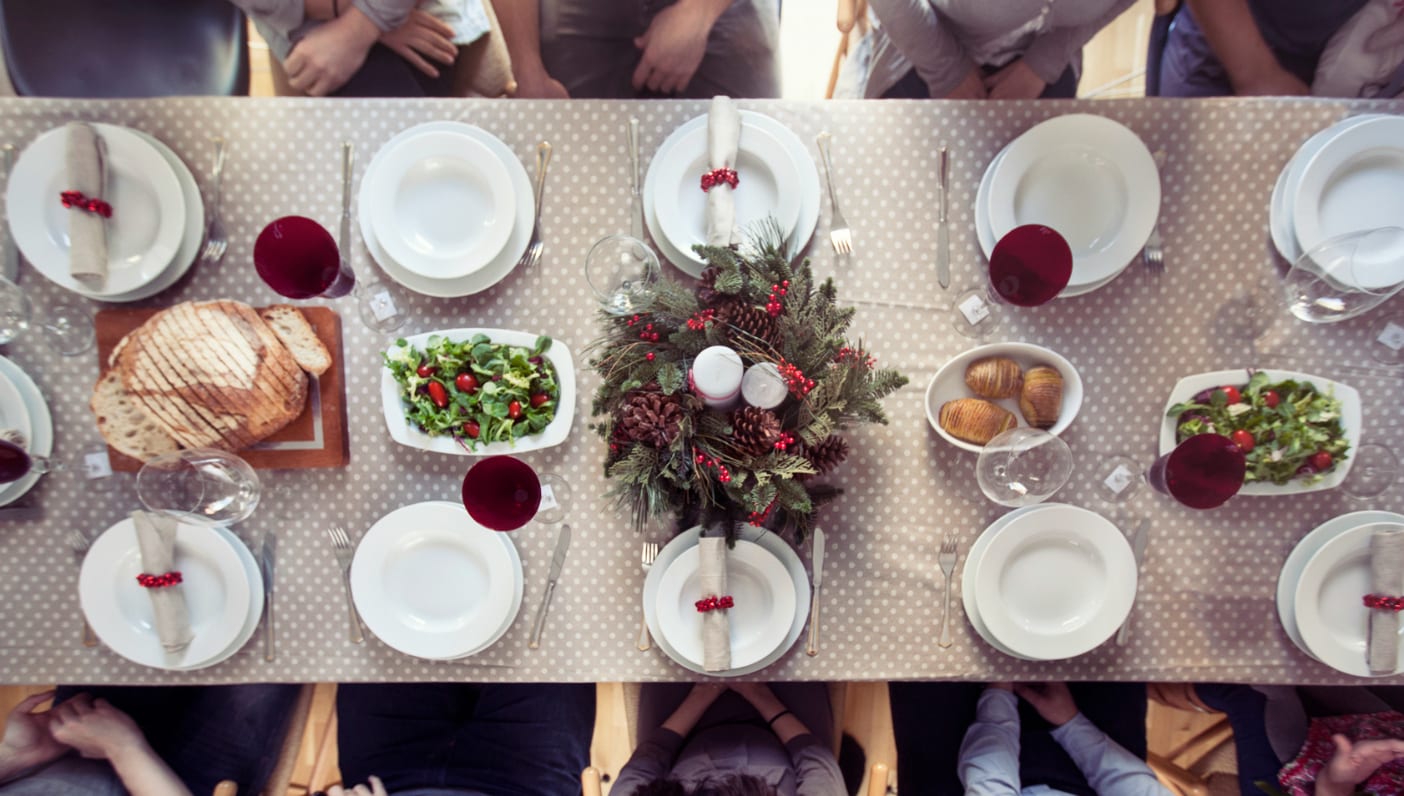 One of the best parts of the upcoming season is the gathering of your loved ones over a homecooked meal. Whether it's the influx of chilly weather, or the massive amounts of root vegetables bursting from the ground, there are dozens of reasons to celebrate late fall flavors.
What will you be cooking for? A holiday? A friend's birthday? A spontaneous Sunday night dinner where you decide to slip into your favorite sweater and blast smooth jazz? Regardless of the reason, the recipes below are flavorful holiday classics that offer both nutrition and comfort.
Pickled Veggie Charcuterie
Get the conversation going with a variety of flavors and colors by building a killer charcuterie plate. There really is no recipe—more like a composition of flavors. Consider a few good cheeses: perhaps a combination of soft, hard, strong, and smooth cheese. Then add a variety of pickled vegetables. Go classic with cornichons and then try something a little out-of-the-box, like red onions, carrots, or bell peppers. (You can pickle anything.) Add some bread and crackers, perhaps some cured meat (if you eat it), and then a sweet jam.
Honey Mustard Glazed Ham
Serves 8–10
Rich on the inside and sweet on the outside, a honey-glazed ham is an iconic holiday dish, and for good reason. The Honey Dijon in this recipe adds a luscious tang, making this version a staple for the family recipe box.
1 10–pound smoked, bone-in ham (We recommend buying from the local butcher!)
1/3 cup honey
1/4 cup Maille Honey Dijon Mustard
1/4 cup packed dark brown sugar
4 tablespoons unsalted butter (1/2 stick)

Arrange a rack on the lower third and heat the oven to 350 degrees. Trim away any excess fat from the ham, leaving a 1/4-inch layer over its entirety. Allow the ham to rest at room temperature for 20 minutes.
Line a baking sheet with aluminum foil. Place the ham cut-side down and cover with parchment paper, and then a layer of foil. Cover tightly and bake for 45 minutes.
Combine the honey, mustard, brown sugar, and butter in a saucepan, stirring until the brown sugar has dissolved and the butter is fully melted. Remove from heat and set aside.
When the ham is ready, remove it from the oven and score the skin in a diamond pattern. Heat the oven to 425 degrees. Brush the ham with a quarter of the glaze, and bake, uncovered for fifteen minutes. Repeat this every 15 minutes until all of the glaze has been used, cooking for another 50–60 minutes total.
Maple Roasted Fall Vegetables
Serves 4
This is great, meat-free way to add some delicious comfort into your dinner. Packed with all sorts of colorful root veggies, this recipe is a must for your holiday spread.
1/4 cup unrefined coconut oil
2 tablespoons Maille Honey Dijon Mustard
2 tablespoons dry white wine
2 teaspoons fresh thyme leaves, chopped
2 orange sweet potatoes, peeled and chopped into 1/2-inch pieces
1 purple sweet potato, peeled and chopped into 1/2-inch pieces
2 carrots, peeled and chopped into 1/2-inch pieces
1 yellow onion, peeled and cut into eighths
2 parsnips, peeled and chopped into 1/2-inch pieces
15 medium Brussels sprouts, halved
Sea salt and freshly ground pepper
Preheat the oven to 400 degrees. Line two baking sheets with parchment paper. Add the oil, syrup, mustard, wine, and thyme to a large bowl and whisk until the maple syrup is well incorporated. Add the vegetables and toss to coat. Spread the vegetables evenly between two pans and sprinkle generously with salt and pepper. Roast the vegetables until tender, about 50 minutes, tossing 25 minutes through.
Potato Salad with Cornichons and Herbs
Serves 4
The bright flavor of cornichons pair beautifully with the potatoes in this recipe, creating a light, potato side that pairs well with a variety of dishes.  
2 pounds small fingerling, red, and Yukon gold potatoes (halved and quartered)
2 tablespoons plus extra for finishing
2 tablespoons Maille red wine vinegar
1 tablespoon Maille Honey Dijon Mustard
1/3 cup extra-virgin olive oil
1 small red onion, thoroughly chopped
6 cornichons, rinsed and sliced into tiny rounds
2 tablespoons coarsely chopped flat-leaf parsley
2 tablespoons chopped chives
Salt and pepper to taste
Add the potatoes to a medium saucepan and over with water. Add 2 tablespoons of salt and bring to a boil; reduce heat, and simmer until tender, about 8 minutes. Drain the potatoes, reserving 1 tablespoon of cooking water. Set aside to cool.
Make the vinaigrette: Add the vinegar, mustard, and reserved water to a bowl and whisk. Gradually add the oil and whisk until thoroughly combined. Transfer the potatoes to a medium bowl, and add vinaigrette, herbs, cornichons, onion, and salt and pepper to taste. Gently stir to combine.
Arugula Apple Salad with Honey Dijon Vinaigrette
We'd be remiss to not pair apples with the warmth of a good honey dijon. Nestled atop a bed of arugula, the combination of sweet and peppery lends for a delicious appetizer or side for your autumnal gatherings.
Salad
5 cups arugula
1/2 thinly sliced fennel bulb
1/2 cup walnuts
2 tablespoons salted pepitas (pumpkin seeds)
2 tablespoons dried cherries
2 tablespoons golden raisins
1 honeycrisp apple, thinly sliced
Dressing
4 tablespoons
2 tablespoons Maille cider vinegar
1 tablespoon Maille red wine vinegar
2 teaspoons Maille Honey Dijon Mustard
1 tablespoon minced shallot
½ teaspoon cinnamon
Salt and pepper to taste
Add the walnuts to a small saute pan over medium heat and toast until fragrant, one to two minutes. Remove from heat. Thinly slice the fennel and apple.
Squeeze the lemon juice over the apple and toss to coat. Add the oil, vinegars, mustard, shallot, cinnamon, salt, and pepper to a bowl. Whisk until combined. 
Add the arugula, fennel, and apple to a large salad bowl. Top with walnuts, pepitas, dried cherries, and golden raisins. Toss to combine. Drizzle on the dressing and toss again.
Have other family-favorite holiday recipes? Share them in the comments below!
In partnership with Maille
La Maison Maille is heir to an enduring legacy left by Antoine-Claude Maille and his sublime mustards and vinegars. Today specialists at La Maison Maille continually explore, select and combine the finest ingredients, creating tastes and textures that result from centuries of expertise. La Maison Maille cherishes the resource which makes excellence possible. The land, the people, the know-how: everything that contributes to making the creative products La Maison Maille has been producing for over 265 years is safeguarded and passed on to future generations.