Winter is coming to an end and Spring is right around the corner—it's time to match our meals with the season. And what better way to bring on the sunshine vibes than with a vibrant breakfast bowl topped with a sunny side up egg?
We love this bowl as a nourishing and energy-boosting breakfast, but it can also totally be enjoyed as a side dish for lunch or dinner, or even as the base of a salad. The whole-milk kefir dressing not only makes it creamy and delicious, but it also amps up the overall nutritional value. Kefir is a fermented food, and therefore full of probiotics. These probiotics may help to regulate blood sugar levels, lower cholesterol, maintain gut health, and even reduce stress.
But that's not all: The sweet potatoes contain a healthy dose of fiber, which helps to support good digestion, and antioxidants like beta carotene for healthy skin and boosting your immune system. The grains have a hefty dose of fiber and are packed with additional protein, so you can expect to stay satiated as you move throughout your day. Bring on the sun, baby.
---
Here Comes the Sun Breakfast Bowl
INGREDIENTS
Sweet potatoes:
2 small sweet potatoes
1/2 cup plus 4 tablespoons extra virgin olive oil
Farro, wild rice, or freekeh:
1/2 cup uncooked farro, wild rice, or freekeh (whole or cracked)
1 cup water
Maldon sea salt
Kale:
1 cup chopped kale
Dressing:
1 cup Lifeway Organic Whole-Milk Kefir
1 tbsp chopped fresh flat-leaf parsley
2 tbsp lemon juice or sherry vinegar
Sunny-side up eggs:
4 large brown eggs
For serving:
One 16-ounce can black beans, drained
1/2 cup diced Heirloom tomatoes (red, yellow, green), plus extra for garnish
INSTRUCTIONS
For the sweet potatoes: Preheat the oven to 450 degrees F.
Rub the sweet potatoes with 1 tablespoon of olive oil, then wrap them in foil and roast until a small knife easily pierces the sweet potatoes, about 20 minutes.
When the potatoes are cool enough to handle, cut them into 1/2 inch thick slices.
For the farro, wild rice, or freekeh: Combine your chosen grain with water, 1 tablespoon of olive oil, and 1 pinch of sea salt in a rice cooker. Cook according to the rice cooker instructions.
On the stovetop: Combine your chosen grain with water, 1 tablespoon of olive oil, and 1 pinch of salt and bring to a soft boil in a saucepan. Reduce to a simmer, cover, and cook over low heat until done, about 45 minutes for farro, wild rice and whole freekeh; 20 minutes for cracked freekeh.
For the kale: While the grains and sweet potatoes are cooking, heat 1 tablespoon of olive oil over medium-high heat in a medium-sized sauté pan. Add the kale and sauté until soft, 3-4 minutes. Add a small amount of water if the kale begins to stick or turns brown. Season with a pinch of salt and set aside.
For the dressing: Whisk together the kefir, parsley, ½ cup olive oil, a pinch of salt, and the lemon juice in a bowl. Set aside.
For the sunny-side up eggs: Using the same pan as the kale, cook the eggs in the remaining 1 tablespoon olive oil to sunny-side up perfection, seasoning with sea salt toward the end.
To plate: Place the sautéed kale in a wide, deep bowl. Sprinkle with black beans, cooked grains, tomatoes, and sweet potato. Drizzle with the dressing, then slide the eggs on top. 
Chef's Tip: Double or triple this recipe (except for the eggs) and you can enjoy throughout the week, cooking the eggs just before plating.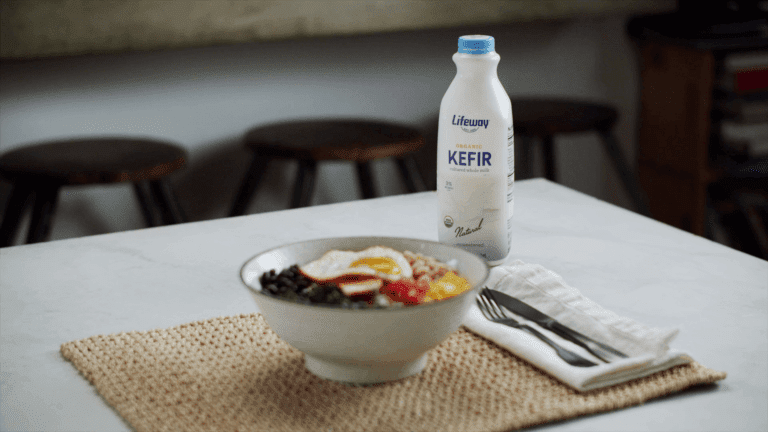 In partnership with Lifeway
Lifeway Foods is America's favorite probiotic kefir company. Since 1986, Lifeway has been committed to creating great-tasting cultured and fermented foods to support the health of your microbiome. You can find Lifeway kefir, skyr, supplements, farmer cheese, non-dairy Plantiful, and ProBugs for kids at your local grocer and online.