A vibrant and fresh plant-based shakshuka packed with herby flavours, and light and summery lemon. Served with simple, homemade gluten-free fluffy flatbreads, this meal is great any time of the day.
Shakshuka means "a mixture" and that's exactly what this meal is – a mixture of green vegetables, fresh herbs and vibrant flavour. The base of this Green Shakshuka is onion and garlic with courgette and peas. If you have some, I highly recommend adding in the chermoula paste which is a North African spice paste of fresh coriander, lemon and cumin, but you can also add in some dried mixed herbs for equally delicious, but different, results. Simmer away with some vegetable stock until warmed through along with some spinach.
I then like to blend half of the mixture to a smooth puree with lemon juice and stir back in, so the sauce is thick but still with some chunks. Add in some olives and serve warm topped with cooling yoghurt, chilli flakes, fresh lemon wedges and avocado – no brunch is complete without avocado! These Breakfast Potato Cakes with Chilli Jam are warmly spiced, tender and naturally sweet with a hearty, wholesome texture. Crisp on the outside and squidgy in the middle, these have so much flavour and goodness. I like to stack them high and top with some cooling coconut yoghurt and then lots of chilli jam. They're also great with some roasted tomatoes, mushrooms and herbs. Plus, serve them along with your favourite fry up essentials for a fancy twist on the classic breakfast.
Servings: 2
Time: 20 minutes
Difficulty: easy
Ingredients
1 small white onion, small dice
1 garlic, crushed
½ tsp cumin
1 courgette, in ¼ moons
160g peas
100ml vegetable stock
1-2 tsp chermoula paste or 1 tsp mixed dried herbs
Salt pepper
40g spinach
1/2 lemon, juiced
50g olives, halved
Gluten-Free Flatbreads:
100g GF flour, plus extra to dust
1/2 tsp baking powder
Large pinch of salt
20g coconut yoghurt
60ml warm water
To serve: coconut yoghurt, lemon wedges, avocado, chilli flakes, fresh coriander
Directions
Heat some olive oil in a large frying pan and add the onion and garlic. Fry for 5 minutes and then add in the cumin and courgette and cook for 5 more minutes. If using mixed dried herbs, add these in now.
Add in the peas, water, chermoula paste, if using, and a generous pinch of salt and pepper. Cover and leave to simmer for 10 minutes, adding the spinach for the last 5 minutes and stirring.
While the shakshuka simmers, make the flatbreads. Stir together the flour, baking powder and salt. Pour in the yoghurt and water and stir to bring the dough together. Leave the dough to rest for 5 minutes.
Turn the dough out onto a lightly floured surface and divide it into two. Roll out gently, use extra flour to prevent it from sticking, into two rounds. Heat a large griddle or non-stick pan and add the dough circles, splash with water using your hands. Fry for a few minutes until crisp and golden. Flip over and cook on the second side. Repeat to make both breads.
Add half of the shakshuka mixture to a food processor or blender with the juice of ½ lemon and 50-100ml water until smooth.
Stir the smooth mixture into the shakshuka pan along with the olives and warm back through.
Serve the shakshuka topped with some coconut yoghurt, lemon wedges, avocado slices, chilli flakes, fresh coriander and the flatbreads.
If you make these, please be sure to tag me @TiffanyNapper so I can drool over your creations!
—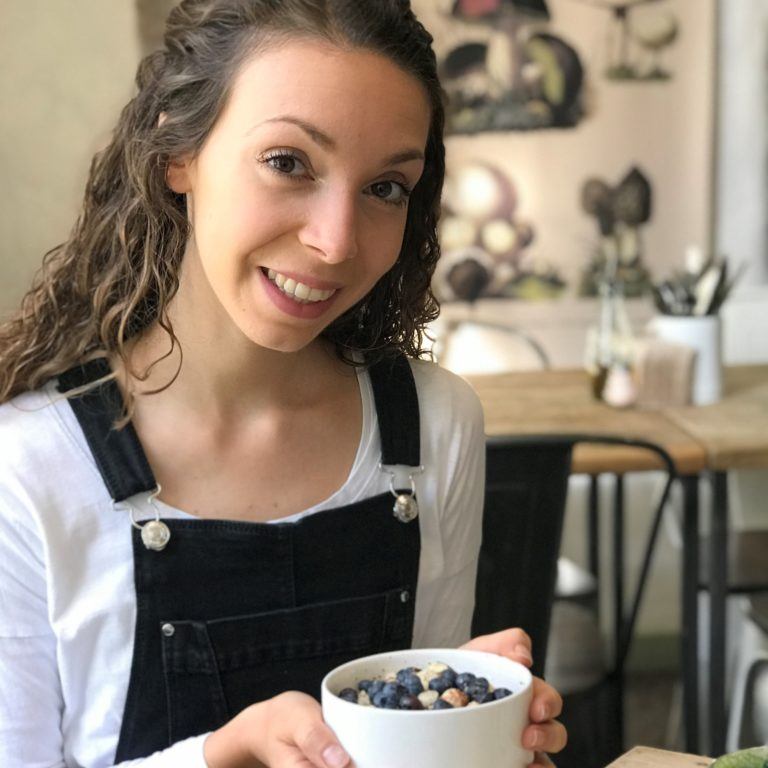 Hi, I'm Amy and I am a plant-based food blogger, recipe developer and content creator. I am passionate about all things health and wellness and about sharing delicious and easy vegan recipes, positive vibes and inspirational messages via my social media and my wesbite. Eating and living the Nourishing Amy way is to be in tune with your body's natural rhythm, to listen to its cravings and to treat each meal as a special occasion – to nourish you from the inside out.
Follow me on Instagram and my website.