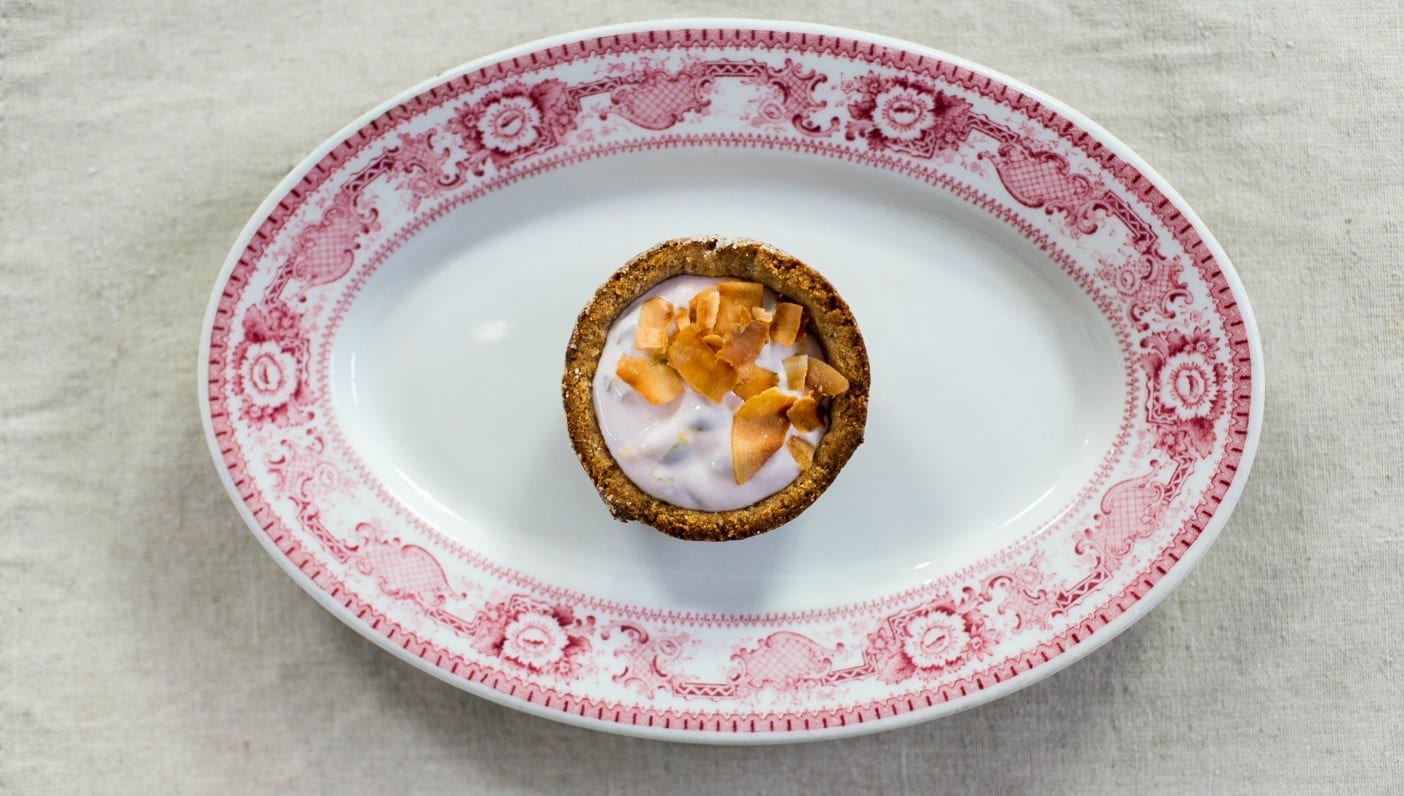 Is there anything more adorable than a fruit tart? We don't think so. With their creamy center and crumbly crust, bright flavor and petite size, fruit tarts make for an excellent and elegant dessert.
We take it a step further and combine two of our favorite flavors—raspberry and passionfruit. The almond flour makes it gluten-free, and adds a warm, nutty flavor that pairs perfectly with siggi's raspberry yogurt. Topped with toasted coconut flakes for texture and tropical flavor, this treat is good enough to be eaten any time of day. Spread the love and share with friends, or enjoy all on your own.
Gluten-Free Raspberry and Passion Fruit Tarts

INGREDIENTS
For the crust:
6 medjool dates, pitted
1 and 1/2 cups almond meal/flour
1 tbsp water
1 and 1/2 tbsp coconut oil + extra for greasing the pans
Sea salt to taste 
For the filling:
2 (5.3 oz) flavored Yogurt (siggi's raspberry yogurt recommended)
1 passion fruit
1/4 cup unsweetened toasted coconut flakes
INSTRUCTIONS
Preheat the oven to 350 degrees. Grease a standard muffin tin with coconut oil.
Add all of the crust ingredients to a food processor. Blend until a solid, sticky ball begins to form, or about 1 minute. Place the dough in the fridge for about ten minutes.
Sprinkle some almond flour on a cutting board to prevent sticking. Roll out the dough until it forms a flat circle. Using a glass or cookie cutter, cut circles from the dough. Place the dough into standard muffin tins, pressing along the sides. Cook the tarts for 10-11 minutes.
As the tarts cool, mix your siggi's raspberry yogurt with the passionfruit. Spoon a hefty dollop of the yogurt-passionfruit mixture into each tart.
Top with toasted coconut and serve.
In partnership with siggi's
At siggi's we make yogurts with simple ingredients and not a lot of sugar. Our products are based on Scandinavian dairy traditions, such as skyr, the traditional Icelandic yogurt. Our products don't contain any of those dreadful artificial sweeteners. We only use milk from family farms who do not use growth hormones like rBST.