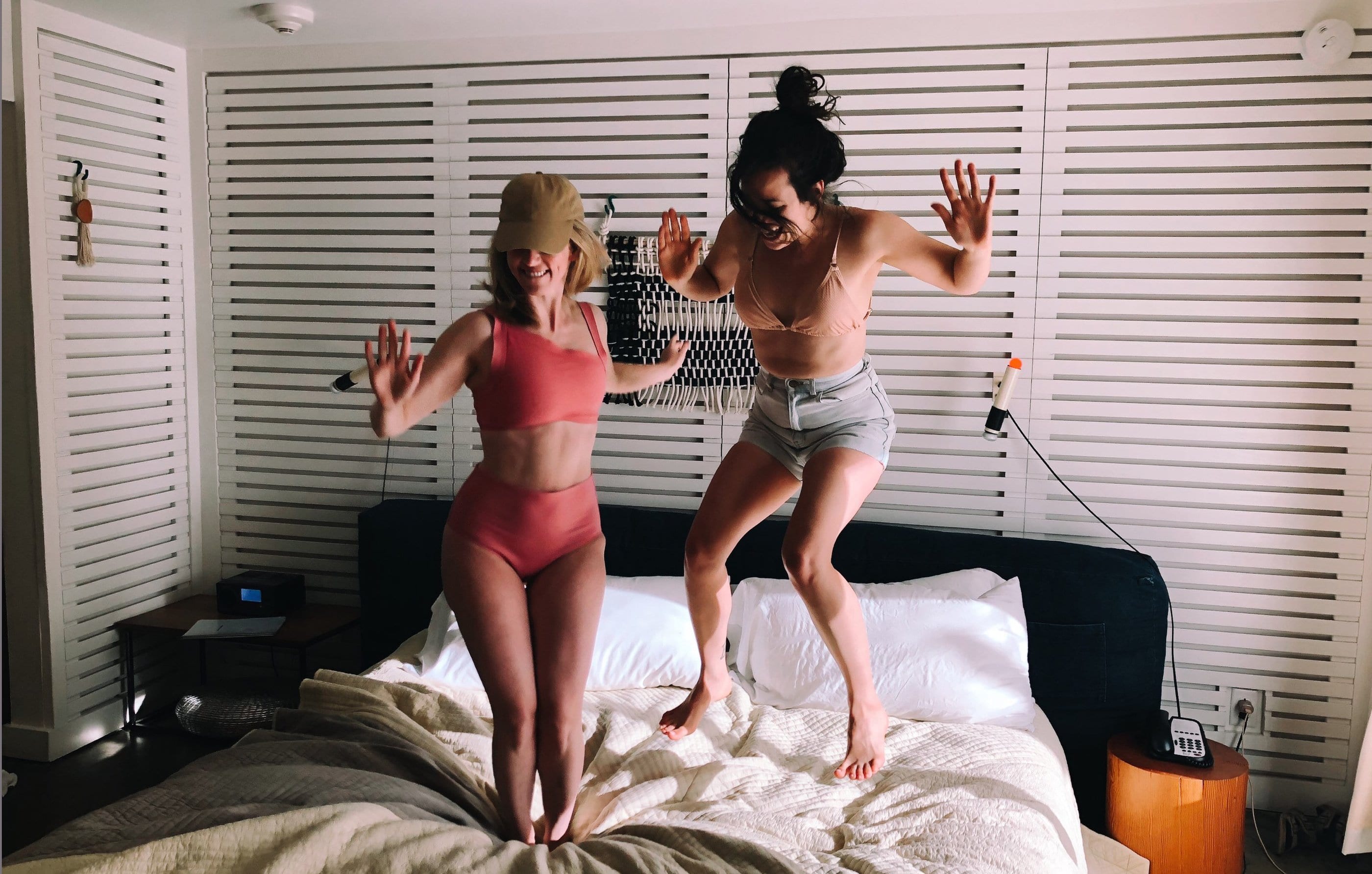 Photos by Rachel Tenenbaum Smith
Indulge your ultimate Girls' Getaway at Wellspring in Downtown Palm Springs this October. Book now and save up to $300 on your lodging—read on for details. For tickets and more information, click here. Wellness industry professional discounts and scholarships available!
---
The Spice Girls got it right: Girl power is essential, and friendship never ends. When was the last time you and your girls (and JUST the girls) got away for a weekend of rest, relaxation, and estrogen-filled debauchery? Weekends with the ladies—and those who identify as ladies—are great ways to feed the soul and feel amazing. 
Why is this the case? Women get each other. We share experiences and make jokes that men don't understand. And so a "girls' trip", or sacred time of community, really does work wonders for the spirit. It heals loneliness and rekindles a sense of camaraderie. It's also means you quadruple your wardrobe.
Which is why we're offering you and your galpals the opportunity to unwind, practice, relax, swim, sweat, rest, rejuvenate, dance, play, and snack—all for a steal of a deal. Wellspring is a first-of-its-kind wellness gathering featuring the world's leading innovators and socially-conscious companies. You have to buy a ticket, but to save money, grab a friend and have an old-fashioned slumber party. Your Wellspring ticket includes a $150 room discount, with a maximum room occupancy at two—a savings of $300 for the weekend. Participating hotels include Renaissance Palm Springs, Hilton Palm Springs Resort, Kimpton Rowan Palm Springs Hotel, and the Ace Hotel & Swim Club Palm Springs.
If saving money wasn't enough, here's 10 more reasons why you should book your tickets to Wellspring. Like, tonight.
You get the 411 on all the new trends in wellness.
Wellspring is an amalgamation of all the top leaders, teachers, and entrepreneurs in the wellness industry. Think Glennon Doyle, Mark Hyman, Marianne Williamson, Lauren Ash, angel Kyodo Williams, and more. Not only can you go check out their amazing and insightful panels, but you'll also be able to mingle with other wellness enthusiasts, trade ideas, and bring back all the latest trends to your yoga classes/blog/business venture/passion.
No one will question or judge your need to souvenir all the sweet swag.
Here's a secret folks: expos mean free stuff—aka you can fill your yoga totes with all sorts of nifty gifties from our favorite wellness brands. Wellspring offers over 140 vendors, with everything from natural health & beauty to supplements, organic foods to fitness, and everything else that you might need to #ExperienceWell.
It's way more fun to get ready together.
We all know that one of the best parts of traveling with your girlfriends isn't always the actual event—it's everything in between. It's wandering around in your bathrobes and trying on clothes like you're in a 90s movie starring Alicia Silverstone (who, btw, is also a Wellspring panelist). It's staying up late and ordering veggie nachos for room service or getting up early and a poolside mediation sesh. It's wandering around the hotel room and finding all the best spots for spontaneous photo sessions, partner poses, and shared inhales of total gratitude.
You can eat all the things.
Traveling with your galpals is an excellent excuse to order one of everything off the menu. Palm Springs is a mecca of healthy food—and the treats we're serving up at Wellspring are certainly no exception. Expect gourmet food trucks, snack samples from top brands, and offsite dinners. Whether or not your vegan, paleo, gluten-free, or strictly on a meat and carb diet, we'll make sure you get your fill.
You can buy all the things.
Should we mention that Wellspring is also basically a shopping trip? Vendors include celebrated brands such as Spiritual Ganger, Inner Fire, and Thinx, among a handful of others, including some sweet jewelry options for those spur-of-the-moment friendship bracelets. Shop (mindfully) till you drop, yogis.
Work hard, play hard.
Just like a Wanderlust Festival, Wellspring is a day-to-night event. That means fuel up with your Moringa and get moving. During the day you can expect fitness classes, meditation, bodywork, Ayurvedic treatments, restorative runs, podcast recordings, seminars, soundbaths, and pool parties—then transition into nighttime to dance the desert night away.
Enjoy a judgement free zone to try all the things.
Also like a Wanderlust Festival, Wellspring is totally judgement free. And you're with your girlfriends, who will actually support you running a bit wild and trying new things. Curious to enter our CaniSpa, where we're featuring the latest ventures in anxiety-quelling CBD products? We welcome you with relaxed and outstretched arms. Want to sport a pair of hot pink yoga pants with a matching crop top? Please do—and throw on some temporary tattoos while you're at it! Traveling with your posse means feeling totally at ease to be who you want, whenever you want.
Network like a ladyboss.

We know it's vacation—but that doesn't mean you can't sneak some business cards into your suitcase. Wellspring brings together wellness enthusiasts. So think a party at your yoga studio on steroids. With famous people. And snacks. If if the word "networking" makes you feel sort of yucky, lean into that. Be honest about it. Wellspring isn't just about green juice and slow flows (though you can easily find both of those things), but more-so honest and authentic connection. 
Learn to love yourself as much as your girls do.
Your friends know you're awesome, even when you don't. Surrounding yourself with positive, self-lovin' vibes can help remind you of all that you're worth. Use your girls-only getaway as an opportunity to connect with yourself, and appreciate all that you have to offer. 
Be inspired to create real change.
Like we said, Wellspring gathers the top names in the wellness industry. Many of these folks were once sitting in coffee shops or in their cars, mulling over the possibility of a dream that could maybe make a tiny difference. And then they went and did it! You can walk away with many things at Wellspring, but you're guaranteed to walk away with a hefty dose of inspiration.
At the end of the day, Wellspring is about building connections to inspire a well-er world. The world needs conscious individuals now more than ever. Grab your girls, have fun, and be the change.
Not sure how you'll get there? No fear. There are direct flights to Palm Springs from San Francisco, Los Angeles, Denver, Chicago, New York City, Salt Lake City, Phoenix, Portland, Seattle, Vancouver, Calgary, Houston, Edmonton, and Winnepeg.
—
Amanda Kohr is the editor at Wanderlust. You can find her exploring new highways, drinking diner coffee, and on Instagram.